Celebrate Mother's Day on Sunday the 13th of May 2018 by taking your mum out for High Tea in Brisbane.
High tea for Mother's Day is an excellent idea. There are so many high tea venues to choose from, so we have done the hard work and put together a list based on our favourites.
If you're a fan of traditional scones and something a bit fancy why not try the Sofitel in Brisbane? For something a bit fun with a view to die for, afternoon tea on the Kookaburra Brisbane will make your mum's day. Or for the warmth and comfort you only get from your grandmother's cooking, head to Room with Roses in the iconic Brisbane Arcade.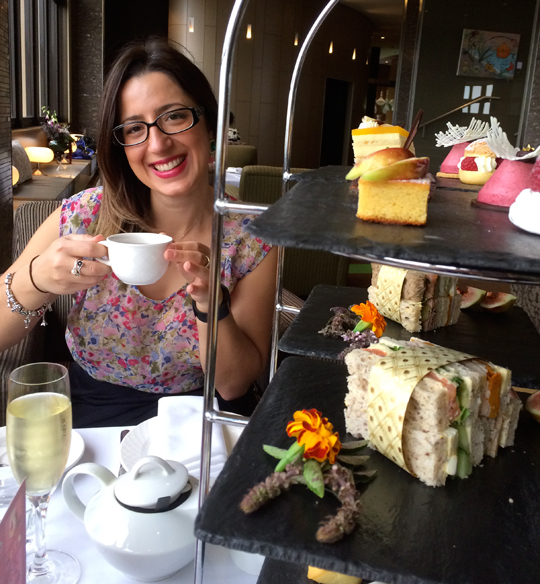 The High Tea Society contributors have the task of tasting a lot of high tea's each year (it's a hard job, we know) so we have a pretty good idea of where to go. We asked our Brisbane contributor Vanessa Chircop about her favourite experiences.
What are your favourite high tea experiences and why?
There are so many to choose from but the ones that stand out for me are Room with Roses and high tea at Bacchus and the Sofitel. Room with Roses is just such a gorgeous venue; The atmosphere literally gives you the feeling of a warm hug. I've actually taken my mother here and she just loved it. The historic building is beautiful and the food is just so comforting paying homage to the famous recipes of the Country Women's Association. The phrase 'cooked with love' was coined for the type of food served at establishment.
I also love high tea at Bacchus and Sofitel, if you're looking for something a little bit more up market and fancy with proper French pastries and elegant fine china.
If you were to take your mum for high tea for Mother's Day where would you go?
Room with Roses would probably be my first pick but having already been there with my mum, I'd probably take her on the Kookaburra Brisbane. While the afternoon tea itself is pretty standard, it's a fun day out on the Brisbane River with lots of sparkling wine and atmosphere. While it's not as fancy as the Sofitel, my mum loves a good gimmick every now and then and this is just a fun day out. It's also a great way to enjoy the river and see the sites. It's also a great venue for the whole family.
Our Mother's Day Brisbane top picks:
Sofitel Brisbane
This setting is modern and minimalistic, full of natural light with floor to ceiling windows that showcase Brisbane city. While everything is sensational we particularly took to the ribbon sandwiches. The honey roasted turkey and pumpkin with cranberry sauce was a pleasant surprise.
View our review of the Sofitel Brisbane>>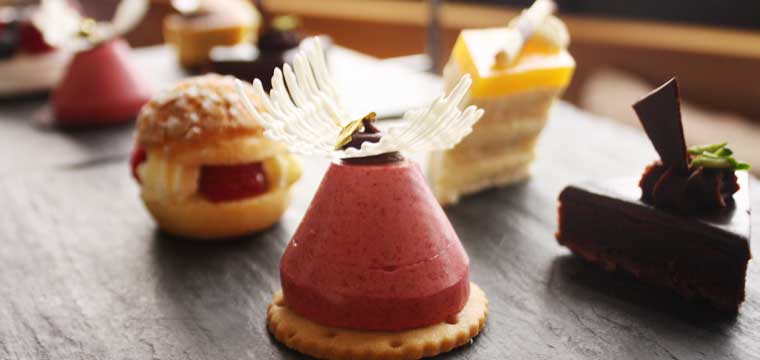 Stamford Plaza Brisbane
This venue with its stunning floral bouquets and drifty sounds from a strings-wielding musical ensemble is inspired by The Peninsula Hotel in Hong Kong. The Stamford takes cue from a colonial past and offers a high tea service fit for the Queen. In regards to food we particularly enjoyed the crispy, non-greasy chicken curry puffs.
View our review of the Stamford Plaza Brisbane>>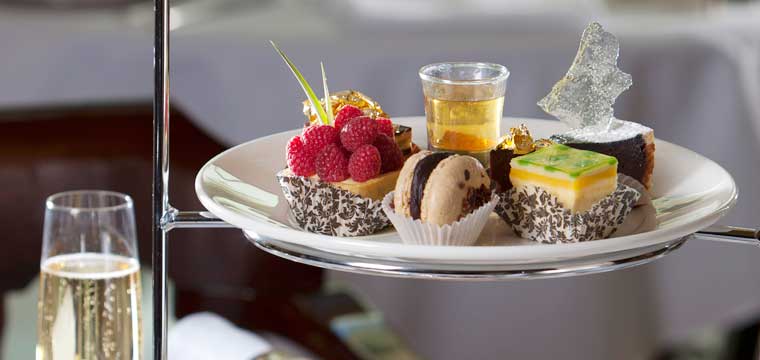 Customs House Brisbane
This is one of Brisbane's most awarded function venues. Customs House is situated in Brisbane's CBD right on the river. If you're lucky you'll get a table overlooking the stunning Story Bridge. What could be more Brisbane than Queensland sand crab? Pair it with sweet ginger dressing in a cucumber cup and there'll be an explosion of flavours and textures in your mouth. You can wash down the treat with a complimentary mimosa.
View our review of Customs House Brisbane>>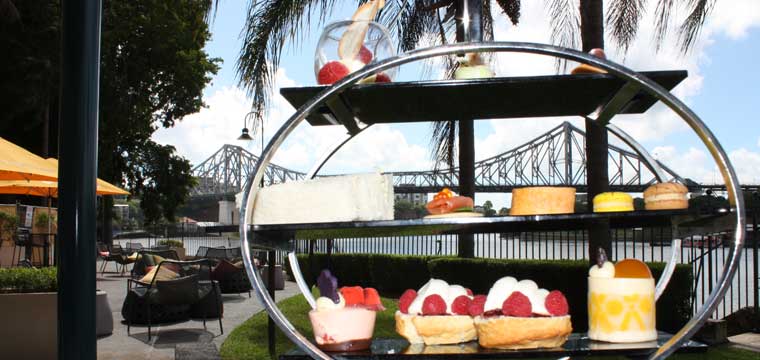 Emporium Brisbane
The Emporium is a luxury boutique hotel located in Fortitude Valley. High tea is served in the cocktail bar with a simple but elegant menu and loads of atmosphere.
View our review of the Emporium Brisbane>>
Franklin Villa (update Franklin Villa is now closed)
Classic Australian treats including rum balls, chocolate hedgehog, lemon slice, mini quiches and sausage rolls decorate the cake stand at this restored late 19th century Queenslander in a leafy inner city suburb of Brisbane.
View our review of Franklin Villa>>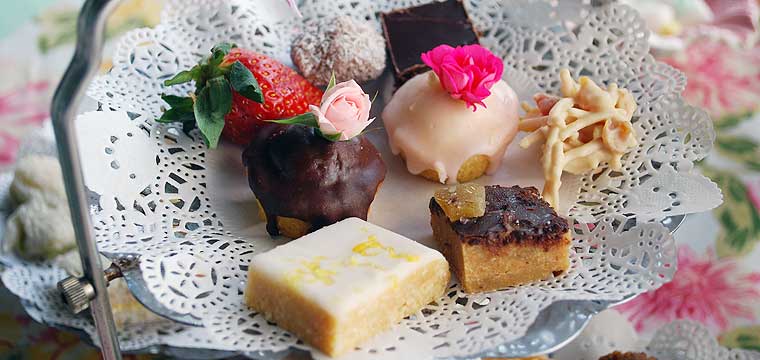 Room with Roses
Discover why this establishment was recently named one of the top five places to take high tea in Australia by Vogue Living. Situated in the iconic heritage listed Brisbane Arcade, this high tea is truly an experience of the senses.
View our review of Room with Roses>>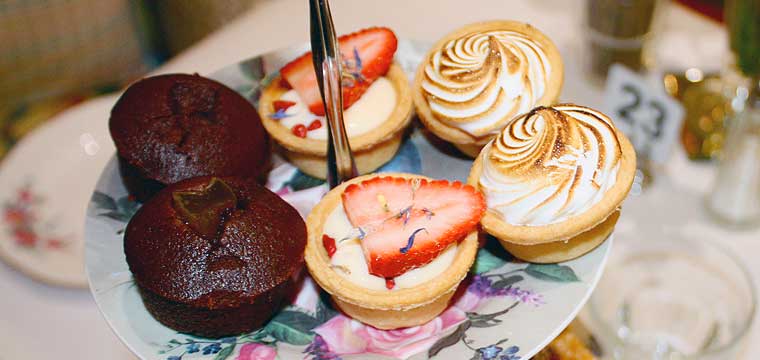 Bacchus
The glamorous Rydges Hotel in Southbank is ideal for tea lovers. Edibles also pleasantly surprise. Take the croissant, which is served with truffle and eggs – a lovely twist on an old favourite.
View our review of the Bacchus>>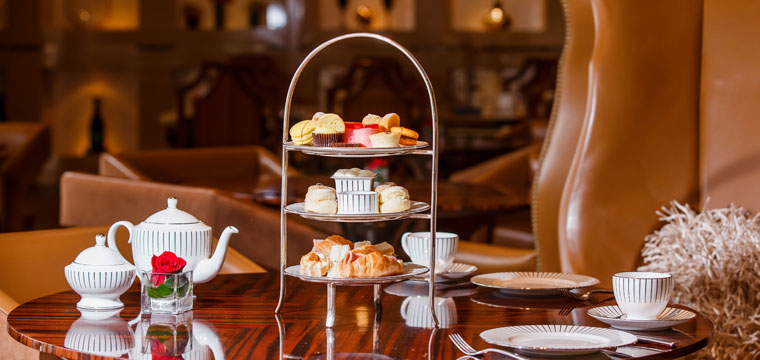 Regional High Teas:
InterContinental Sanctuary Cove Resort
Experience high coffee for a change, weekends only at the InterContinental. We just love the sound of a smoked beef sandwich with triple cream brie, gherkin, red onion and apple relish. Or maybe it's the applewood smoked chicken with fruit chutney and baby spinach on multi-grain that tickles your fancy. Whatever you choose know that the barista matches it with Vittoria Coffee Single Origin blends. For dessert, indulge in pumpkin and plain scones with coffee scented Chantilly cream and Cutaway Creek berry jam or delicious Earl Grey macarons. The signature espresso martini also wouldn't hurt…
Plazzo Versace Gold Coast
The Palazzo Versace high tea has an offering of magnificent martinis and cocktails, barista made coffee with decadent treats and elegant snacks. Marvel at the sparkling crystal chandelier, bespoke Versace furnishings, and azure Lagoon Pool whilst nibbling on a double smoked ham, jarlsberg cheese and djonnaise sandwich. It only gets better with desserts such as the Cherry Delice Dragonfruit, Pandan with Berry Choux Bun and unique rhubarb and passionfruit jams to accompany fluffy scones.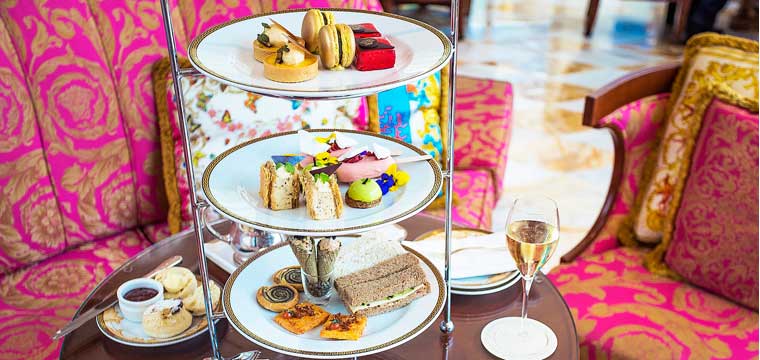 QT Hotel Gold Coast
There's no chance of forgetting where you are with this hotel's 1950s-inspired beach-club resort feel, and treats that take form of bikini babes.
Just a short stroll from Surfers Paradise Beach this high tea offers an exquisite but surprising menu. What appears to be a sweet red macaron (isn't that always the case?) is actually a tomato one that features tomato consommé gel, cream cheese and basil from QT's garden.
You can also add a little something extra to your experience by sipping on some delicious Champagne Perrier-Jouet.
View our review of the QT Hotel Gold Coast>>