Discover the best High Tea experiences Sydney has to offer. There are many high tea venues to choose from, some with stunning harbour or bushland views, and others filled with crystal chandeliers and glamour.
We have done the hard work and put together a list of our favourite Sydney High Tea venues. Us lucky High Tea Society contributors give our reviews a star rating and these are the top-rated reviews.
The full list of High Teas in Sydney can be found in the High Tea Society Venue Directory.
Best High Tea Sydney: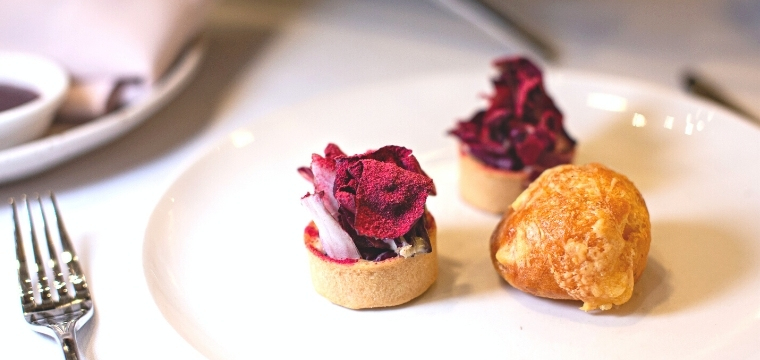 Mode, Four Seasons Sydney
Located a short five-minute walk from Circular Quay train and light rail stations, Mode restaurant is in the Four Seasons Hotel Sydney foyer. It's cleverly designed, surrounded by an opaque glass barrier to separate it from the hustle and bustle of the foyer giving the space some intimacy without feeling locked away. Executive Pastry Chef Quentin Zerr has put together an amazing menu which his team execute exceptionally well. Pops of colour, flavour and texture have been thoughtfully assembled into a high tea that is one of the better ones we've experienced in a while.
199 George Street, Sydney
High Tea at Mode, Four Seasons Sydney review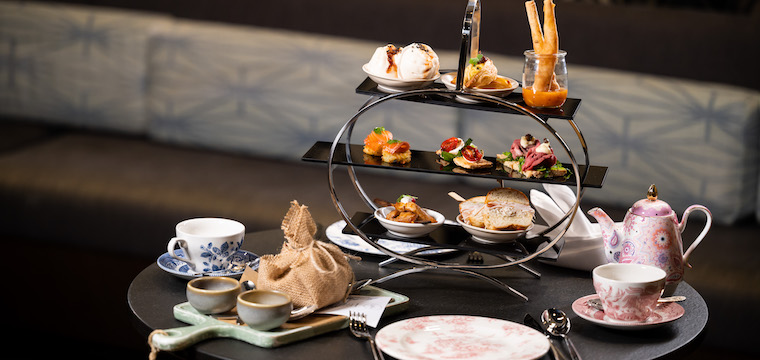 G&Tea at the Hyatt Regency Sydney
High Tea in the Lobby Lounge of the Hyatt Regency Sydney now has a modern Australian twist with G&Tea. G&Tea is served in the Lobby Lounge in the heart of the Hyatt Regency Hotel, think sleek booths, warm atmosphere and casual elegance. This is a high tea experience perfect for those who have eclectic tastes, as there's Australian flavours such as eucalyptus and pepper berry.
161 Sussex Street, Sydney
G&Tea at the Hyatt Regency Sydney review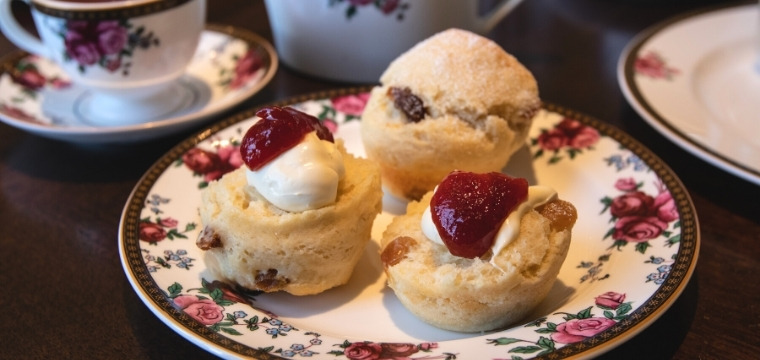 Langham Sydney
Arriving at the Langham Sydney is always a polished experience. Uniformed porters are buzzing about the foyer opening doors and helping guests with their luggage. As always at The Langham the menu includes a lot of traditional flavours and a few new surprises along the way. We don't usually get good arancini balls on a high tea menu, but these mushroom and feta versions were delicious. The rice was cooked perfectly so the ball stayed nice and moist and mushroomy on the inside with a crispy outside, make sure you eat them while they're still warm.
89-113 Kent Street, Sydney
High Tea at the Langham Sydney review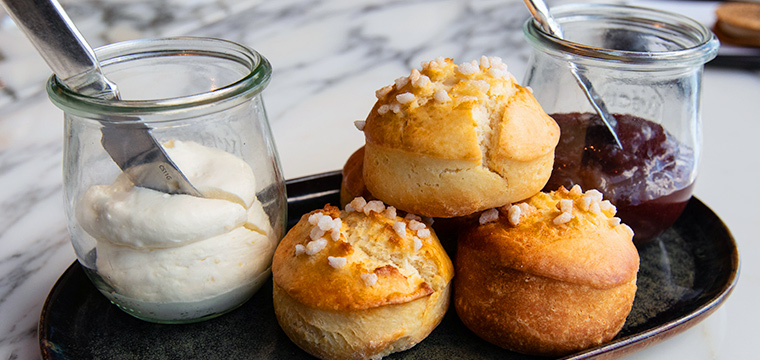 Park Hyatt Sydney
The Park Hyatt Sydney is credited world-wide as being a 5-star experience and our most recent visit to indulge in its new afternoon tea menu proved exactly why. They've turned the more traditional high tea on its head, but it's that good we don't think anyone will object – we certainly didn't! Gone is the silver stand in the middle of the table, replaced with a grazing style menu of 11 petite dishes which are grouped together and served to the table over seven different courses. It's an experience not unlike a fine dining degustation. Add in the floor to ceiling windows with the always amazing Sydney harbour view from Campbell Cove across to the Opera House and you've got yourself one decadent afternoon indeed.
7 Hickson Road, The Rocks, Sydney
High Tea at the Park Hyatt Sydney review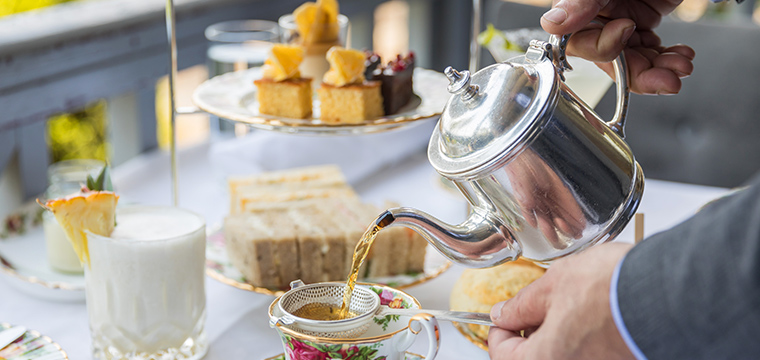 Gunners Barracks Tea Room
High Tea at the Gunners Barracks – an unbeatable location where Sydney Harbour takes centre stage. Many times, I've ambled along the bush track that hugs the edge of the rocky coastline between Bradleys Head and Balmoral Beach, on Sydney's north shore, with the heady scent of angophoras, eucalypts and banksias. But this time, I visited for a relaxing afternoon, to enjoy High Tea at the Gunners Barracks, sited on a clifftop 65 metres above the water's edge, with views of the city skyline, ferries criss-crossing, of billowing sails, and bushland that surrounded us.
End of Suakin Drive, Georges Heights
High Tea at the Gunners Barracks Tea Room review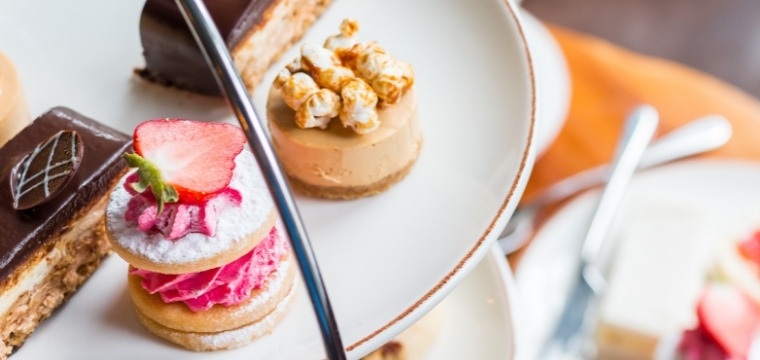 Radisson Blu Plaza Hotel, Sydney
Enjoy High Tea in the heart of the city at the Radisson Blu Plaza Hotel, Sydney. Located at the confluence of O'Connell, Pitt and Hunter Streets, the stately Radisson Blu Plaza Hotel occupies the triangular landmark Beaux Arts building, built in 1856 for publishers John Fairfax and Sons.
27 O'Connell Street Sydney
High Tea at Radisson Blu Plaza Hotel, Sydney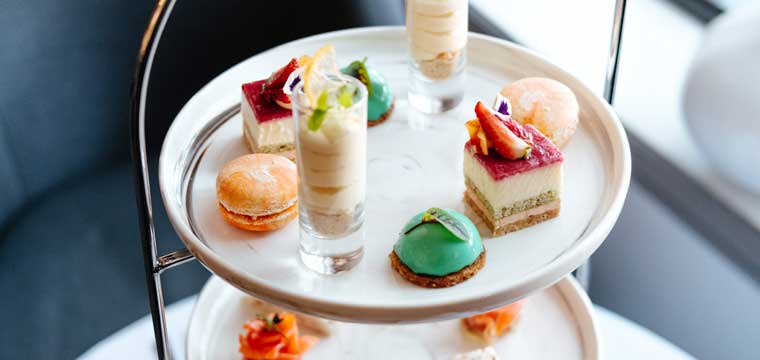 InterContinental Double Bay
Afternoon Tea at InterContinental Sydney Double Bay fuses art and food together with a limited edition Haut Patisserie High Tea that is not to be missed. High Tea at InterContinental Sydney Double Bay is a formal affair, with white clothed tables, 5-star elegance and a subdued setting, ideal for a special occasion.
33 Cross Street, Double Bay
High Tea at InterContinental Double Bay review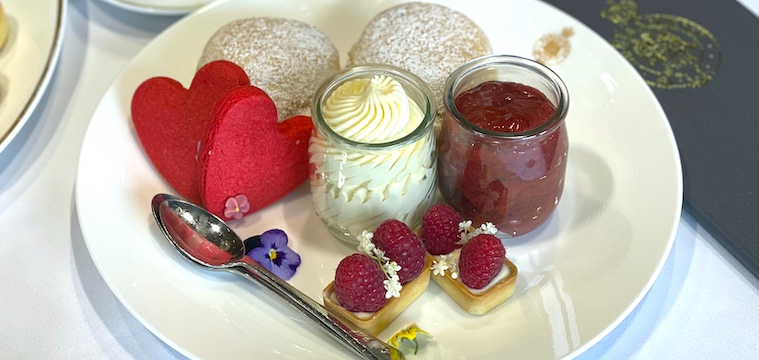 Stranger's Dining Room, Parliament NSW
The Parliament of NSW restaurant is perched above the Domain Gardens and provides a lush dining experience to enjoy High Tea. Strangers Restaurant, unbeknownst to those who have not yet ventured into Parliament House is located on the outskirts of the Sydney CBD. The restaurant is perched above the Domain Gardens and provides a lush dining experience amongst the historical nature of dining in Parliament House. At the helm of the restaurant is Executive Chef Vanessa Harcourt and her passionate High Tea Chef Michael who run High Tea in the restaurant, exclusively on Fridays only between 12pm – 3pm.
6 Macquarie Street, Sydney
High Tea at the Stranger's Dining Room Parliament NSW review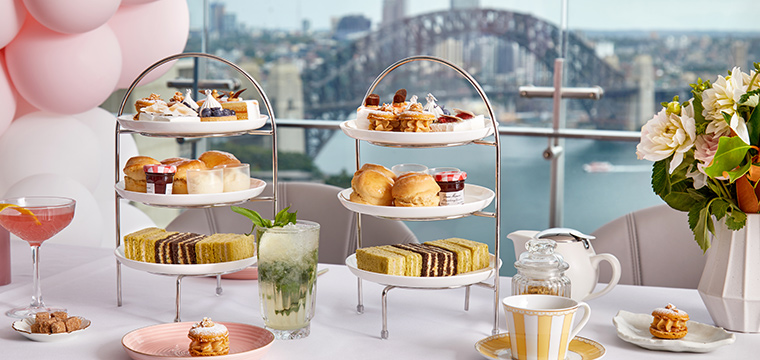 InterContinental Sydney
Experience sky high views of Sydney Harbour, alongside the beautifully crafted Sky Tea Menu in the Panorama Lounge Bar at the InterContinental Sydney. On the 31st floor of the InterContinental Sydney, The Panorama Lounge Bar offers a delicious High Tea menu, served with an incredible view of some of Sydney's most iconic attractions.
117 Macquarie Street, Sydney
High Tea at the InterContinental Sydney review
High Tea Sydney – find more venues in
the High Tea Society Venue Directory