Parisian macaron with an Italian flair recipe by Pierrick Boyer.
Classically trained and internationally acclaimed Executive Pastry Chef Pierrick Boyer has kindly revealed to High Tea Society his Parisian macaron with an Italian flair recipe. Francophiles would be pleased to hear that the iconic French sweet can be whipped up at home if they're not able to visit Pierrick's 'Le Petit Gateau'– French for 'the little cake' – on Little Collins St, Melbourne. The Foodies' Guide to Melbourne has voted it 'Best Pastry Shop.' So we'd recommend taking a leaf out of his book below.
Pierrick Boyer

Pierrick's acquired a wealth of international experience working alongside acclaimed Chefs such as: Alain Ducasse, Christophe Michalak, Pierre Marcolini and Stephane Leroux (MOF). Aside from having over an impressive 27 years' experience in the industry (in France, Belgium, Italy, America and Australia), he's also actively involved in charity work.

He has worked alongside and supported organisations such as: The Starlight Foundation, Australian Childhood Foundation, The Royal Children's Hospital, Olivia Newton John Cancer & Research Centre, Hope Foundation Laos and more.

It's inspiring to see what Pierrick has to offer the world other than his culinary creations such as the peanut chocolate-raspberry gateau, which was voted 'Best Gateau' in Foodies Guide to Melbourne and one of the 'Best Chocolate Cakes' by The Herald Sun. In 2012, Le Petit Gateau was voted 'Top Restaurant' by Zomato. Pierrick's also been recognised across Asia for his experience and talent. Not only has he appeared at special events but on charity and cooking TV segments. Closer to home, Pierrick has appeared on SBS 'Taste le Tour' with Gabriel Gate (2007-2011), 'French Food Safari' with Maeve O'Meara, 'Coxy's Big Break,' 'Postcards,' with Justine Schofield in 'Everyday Gourmet,' on chefmasterclasses.com and at the Paris to Provence French Festival from its inception.
Ingredients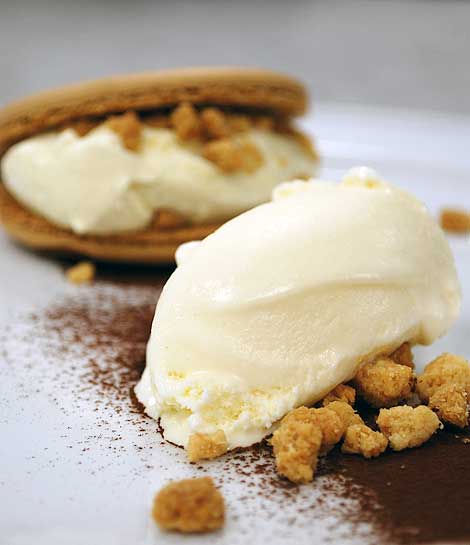 Parisian Macaron:
Almond meal  –  125 gr
Icing sugar –  125 gr
Egg white – 43 gr
Sugar – 115 gr
Water – 38 gr
Egg white – 43 gr
Reduced expresso – 10 gr
Vanilla Mascarpone Cream:
Mascarpone cheese – 150 gr
Whipped cream – 150 gr
Vanilla bean – 1 unit
Plain Streusel:
Plain flour – 150 gr
Raw sugar – 150 gr
Almond meal – 150 gr
Unsalted butter – 150 gr
Salt – 5 gr
You can use rice flour to have a gluten free streusel.
---
Instructions
Parisian Macaron:

Sift the almond meal and icing sugar, while cooking the water and sugar to 121c. When boiling, start to whisk the egg white. Pour the cooked sugar in to the meringue, then mix by hand the liquid egg white, almond meal and icing sugar. Then add the warm meringue. Mix by hand until it has a loose consistency. Pipe quarter size macaron and let crust for 30 minutes. Then bake at 150*c for 12 minutes (depending on oven).

Vanilla Mascarpone Cream:

Whisk the cream and scrape the vanilla bean to a soft peak, add the mascarpone gently and reserve in the fridge for at least 30 minutes before use, to form a nice quenelle.

Plain Streusel:

Mix all ingredients with the room temperature butter. When mixed, break the pieces of raw crumble on a baking and bake at 160c. Once the streusel has cooled, crumble.