High Tea at the InterContinental Perth City Centre is served with a view of the city from The Loft Bar, this is an experience fit for a Queen.
If you've ever wondered what royalty might eat, the InterContinental Perth gives you the opportunity to dine like a Queen – or more specifically Her Majesty Queen Beatrix of the Netherlands. The InterContinental Perth has enlisted the extraordinary talents of Chef Ramon van de Griendt, previously a chef for the Dutch Royals, who has developed a delicious high tea fit for a Queen but for the likes of you and me in central Perth. What more could you want?
This newly refurbished hotel (opened in October 2017) is located on the corner of Hay and King Street, in the heart of the Perth CBD.
The InterContinental brand arrived in Perth for the first time, taking over and redeveloping the former Rydges Hotel. With 240 guest rooms and suites and four restaurants and bars to choose from, the InterContinental is a modern oasis for both guests and visitors to indulge in.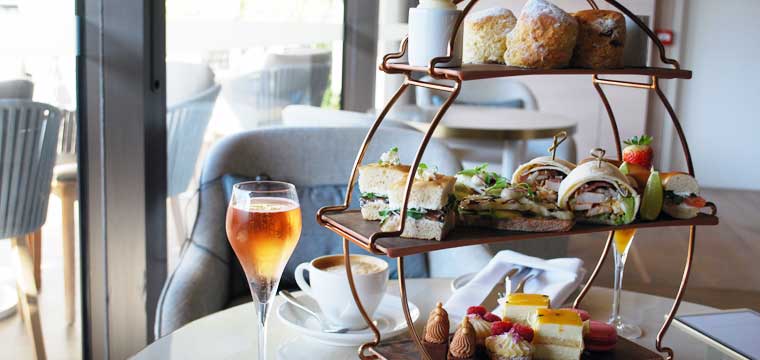 Located on the first level of the hotel, The Loft Bar provides a relaxing yet refined environment to unwind and enjoy. The High Tea is served on the picturesque outside terrace (remember to bring a hat), with a view towards Hay Street and His Majesty's Theatre, which is home to the WA Opera, WA Ballet and Perth's myriad cultural events.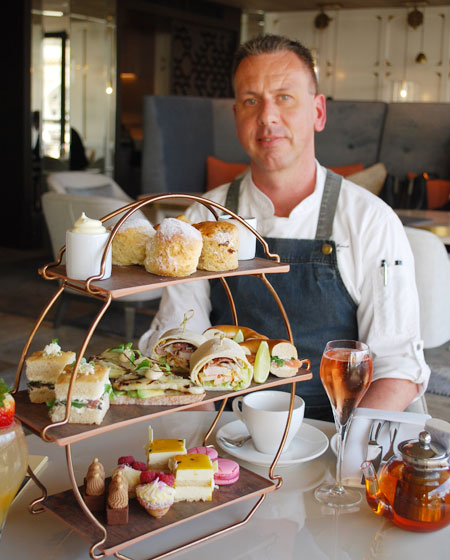 The Loft Bar is an intimate and cosy venue that boasts an elegant and sophisticated interior leading on to a terrace, perfect for catch ups or an after work drink. The inner workings of the InterContinental breathes an air of modernity, and style, which is also reflected in their non-traditional high tea, featuring brioche buns, without the traditional finger sandwiches.
Chef Ramon van de Griendt, not only cooked for royalty but he was previously the Sous Chef in the Michelin Guide recommended Restaurant de Viersprong in the Netherlands . He is qualified in French Cuisine and uses his talent to create a magnificent high tea, sans the finger sandwich.
Upon presentation of the three-tier stand, I was intrigued and excited to indulge in a modern and avant-garde High Tea.
Tackling the stand from the middle layer, the lack of traditional high tea elements (with the inclusion of brioche buns etc.) became clear  was refreshing and new. The fillings were unusual, but surprisingly delightful. They included Grilled halloumi with avocado and hummus, and Paprika chicken, wood-fired grilled bacon and egg.
The star of the High Tea, was the dessert selection. Presented, was a beautiful and exotic selection of sweet treats including a white chocolate and passionfruit torte, and a raspberry and lemon curd friand. But the hero of this layer for me was the milk chocolate, sea salt and caramel tartlet. The tartlet was absolutely delicious with the smooth texture and flavour blends of all the components working together to make it a true delight.
The top layer featuring buttermilk, and raisin and cinnamon scones was perfectly complimented with generous servings of clotted cream and home-made preserves. The substantial servings of toppings meant the perfectly-made scones could be enjoyed without the imminent fear of running out of cream or running out of preserves. Overall, the scones were delectable and absolutely lovely.
High Tea at the InterContinental Perth menu: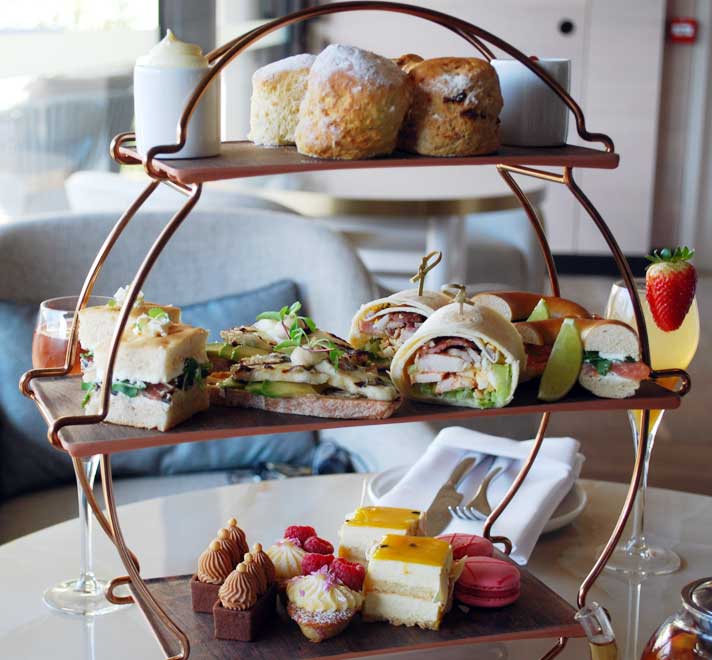 Flute of Howard Park Jete Sparkling Rose NV or non-alcoholic Bellini
Grilled halloumi with avocado and hummus
Smoked salmon with watercress & dill cream cheese
Goats cheese with prosciutto
Paprika chicken, wood-fire grilled bacon and egg
Clotted cream and home-made preserves
Raspberry and lemon curd friand
Milk chocolate, sea salt and caramel tartlet
White chocolate and passionfruit torte
Macaron
Buttermilk scone
Raisin and cinnamon scone
Served with your choice of Ronnefeldt tea or Vittoria organic artisan coffee
The InterContinental Perth also offers gluten free and vegan high tea menu, with 24 hours notice required.
For such a wonderful experience, the High Tea is reasonably priced, at $59 both a glass of Howard Park Jete Sparkling Rose and bottomless Ronnefeldt tea or Vittoria organic artisan coffee are served. High Tea is available on Saturday and Sundays from 12pm – 5pm.
A hideaway from the Perth CBD, High Tea at the InterContinental Perth is an intimate, and classy experience that is perfect for any type of occasion. With its recent opening, it is an outstanding venue with magnificent food, and this little secret won't stay hidden for long.