They say it's what's on the inside that counts, so by that token – entering Madame Brussels is like going on a date with a conservative politician who takes off a beige suit to reveal frilly pink underwear.
After making your way up to the third floor of what is an awkwardly dated office building, you are pleasantly surprised by an oasis of fun, frivolity and flirtatiously dressed staff. Artificial grass, vintage white metal chairs and colourful parasols set the scene for this unique venue. You may know Madame Brussels best for its after-hour cocktails, but check out the Garden packages on Saturday and Sunday to enjoy an unconventional high tea under sunshine.
When we visited, the summer package was on offer – encompassing rounds of sandwiches, cupcakes, scones and sausage rolls. The menu doesn't change dramatically during the other seasons asides from the rotating accompanying punches. The manager and hostess, Miss Pearls, describe the food as "daggy and old fashioned", but it's precisely these elements that make it so darn tasty. The sausage rolls are handmade by her mother from locally sourced produce.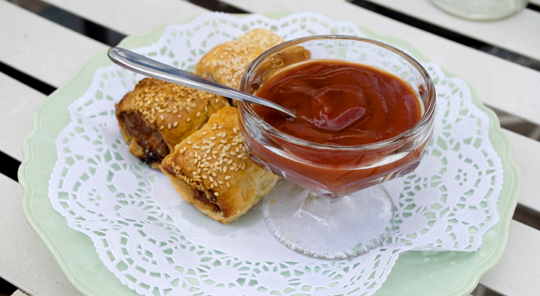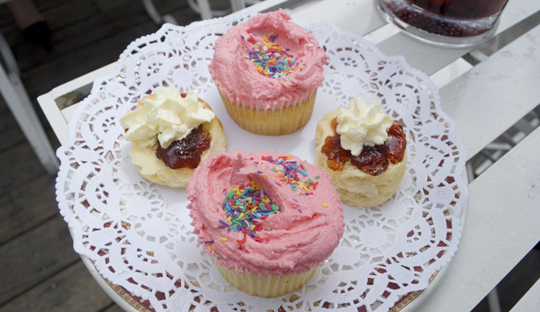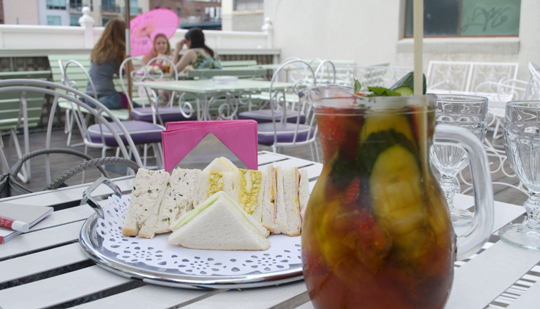 The sandwiches are hearty and wash down a Pimm's cocktail seamlessly. The fluffy scones are equally matched with sugary bursts of cream and jam, and what better way to polish off the setting than with a pink cupcake. Sure, the food isn't breaking any high tea boundaries, but you don't go to Madame Brussels for the food alone – it's about an experience amongst friends that can't be found elsewhere. Birthdays, hen's parties, girlfriend catch ups are all well served by the Garden packages. At $38 per head, including a drink, it's an investment that will certainly pay off – even if it's just to observe the "sexy boys" in their short shorts float around the grounds.
Bookings are essential and there's a 20-person limit in each group.