If your motto is "Let them eat cake!" then the high tea at Ladurée is the place for you!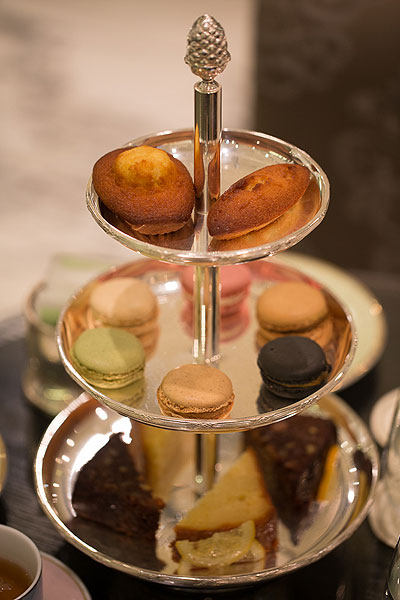 I'll admit, I'm a bit of a Francophile and if I could live in Paris for the rest of my days I would. So I was quite excited when I was given this assignment. Laduree's macarons have a reputation as being some of the best in the world.
You'll find Ladurée on level 3 in Sydney's Westfield on Pitt St Mall. Wait at the kiosk entrance to be seated by a staff member, then settle in for some treats. The kiosk is bordered by green hedging, and all of the café tables are set with Ladurée branded crockery, ready for tea service. Pull up a fabric-covered chair and peruse the rather extensive menu. There is more than just the high tea stand on offer here, all of it on the sweeter side of life, so if you're after savoury you're out of luck.
The stand comes with tea and champagne (depending on which option you choose). The tea menu has a dizzying array to choose from, we asked the waiter if he could suggest two for us, and the two we ended up with (the Marie-Antoinette and the Othello) were spot on to our tastes.
You're also asked to choose 6 macaron flavours from a list of over a dozen. Again it's tricky because they all sound divine. But don't fret, any you don't get to try on the stand you can order as a take home pack for later. Once you taste just how amazing these macarons are, you'll definitely be taking up that offer!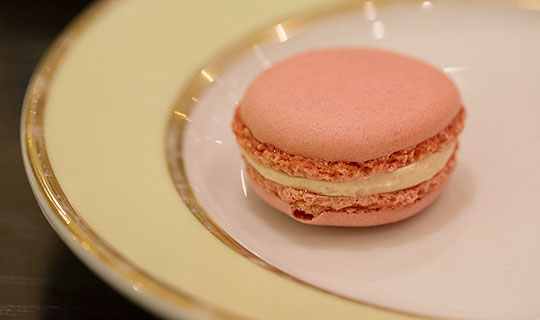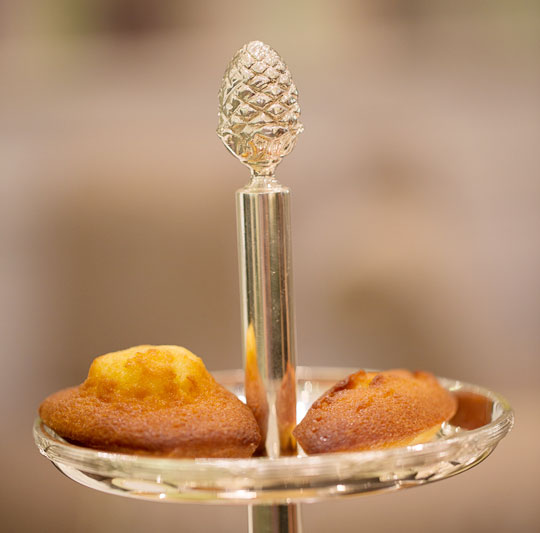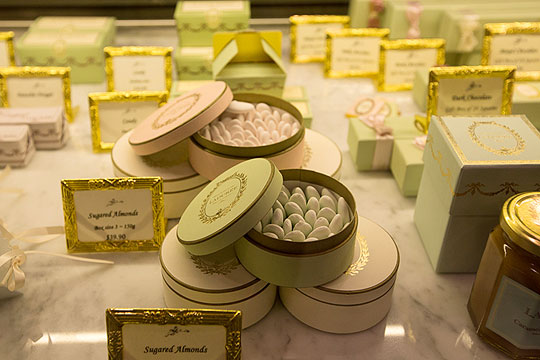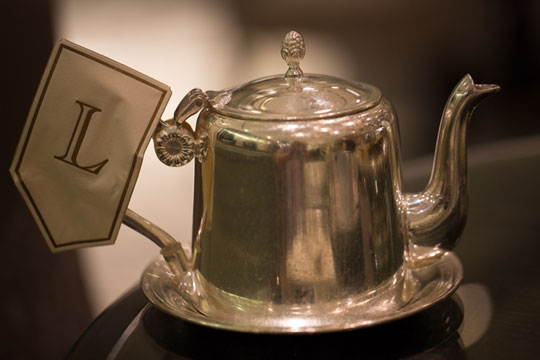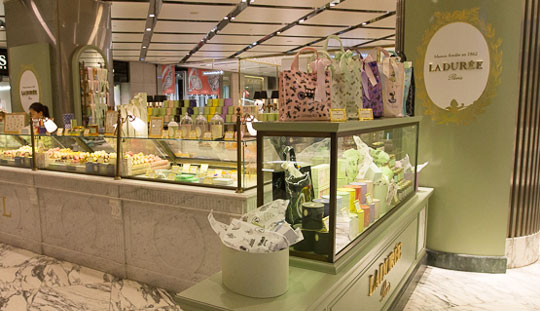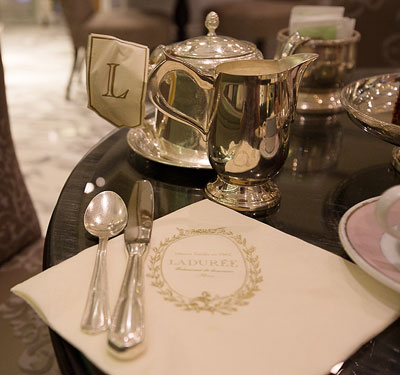 The selection on our mid-tier was: licorice, pistachio, salted caramel, praline, vanilla and rose. I think the most surprising one in its lightness of touch was the licorice. It was jet black so we were waiting for a real overpowering hit of aniseed. It never arrived. The texture of the outer shell and the creaminess of the filling were truly amazing, and we were left with just a hint of that aniseed flavour we were initially worried about. You really don't need to be a licorice fan to enjoy this one. The other flavours were also perfect examples of what a macron should be. Perfectly crisp on the outside, with a slight chewiness in the centre of the shell, and a filling so smooth and well flavoured you wonder how you've survived without tasting something so delicious before.
The other tiers had a selection of cakes. The financier was lovely and moist and the citron cake had a wonderful lemony tang. All were perfectly matched to our pots of tea, nothing overpowering that would be better matched with a cup of coffee (which is also available if you don't want tea).
Overall, this high tea is definitely for the sweet-toothed among us. Everything is incredibly dainty and delicious. Let them eat cake indeed!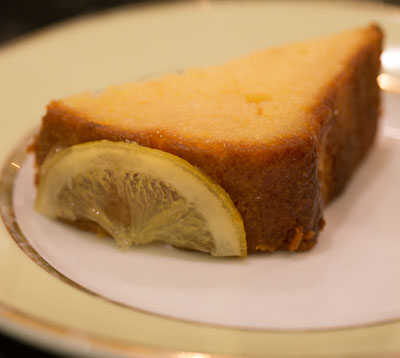 Ladurée High Tea Menu


Financier
Madeline
Cakes
6 macarons (guests choice – over a dozen to select from)
Tea selection: 24 to select from, full range from blacks through to several different greens.