Observing etiquette at High Tea is expected as it has been throughout the ages.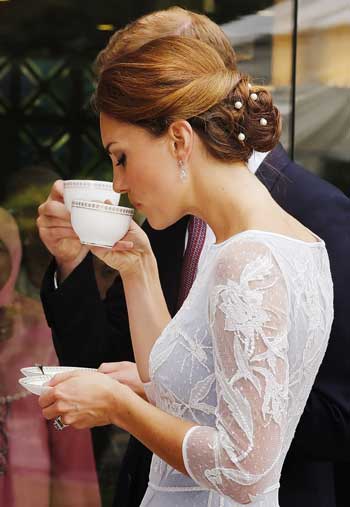 It was in 1840 when the 7th Duchess of Bedford requested that light sandwiches be brought to her during that sinking feeling in the late afternoon because of the long gap between lunch and dinner. She began asking others to join her and thus the afternoon tea tradition began. She wasn't the only royal figure to engage in the afternoon tea ritual, Queen Victoria popularised and turned it into a formal occasion on a large scale known as a "tea reception".
Today Queen Elizabeth hosts Garden Parties at Buckingham Palace in the summer. Hailing from such regal origins, it goes without saying that a real high tea experience requires the most polite persona and polished presentation. We asked etiquette experts Ita Buttrose and William Hanson for the dos and don'ts during afternoon tea. They taught us just how important it is to be on your best behaviour at all times.
Australian journalist, businesswoman, television personality, author and founding editor of Cleo, Ita Buttrose is a firm believer in good manners. Buttrose doesn't see any reason why we should neglect them. The pace of contemporary life is no excuse.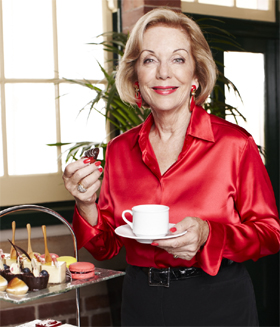 We learnt that good manners go a long way, not only just showing respect to someone but they give a polite person increased self-confidence and the ability to be at ease in most situations.
"Good manners mean being kind and thoughtful to others, making allowances for their shortcomings and being considerate about their feelings. If we fail to place importance on these attributes, then we are the losers and the quality of our way of life is diminished too".
One of the most famous etiquette coaches in England, William Hanson has also shared with High Tea Society, his journey to class and mastery.
Noting quickly his precocious nature in infancy, Hanson's grandmother gave her grandson an etiquette book that helped him to realise his passion. After absorbing a few other guides that Hanson bought himself, he took it upon his 16-year-old self to teach the year 9s (12 -13 year olds) the art of setting a table. A natural at it, Hanson didn't stop and found himself in a truly unique line of work, one that he never intended on being in.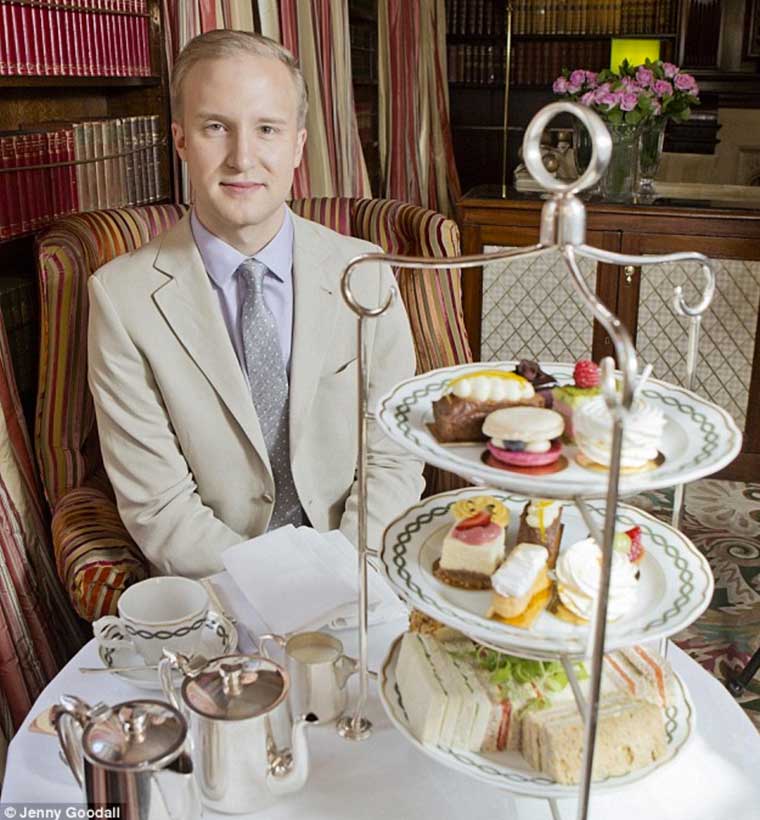 Since then Hanson's been very lucky to work all over the world, particularly in China and the Middle East, teaching all sorts of people all sorts of topics. In the UK he's been very lucky to be featured on BBC Radio 2, the MailOnline and ITV.
While Hanson loves imparting wisdom all over the globe it is his belief to never take himself – or his subject – too seriously. Hanson jokes, "Etiquette is important and there is a huge need for it in modern life, but we can have a laugh as we learn".
He credits both his grandmothers as his inspirations.
"My maternal grandmother was the one who gave me the etiquette book, and she was a great believer in doing the right thing and following the rules: I got dragged from a conversation at a wake once when I said 'pleased to meet you' instead of the correct 'how do you do?' We then returned to the conversation and I was made to reintroduce myself. My paternal grandmother had great style and was incredibly gentle and caring."
Buttrose and Hanson inspired us to prepare our Top Ten High Tea Etiquette Tips.
Our High Tea Etiquette Tips: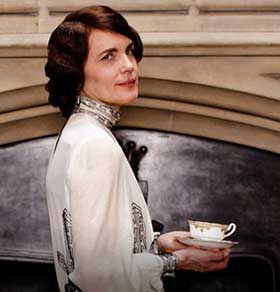 Never start eating until everyone has been served unless, your host tells you not to wait.
A napkin – not serviette, folded along the diagonal and placed on your lap.
Avoid picking items from the tower with your fingers, use your fork if servers aren't provided.
Never remove a plate from the tower.
If you do have servers, make sure they go back on the tier so guests may serve themselves.
Scones are like bread rolls and should be broken into manageable pieces with your hands, never cut with a knife and fork.
Use serving spoons to add jam and cream to your working plate and use a knife if there are no serving spoons but never "cross-pollinate" the condiments.
Stirring the tea in a back and forth motion. A light flick of the teaspoon above the cup when finished (to shake off the drips) is elegant. Tapping the spoon on the side of the cup is not.
Chew your food with your mouth closed. Don't wave your knife and fork around to make a point.
When finished fold the napkin and place to the side of your plate.
Unless it is offered don't ask to take the leftover cakes home.
Did you know?
Contrary to popular belief, extending your pinkie finger is not the done thing.
During Victorian times milk was added first to protect the fine bone china from cracking.