Browse the High Tea Society's guide to tea pairing to see which teas pair well with your favourite High Tea dishes.
Unsure what foods to serve with your High Tea? The High Tea Society has the best tips on the best ways to match food and tea. These tips will enable you to enhance flavours, get guests talking and create the most memorable High Tea experience for you and your loved ones. Read on to find some basic food and tea pairing ideas and what teas can enrich your tea experience.
A High Tea usually comprises of an array of savoury dishes such as finger sandwiches, small appetisers, scones with clotted cream and jam and gorgeous sweets such as miniature cakes, pastries, cookies, shortbreads, fruits etc. There are usually six types of tea served, these being white, green, yellow, oolong, black and dark. To find out more about what dishes are served at afternoon tea, check out this Twining's post.
Tea Pairing Tips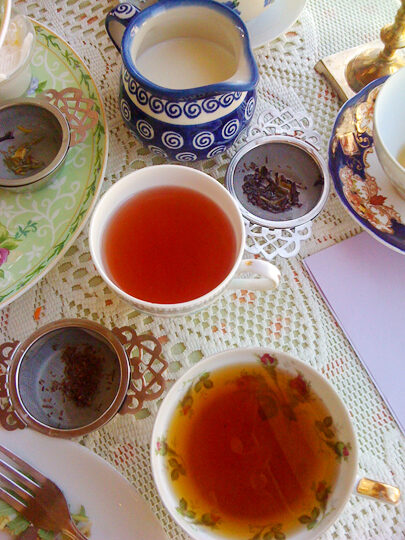 Tea pairing tips compiled by the Tea Curator include:
Consider the weight of the dish, what tea has a similar intensity
Choose a tea with the same notes as the dish you are eating e.g. Gyokuro (a green tea from Japan), which has marine and vegetal notes, and works well with simple white fish and green vegetable dishes.
Consider the flavours that go well with the key ingredients of the dish and find a tea that pairs well with these flavours
Think about the texture and way the tea feels in the mouth: is it astringent? (causes a drying sensation), or is it mellow? Or is it full-bodied? (coats the mouth).
Teas to start and cleanse the palette
A High Tea experience is a subjective experience that should be one of fun, laughter and enjoyment. So we recommend starting off a high tea experience with a lighter palette cleansing tea. Such as Konacha (a Japanese tea with gyokuro and sencha leaves) and white teas, which add a fresh start to a tea experience.
Teas that match well with sweet treats
There's nothing better than the nice sweet treats at a High Tea experience, so what teas are best to pair with them? Darjeeling tea is best paired with creamier desserts like eclairs, pastries and chocolates. Fruit teas are best served with sweet treats and pastries, earl grey tea and hibiscus tea is best paired with citrus treats especially lemon flavoured ones, Jasmine tea is best served with fruits and fruit-based desserts, floral scented teas, green tea, oolong and white teas pair better with fruit salads. Chai masala and chai latte are best paired with milk chocolate or cinnamon buns.
Teas to pair with savoury goodies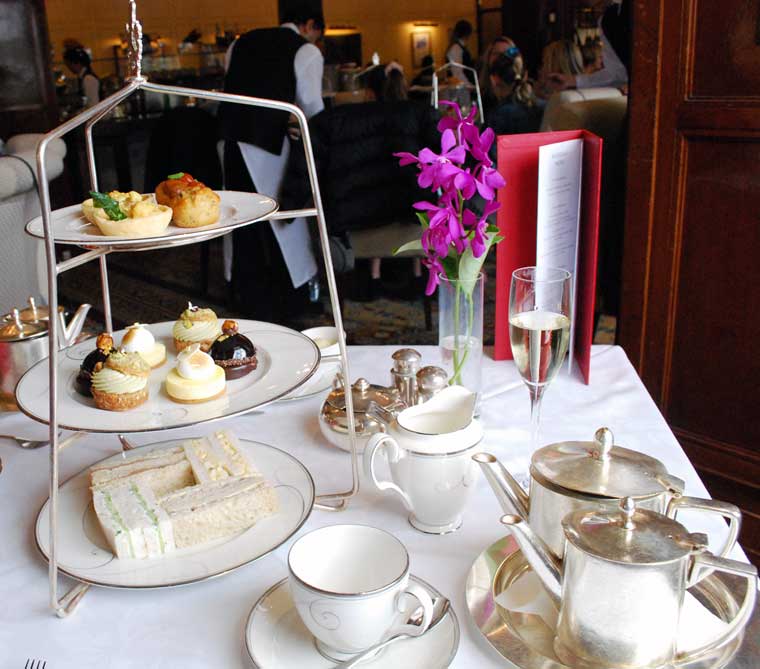 The highlights of a high tea experience can be the delicious array of savoury dishes, cheeses, sandwiches, and pancakes. However, what teas do you pair with these dishes?
Breakfast teas and Assam tea are excellent with heartier meals. Dark oolong can be paired with stronger flavours like cured meat/smoked, pancakes, granola and general oolong can be served with dried meats, nuts and light seafood.
Any dark tea can be sipped with meat and cheese. For sandwich pairing, white tea and green tea can be a tasty fresh pair and can even work well with cucumber finger sandwiches.
For oily foods, Pu'erh tea is a suitable choice, to discover more about Pu'erh tea, visit this blog post by Simple Loose Leaf. If you want to serve lighter dishes, plant-based foods, fish and mild cheeses, then green tea or white tea can be a smart choice! 
Kenyan black tea is suitable for savoury foods and pastries and mint and green tea are delicious to enjoy with nuts.
Teas for relaxation and to end a lovely tea session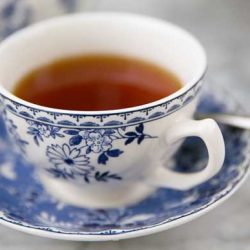 After a lovely tea experience, it's nice to end on a relaxing note. Some teas recommended for this exact purpose are lavender tea (best served with baked goods and scones), peppermint tea (best paired with sweets, chocolates and finger sandwiches and helpful for digestion), chamomile tea (with a dessert) or even palette cleansing white tea.
To learn more about tea tasting, check out this blog by Destination Tea and this post by The Dynasty of Tea to find out more about tea tasting notes.