Elevate your high tea at home with beautiful teaware designs. From floral patterns to gold accents, discover our top picks to add elegance to your tea time.
One of the most important aspects when creating a High Tea at home is the tea set used to serve the tea. A good tea set should not only be functional but also aesthetically pleasing, and add a touch of elegance and sophistication to the experience. In this blog post, we'll take a closer look at some of the best tea sets available on the market.
Fine bone china tea sets are a classic addition to any tea lover's collection, here are a few to choose from.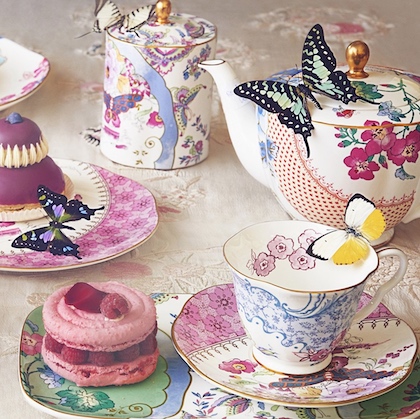 Wedgwood was founded in England in 1759. One of their most beautiful designs is the Butterfly Bloom Tea Set. This afternoon tea set is a true work of art, with teapots, cups and saucers all featuring a delicate butterfly and floral design, painted in stunning detail. The set is fashioned out of fine-bone china, making it not only beautiful but durable and long-lasting.
The goal of a good tea set is to be stunning enough to warrant use at special occasions, but in fact be durable and long-lasting enough to handle every day. LyndalT does exactly that, with style. High Tea Society can't recommend the Flourish collection enough. Its bright, floral designs are sure to bring you many years of happy tea drinking.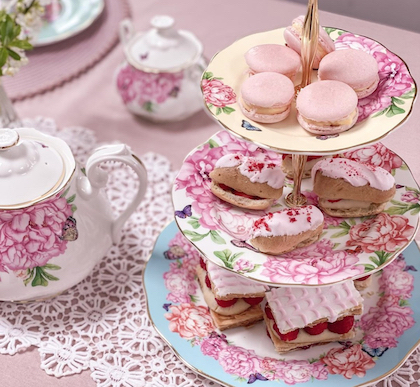 Royal Albert was established in England in 1904, and has been a staple in luxury teaware ever since. One of their most iconic patterns, Old Country Roses, is now celebrating its 60th anniversary. The popular pattern is a classic, timeless design that lends elegance and style to any tea set.
This American teaware brand, founded by potter Johnathon Adler, sells a unique range of mod-influenced tea sets that will be sure to impress. The contemporary designs feature those such as the Muse collection, with mesmerising faces moulded into the porcelain and quirky lip shapes imprinted on their teapots. If you like your high tea a little more unconventional, this one's for you.
Designed in London, Sara Miller Tea Ware exudes luxury with its vivid colouring and exotic patterns. High Tea Society's favourite is the Chelsea Ceramic Tea for Two set, featuring an enchanting design of birds perched upon twining branches. The timeless set includes two fine bone china teacups as well as a tea strainer- the perfect way to treat yourself or another tea lover in your life.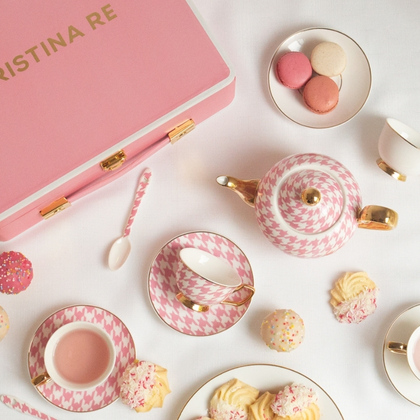 Cristina Re is an iconic designer hailing from Australia. Her beautiful collections feature vintage designs with a feminine touch made from high-quality "vegan friendly" new bone china. One of our favourite designs is the teaware set in luscious fuschia with gold trim, including mugs and teacups with a houndstooth pattern, sure to spice up any afternoon tea.
Another Australian teaware company, Ashdene has some beautiful options for you or another tea lover in your life. With mugs, teacups and teapots galore, Ashdene has something for everyone. Some of High Tea Society's favourites include the Garden Party design which comes in a range of colours such as lilac, sage, coral and blue bell, as well as the vibrant Red Poppies range.
A classic in design, the show stopping work from Finnish company Marimekko never fails to disappoint. Their clean, sleek finish and artistic modern pattern make their tea ware a worthy addition to your collection. We at High Tea Society currently have our hearts set on the Oiva teapot collection.
Melbourne-based company Maxwell & Williams has been a maker of teaware since 1995 and their colourful designs will brighten up any table. High Tea Society loves their vibrant Teas & Cs Silk Road design, which includes teapots and infusers. Find the perfect gift for a tea lover in your life here.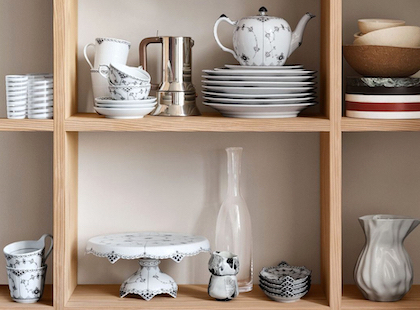 Established under the patronage of the Danish royal family in 1775, Royal Copenhagen specialise in distinguished, minimalistic design that exudes grandeur and luxury. The dainty patterning of the Blue Elements collection is particularly eye-catching, with plates and teacups available as well as sugar bowls and various dishes to host a high tea fit for royalty.
Fortnum & Mason is an English company established in 1707 whose sleek fine china would be a perfect addition to any high tea. High Tea Society particularly loves the High Tea Teacup & Saucer duo made exclusively for Fortnum & Mason with an elegant butterfly motif and flourishes of real gold set against the backdrop of their signature hue, Eau de Nil.
Australian company Mud is a fantastic choice if you're looking for a gift or simply to expand your teaware collection. Not only are the designs unique and modern, but the company is completely carbon neutral and their porcelain products are meticulously hand crafted. Their teacups and mugs come in a range of colours and they also sell two and four-cup teapots to suit every occasion.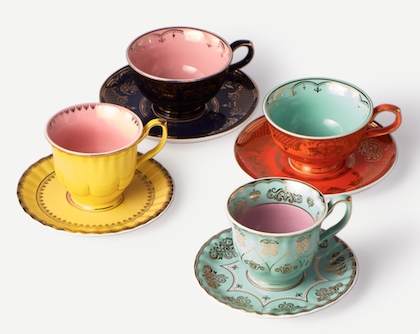 The Dutch brand Polspotten loves to add a bit of playfulness to the classic high tea, with fun, whimsical designs that would be a treat to serve tea in. Their Grandpa Teacups set is particularly cheerful, and their jewel-like tones and trimmings of gold will be sure to bring a smile to everyone's face.
Teaware designs can make your high tea at home even more special. Whether you prefer classic florals, modern designs, or vintage styles, there is a tea set out there to suit your needs. Consider your personal style and the occasion when choosing your tea ware and don't be afraid to mix and match different designs to create a unique and memorable high tea experience.
So why not add one to your collection today?
Find the perfect tea in our Tea Guide.