Hosting a High Tea Party is the perfect activity for any occasion, here is our guide to creating the perfect High Tea experience, from invitation ideas, setting the table, the menu and recipes.
When hosting your own High Tea Party, there are a lot of aspects to consider. The history and culture of such an event is difficult to encapsulate, but it is versatile enough to apply to any number of celebratory occasions. We hope our guide to throwing a High Tea Party will help you to host your very own with confidence and poise.
An invitation no-one could refuse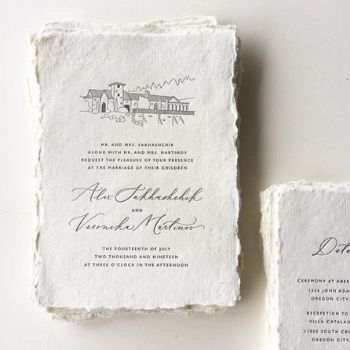 There is nothing quite as special as receiving a handwritten invitation in the mail. The feeling of opening a wax sealed envelope to reveal beautifully designed stationery and the neatly written invite. Calligraphy and letter writing; an artform previously on the decline, is making a comeback in a big way this year. Instagram accounts such as @mmcbridecaligraphy and @writtenwordcaligraphy have inspired us to invest in a fountain pen and practice our penmanship. Paired with some Cristina Re designer stationary, your guests will be only too delighted to accept.
As luxurious as a handwritten invitation is, many of us don't have the time to dedicate to ensuring each invite is signed, sealed and delivered. With so many niche online businesses dedicated to E-stationary, creating your own E-invite has never been easier. Companies such as GreenVelope and Evite offer a range of invite templates and customisable options to suit any High Tea occasion.
Scene Setting
Setting the Scene is a great place to start. While there are central themes that can (and should) carry through any High Tea event, regardless of its nature, it's also important to think about the details of the event itself, and how this should be reflected in the décor. For example:
The location of the event (inside, outside, at a function centre, or just one table at a restaurant)
The type of event (1st or 101st Birthday, bridal or baby shower, or just because High Tea is delightful)
How much time you have to plan and set up
How much budget you're willing to dedicate to the cause
Once you've considered the intricacies of the event it's time to put on your party planner hat (one suitable in a dignified setting of course) and get to the setting.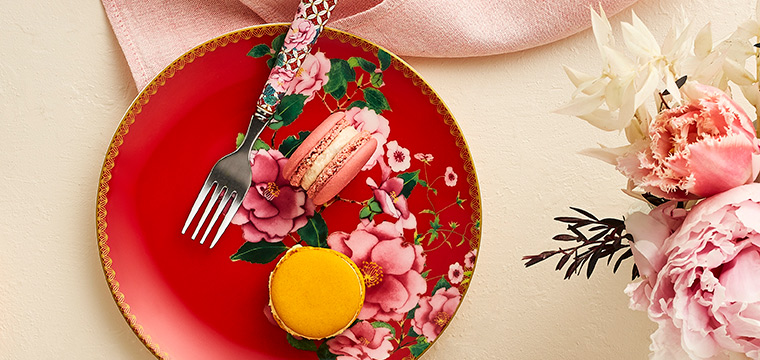 The Decorations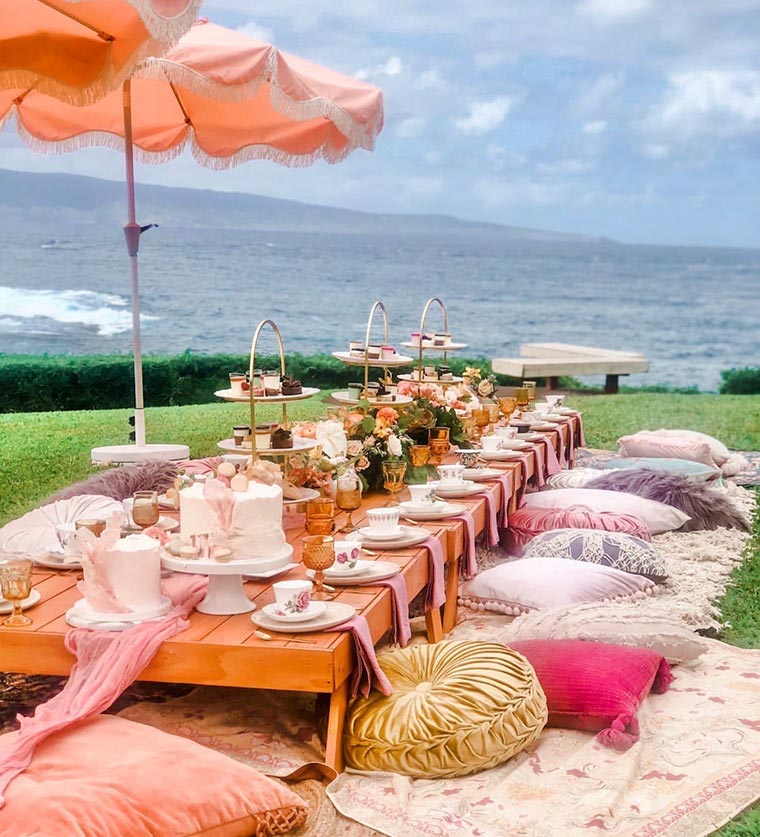 When deciding how to decorate, it's important to select a colour palette to carry through the whole event; Pastels are a classic hallmark of High Tea, but in our modern day, your Tea Party can be as unique and colourful as you are.  Once you've got a colour story locked in, it's easy to find or make decorative features to match.
Bunting; bright and reminiscent of celebration, Bunting helps to frame a High Tea luncheon, and highlight a carefully set table.
Flowers; florals evoke a sense of nature, while bringing pops of colour and (sometimes) scent into space. Flowers can also convey meaning, with yellow roses symbolising friendship, and peonies symbolising prosperity, you can choose flowers that speak for themselves.
Additional extras; Depending on the theme and overall colour scheme, any number of decorations can be used to dress the setting further. Framed photographs can highlight the happy couple for a bridal shower, and balloon garlands reflect birthday celebrations from yesteryear. The possibilities are truly only limited by your imagination.
Keep in mind, simplicity is key with High Tea and while it can be easy to go overboard, it's important to keep the focus on the table and its cornucopia of treats.
Setting The Table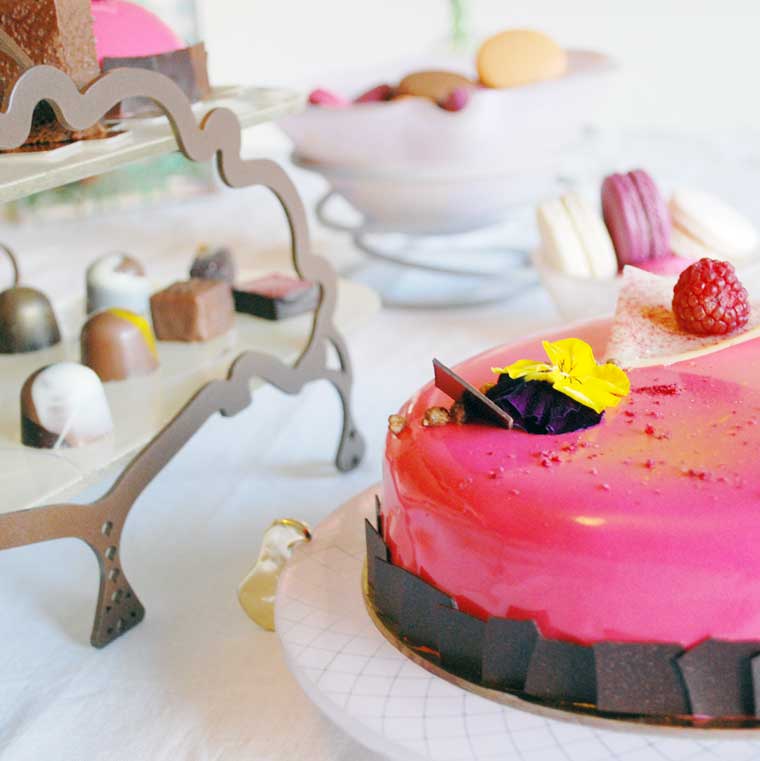 The centrepiece of any High Tea event is undoubtedly the table. When dressing the table there is a range of quintessential accessories to take your table from simple to stylish.
The Tablecloth
An understated accessory, the humble tablecloth provides the blank canvas for your High Tea table setting. While traditionally crisp and white, a modern take might be to add a splash of colour or texture, reflecting your events theme and colour scheme.
Doilies
Reminiscent of your grandmas living room, these delicately crocheted decorations do wonders to evoke a sense of nostalgia and create a retro vibe. Used as a centrepiece of the table, or even as placemats or coasters, doilies bring a sentimental element to a High Tea place-setting.
Cake Stand
Arguably the centrepiece of the table, the cake stand acts to highlight the delicious treats on offer. Typically, a singular level cake stand will display a centrepiece whole cake, whereas a tiered style stands often houses savoury treats on the bottom tier, Scones, jam and cream on the middle, topped with cookies and teacakes. A cake stand is an essential table dressing, paying homage to the Victorian era when High Tea was firstborn.
Fine China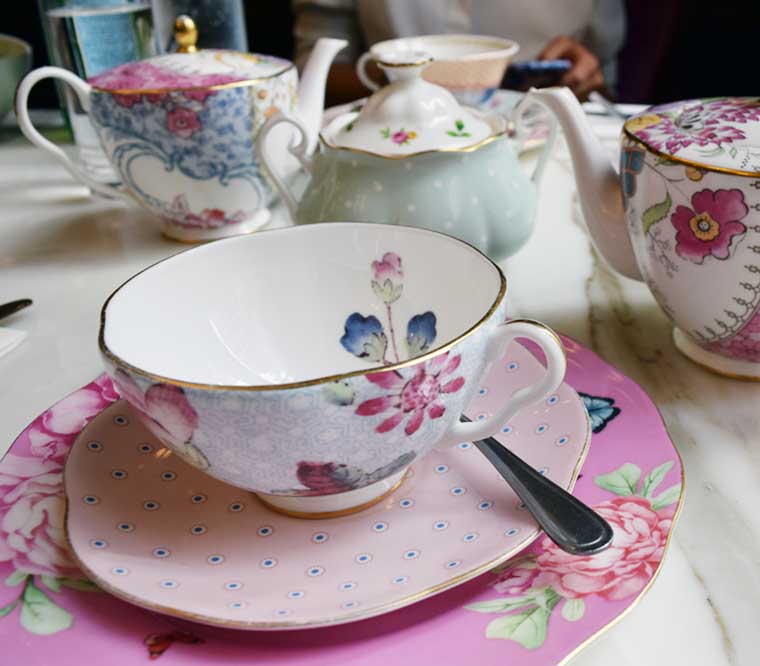 No High Tea is complete without a set of fine china. Brands such as Wedgwood and Royal Albert are renowned for their classic prints and delicate teaware. A matching teapot, teacup and saucer set is essential, along with a matching plate to pile high with treats.
More and more high fashion companies are creating tableware lines, injecting their own modern edge to classic sets. Cristina re and Marimekko are just two companies adding a modern twist to the classic High Tea table setting.
If you're not looking to permanently expand your teaware collection for your event, it might be worth considering renting a set from outlets such as The High Tea Mistress. The High Tea Mistress allows you to rent out a full set of classic, matching tea and tableware to elevate your High Tea experience, while reducing your post-party clutter.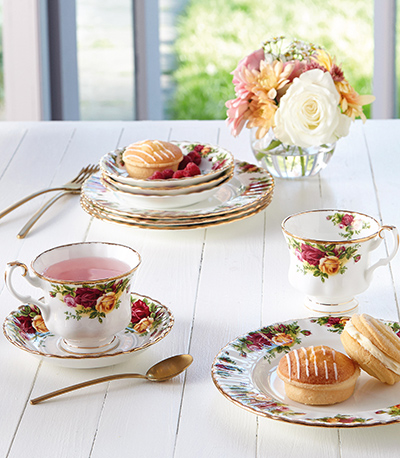 Another trend on the rise is the thrifted, mismatched place-setting. Your local thrift store is often full of hidden tableware gems. Many people donate odds and ends of old china sets to charity shops for you to add to your collection at a fraction of the cost. This approach can create a unique vintage, boho atmosphere for your High Tea party.
Now that your scene and table is set, its time to focus on the bounty of delicious treats to offer your guests. We've compiled a list of our favourite, classic High Tea recipes for you to draw inspiration from when throwing your own Tea Party.
High Tea Menu
Scone Recipes:
Scones; light and fluffy, dressed with fresh jam and rich cream are the backbone of the High Tea experience. Modern re-imaginings of the traditional recipe help to bring an array of new flavours to the table. The perfect pair for a classic scone is jam and cream. For those with the patience, homemade jam allows you to experiment with flavours outside the standard strawberry or apricot. Take inspiration from recipes recommended by the best purveyors of High Tea in the business.
Sandwich & Savoury Recipes:
Another quintessential High Tea staple is the finger sandwich; simple in their construction, these small bites can deliver a punch of flavour, and are deliciously dainty amid a spread of fancy treats.
Sweet Recipes:
Whether you prefer bite-sized and colourfully decorated portions or a three-layer centrepiece, no tea party is complete without cake! Check out the recipes below for inspiration from some of Australia's top Pastry chefs.