Sandwiches are a must-have for high tea and afternoon tea. Whether classic or adventurous, they suit every taste with delicate fillings on fresh bread.
Many would say the tea sandwich (or finger sandwich) is what defines a well-prepared, traditional high tea. Served before the cake and even before the other classic, the scone, the tea sandwich is the first taste that guests will experience and will be what sets the tone for the rest of the high tea.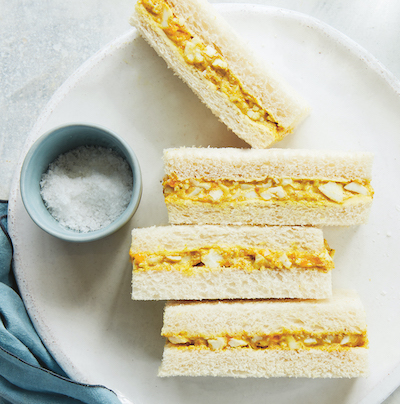 Afternoon tea originated with the English Duchess of Bedford, Anna Maria Stanhope, in the mid 1800s. Eventually the practise of having tea and sandwiches in the afternoon to stave off the hunger before dinner became the norm. Tea shops also became increasingly popular, and the tea sandwich became a staple in people's culinary lives.
Traditionally, the tea sandwich is made from thinly sliced white bread, buttered and with the crusts cut away. Usually, the sandwiches are cut into long rectangular shapes, hence the name 'finger sandwiches'; however, triangular, or small decorative shapes are also acceptable. As long as the sandwich is easy to hold and can be eaten in two to three bites.
Tips for making finger sandwiches:
Choose the right bread: Day-old bread is be best. Thinly sliced white or whole wheat bread is a classic choice, but you can also experiment with other types of bread, such as brioche, rye, or sourdough.
Cut off the crusts: For a classic look, cut off the crusts of the bread slices using a sharp knife. This will make the sandwiches easier to eat and give them a neater appearance.
Spread a thin layer of butter: Spread a thin layer of softened butter on each slice of bread. This will not only add flavour but also help to keep the sandwiches moist.
Add the filling: When it comes to filling, the possibilities are endless. Traditional choices include cucumber and cream cheese, smoked salmon and dill, or egg salad. Spread the filling evenly on the bread, making sure not to overfill the sandwiches. Follow the one-third rule: aim for two-thirds bread and one-third filling in your sandwich.
Cut the sandwiches into small, bite-sized pieces: Use a sharp knife or electric knife to cut the sandwiches into small, finger-sized pieces. Arrange them neatly on a serving platter and garnish with fresh herbs.
Keep the sandwiches chilled until serving so keep them in the refrigerator until it's time to serve. To prevent it from drying cover with Gladwrap (clingfilm) or a damp tea towel.
By following these tips, you can create delicious and elegant finger sandwiches that are sure to impress your guests.
Finger Sandwich Fillings: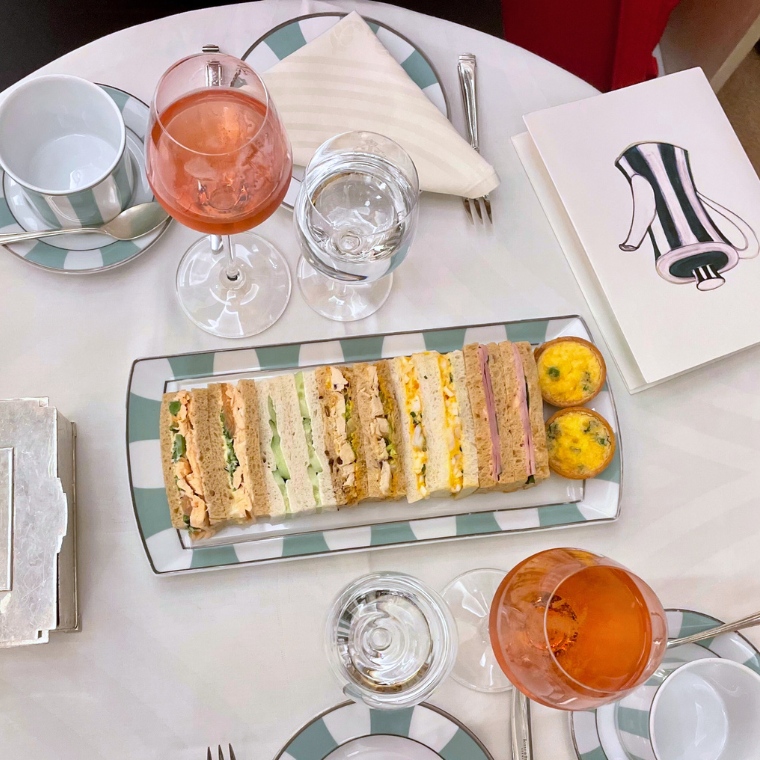 Many different fillings make up the classic selection of tea sandwiches, but none more so than the cucumber sandwich, a quintessential English delicacy since the origination of high tea. Other popular sandwich fillings include mayonnaise or cream cheese, accompanied by delicate, light vegetables such as watercress, asparagus, and radish.
In a high tea setting, the tea sandwiches should be served as the first course, followed by hot baked items such as crumpets and scones and finished up with the third and final course of sweet cakes and cookies.
There are so many delicious finger sandwich filling options to choose from. Here are a few recipe ideas to inspire you:
Cucumber and Cream Cheese: Spread cream cheese on a slice of bread, then add thin slices of cucumber, with salt and pepper.
Smoked Salmon and Dill: Mix cream cheese with chopped fresh dill and a little lemon juice and smoked salmon.
Egg Salad: Mix boiled eggs with mayonnaise, chopped celery, and a little dijon mustard and garnish with chopped chives.
Chicken Salad: Mix shredded cooked chicken with mayonnaise, chopped celery, a little honey mustard and garnish with chopped fresh parsley.
Roasted Vegetable: Spread hummus on a slice of bread, then add roasted vegetables, such as zucchini, bell peppers and eggplant.
These are just a few recipe ideas to get you started. You can also experiment with different combinations of ingredients to create your own unique finger sandwich fillings.
If you feel like creating your own finger tea sandwich masterpieces, view the High Tea Society's sandwich recipes.