Set up a Sponsored Venue Listing and receive the following benefits:
Image appears in the gallery rotation at the top of the directory
Highlighted listing format in the directory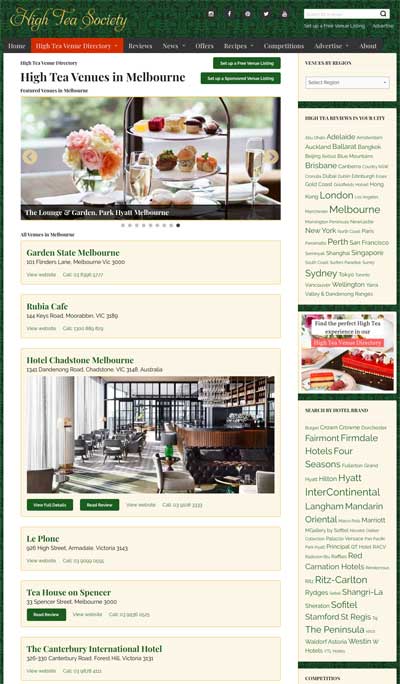 A dedicated page for your venue, featuring:
Description of your high tea venue
Up to 6 photos in the gallery
Logo
Link to the high tea menu
Links to previous reviews
Booking email and phone number
Analytics measured include the number of searches in the Venue Directory and views of the Sponsored Venue Listings.
Venue Directory 2021 Results:
Annual Website traffic during, 261,227 users & 518,210 pageviews
Sponsored Venue Listings received 31,204 pageviews from 25,555 unique people
City searches 68,058 pageviews from 47,363 unique people
Regional searches 45,435 pageviews from 29,680 unique people
Examples:
Rate:
AUD $399 inc gst for 12 month subscription.
International rate will depend on the exchange rate at the time of the transaction.
By purchasing a Sponsored Venue Listing you are agreeing to a recurring annual subscription.
View the Terms and Conditions
To set up a Sponsored Venue Listing email us to proceed. We will then send you the content template & invoice.