Receive the following benefits:
Image appears in the gallery rotation at the top of the directory
Highlighted listing format in the Directory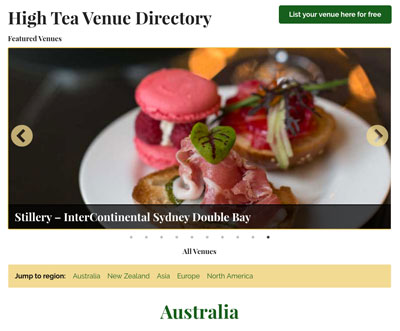 A dedicated page for your venue on our website, featuring:
Description of your high tea venue
Up to 6 photos
Your logo
Your booking contact details
Link to your high tea menu
Links to your reviews
More analytics, we track the out bound clicks and the phone calls made
Examples:
Rates:
The charge is made in Australian dollars.
Actual international rate will depend on the exchange rate at the time of making the transaction.
Terms and Conditions:
By purchasing a Sponsored Venue Listing you are agreeing to a recurring subscription.
You can select either a 3 month or a 12 month subscription.
One week prior to your renewal you will receive an email reminding you of the renewal. If at this time you do not wish to renew you can opt out.
Venue descriptions should not include menu prices or dates as this information goes out of date. Instead these details should appear on your website landing page.
Each year at the time of renewal you can update your copy and images via the update request form link in the renewal email.
If additional edits are required these can be made for a fee of AUS $55 inc GST each time.
Your new venue listing may take up to 7 days to go live on the website.
We'd love to drive new visitors to your website and help you grow your business. To purchase a Sponsored Venue Listing please complete the details below.
Please note: This is a new feature, if you have an issues submitting your details please contact us via EMAIL.