Founder & Editor at High Tea Society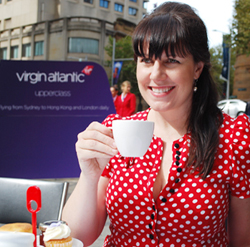 Michelle Milton is a digital marketing consultant and entrepreneur based in Melbourne. She splits her time between helping corporates manage their digital marketing at Fig Agency and publishing her website High Tea Society which has grown to become a global phenomenon.
Milton spent her early career working in London on the European Union project New Media Knowledge, a project for the new media industry during the late 1990's. The exposure to this emerging industry set up Michelle's interest in digital media. Since returning to Australia she worked as a consultant on a range of digital projects.
High Tea Society founder Milton says, "My website is not only an outlet for two of my passions combined, travel and high tea, but it has also been an invaluable testing ground for trends and new developments in digital marketing – it has been helpful for my career and also fulfilled personal passions."
High Tea Society has received international recognition and now has an audience of over 190,000 subscribers, fans and followers.
Brands have worked with High Tea Society through sponsoring geo targeted email offers, competitions, venue directory listings and website advertising.
Speaking topics: social media marketing, digital publishing, high tea and startups.
Michelle Milton is based in Melbourne, Australia
Connect on LinkedIn
In the media
Digital Marketing Consultant at Fig Agency
Call: +61 (0)4 1718 5458
Email
Connect with us on social media:
Facebook  @highteasociety
Instagram @highteasociety
LinkedIn @highteasociety
Twitter @highteasociety
Pinterest @highteasociety