We visit London's Chesterfield Hotel for the latest Afternoon Tea experience, the mouth wateringly named 'Original Sweet Shop Afternoon Tea'.
'Come with me… and you'll be… in a world of PURE imagination!'… sings Willy Wonka in 'Charlie and the Chocolate Factory', as Charlie Bucket and his fellow lucky golden ticket winners entered the hallowed gates of the magical factory. Perhaps there are no better appropriate ones to sum up London's Chesterfield Hotel's latest Afternoon Tea experience, the mouth wateringly named 'Original Sweet Shop Afternoon Tea'.
For the young and the old, images of old time sweet shops conjor in one's mind sugar-dusted memories of childhood nostalgia, of course, and The Chesterfield, having been built in the 1800s and still boasting many of its original features, pays the same homage to history from the moment you lay eyes upon it from the street – all gilt edged and red regal awnings – and then after, upon setting foot over the threshold, where the sumptuous interior styling seems to tell of the splendorous guests of years gone by.
Through the years, the hotel's staff have been, and continue to be known on the London hotel scene as being notable world leaders in service, and as soon as we stepped inside, we were ushered to the Hotel's dedicated afternoon tea conservatory by a host wearing an immaculate, candy-cane striped suit and fetching straw boater. The benefit, he explained, of having the space hallowed just for the tea service, was not only so that the guests could enjoy the meal bathed in natural light, but also so there would be no disappointment at not being able to find a free table, as their afternoon tea, which was recently awarded the diner's choice award 2019, was extremely popular. Indeed, even on a drizzly Friday afternoon, the place was jostling and bubbling with excitable (and, perhaps, sugar-crazed) patrons.
Upon placing ourselves at the table – the afternoon sun bouncing off the decorative bouquets surrounding us – we were presented with a delightful surprise – a fizzing, whizzing welcome cocktail served in a fishbowl and overflowing with a dry ice pink mist that tasted just like fairy floss and might have come from inside a unicorn's dream. As our host pointed out, the menu had been designed carefully in collaboration with Hardy's Original Sweetshop to celebrate the joy of rediscovering favourite tastes and the giddiness you get upon finding new ones, and, well, they'd really thrilled us so far!
We sampled just a few of the carefully curated list of teas, a liquorice all sorts and fruit salad blend being the favourites. It's also of note that intrinsically, this experience is suited to those dining with the kids, as, if one does not wish to (or cannot, legally) partake in a tea or a stunning glass of Lanson champagne, they can choose a tall, frosty vanilla milkshake to sip on instead.
As the staff danced like sugar-plum fairies around our table, delicately placing our tea trays and tiered plates all asunder, our eyes widened at the marvellous creations that lay ahead. Although of course the high tea is decidedly saccharine soaked, the savouries were no mere afterthought and the sandwiches did satisfy, the smoked salmon and cream cheese was a clear winner, and our vegetarian guest was inspired by a sundried tomato and pesto slice which was served on beetroot bread. Of course, upon request, the whole menu can be created as vegetarian, vegan, or gluten free.
After the savouries, and a quick nibble on a fresh chocolate scone with lashings of home crafted cream and jam, we arrived at the main event – the third tier heaved with a whole tuck shop of sweet treats! Every cake – and there were loads from which to choose – had been crafted to conjour up the tasty memories of a different sweet from a bygone era. Chewy cherry bonbons were reimagined in cupcake form, whilst a peanut cup was enlarged and bedecked with real peanut brittle and set off with gold paint. And of course, we couldn't resist the love heart macaron's request for it to 'be ours' – we finished that thing in two delicious rhubarb, custardy bites.
After rounding off a giddy afternoon of wonderment, and pushing the slight fears we had of falling into a diabetic coma aside, we reluctantly, and rather slowly, made for the exit – but wait! The fantasy wasn't over. We were called back to the entrance of the restaurant and towards a giant cart that was set with rows upon rows of jarred sweeties, and asked to pick our favourites that were gifted to us in a smart little bag for enjoyment at home. What an absolute cherry on the top of a sugar-drop day. Mr. Willy Wonka, you might have just met your match!
The Original Sweetshop Afternoon Tea Menu:
Selection of Homemade Sandwiches:
Honey roast ham with Cheddar cheese and tomato chutney on onion bread
Roast chicken with grain mustard mayonnaise and nibbed almonds on white bread
Scottish smoked salmon with horseradish cream cheese on beetroot bread
Free range egg mayonnaise and watercress on basil bread
Cucumber and cream cheese on white bread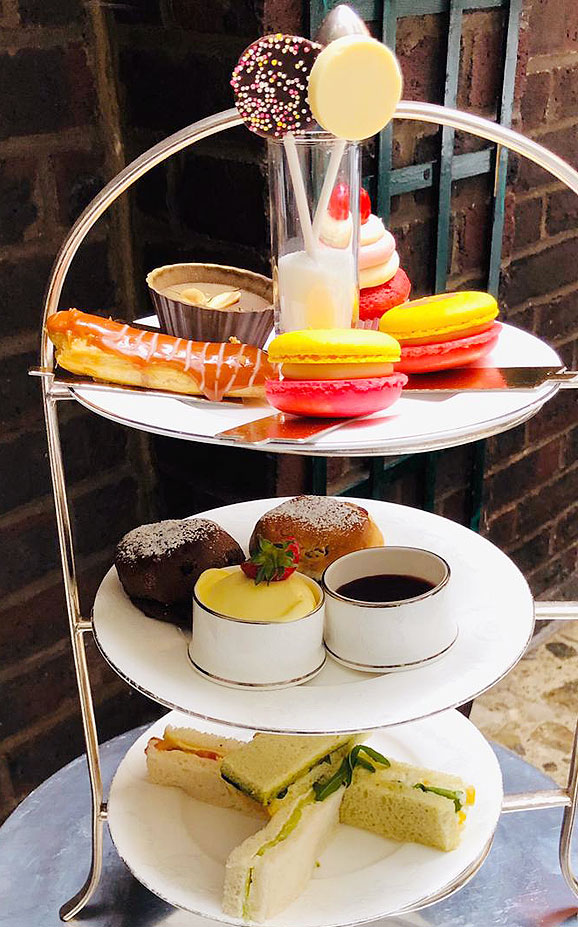 Freshly Baked Homemade Chocolate Chip and Fruit Scones:
Served with Cornish clotted cream, homemade strawberry jam
Selection of Homemade Pastries and Cupcakes:
Coca-Cola slice
Chocolate fudge éclair
Apple drop
Peanut butter cup
Cherry bonbon cupcake
Rhubarb and custard macaron
Liquorice Allsorts lemon cheesecake
Homemade Jazzy lollipop
Vegetarian, vegan and gluten free options are available
Children's Afternoon Tea Menu:
A selection of ham, cheese and jam sandwiches; fruit and chocolate chip scones, clotted cream and strawberry jam; delicious pastries and delights, milkshake or tea.