Here is your chance to experience 5-star luxury in your own city or impress visitors with refined service and inspired design over an exquisite Afternoon Tea at The Ritz-Carlton, Melbourne.
Up in the clouds on Level 80, overlooking Port Phillip Bay and the city skyline's most noteworthy architecture including the 'Beyoncé' building, The Ritz-Carlton, Melbourne are hosting a world-class afternoon tea that's destined to become a new Melbourne tradition.
It takes an elevator ride into the sky to quite literally heighten your senses and appreciate the fragrance and flavour of the loose-leaf teas and four-course selection of appetisers, freshly baked scones and an array of sweet and savoury creations.
It's an impressively designed space and we can see the interior of the building expresses Melbourne's rich layers of culture and history, incorporating influences from the Victorian-era gold rush and European heritage.
Without realising we can guarantee you will be drawn to the surrounding views, standing at the high ceiling windows, with a glass of impeccable Henri Giraud Champagne or Victoria's finest local sparkling in hand if you so choose. Freshly roasted specialty coffee by Code Black (free-flowing, of course) is also offered on arrival. I personally prefer my tea so after browsing the selection of seven signature loose-leaf teas by Love Tea, I opt to begin my culinary journey with a pot of French Earl Grey. It is beautifully balanced and it's not long before our attentive hotelier Tammy instinctively brings out a second pot.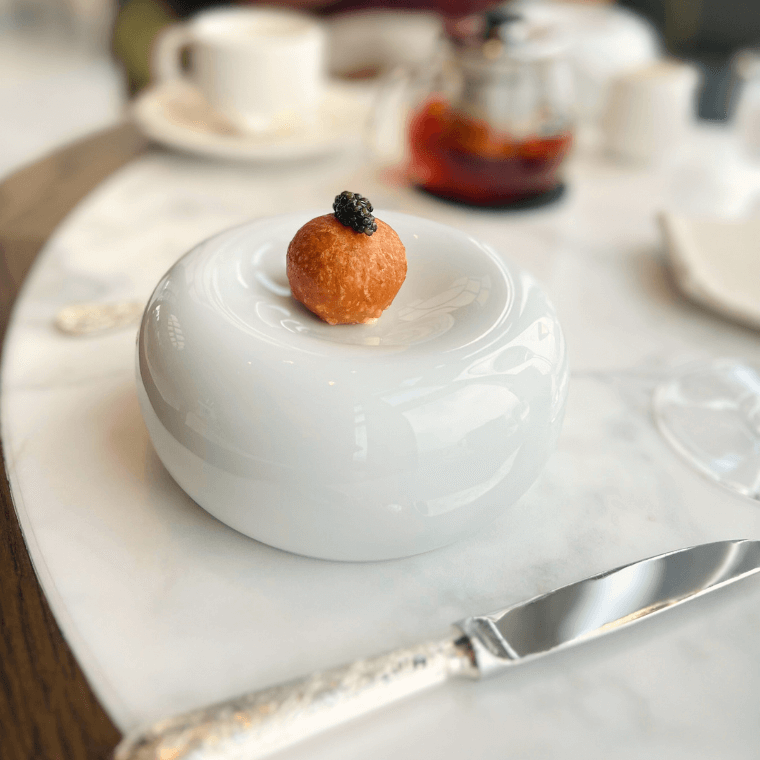 The first appetiser on the menu which has been meticulously prepared by Executive Chef, Michael Greenlaw and The Ritz-Carlton's master pâtissiers, is the Oscietra caviar and Gippsland jersey crème fraiche beignets. The beignet which is most like a small savoury donut serves as a delicate, and slightly crispy golden shell for the premium caviar and crème fraîche. It provides a warm, soft contrast to the cool and creamy filling. It's decadence in a mouthful and I'm in heaven.
The savouries that follow are just as indulgent. The Cured line-caught coral trout dusted in wakame powder with whole lemon purée, trout roe and wax flower is unlike anything I've had the pleasure of trying before. The coral trout has been meticulously cured, enhancing its taste and firm texture and the lemon provides a perfect contrast to the richness of the fish. The roe gives bursts of salinity, a pop of added texture, and a distinctive sea flavour that complements the coral trout's subtle sweetness. Delicious!
Being a seafood lover, I also adore the handpicked mud crab tartlet with toasted almond and preserved elderflower. The crab is fresh and flavourful, and a generous amount is presented in the tart.
The smoked confit chicken feuille de brick is a delicious sandwich that combines tender, smoky, and seasoned chicken with the delicate, crispy layers of feuille de brick pastry.
My absolute favourite savoury item is the Braised Macedon Ranges Duck pithivier. The duck, specifically sourced from the Macedon Ranges region, is the centrepiece of this dish and has been braised for nine hours to become melt-in-your-mouth morsels. This has then been encased in flaky, buttery puff pastry which offers a delicate, crispy texture and tastes just like a warm hug.
Melbourne celebrates ancient stories and vibrant cultures through signature luxury experiences. The Ritz-Carlton afternoon tea is no exception. While we indulge in the moreish savouries, we can appreciate the Indigenous music floating through the light-filled space and through to the Ritz-Carlton's hatted Atria restaurant.
Another example of how our experience has been thoughtfully inspired by unique Melbourne stories are the tiered cake stands brought out with our delicate looking sweets. WJ Sanders' precious metal artistry that's crafted the significant Melbourne Cup and Australian Open Trophy are also behind the timeless designs of the immaculate cake stands.
Sitting on the bottom tier we find an assortment of intricate desserts. My first choice, just because of how plump and airy it looks is the layered Mascarpone choux. It's tastes just as you'd expect, rich, creamy, and light, like eating a cloud. The strawberry and gold leaf on top add both freshness and elegance.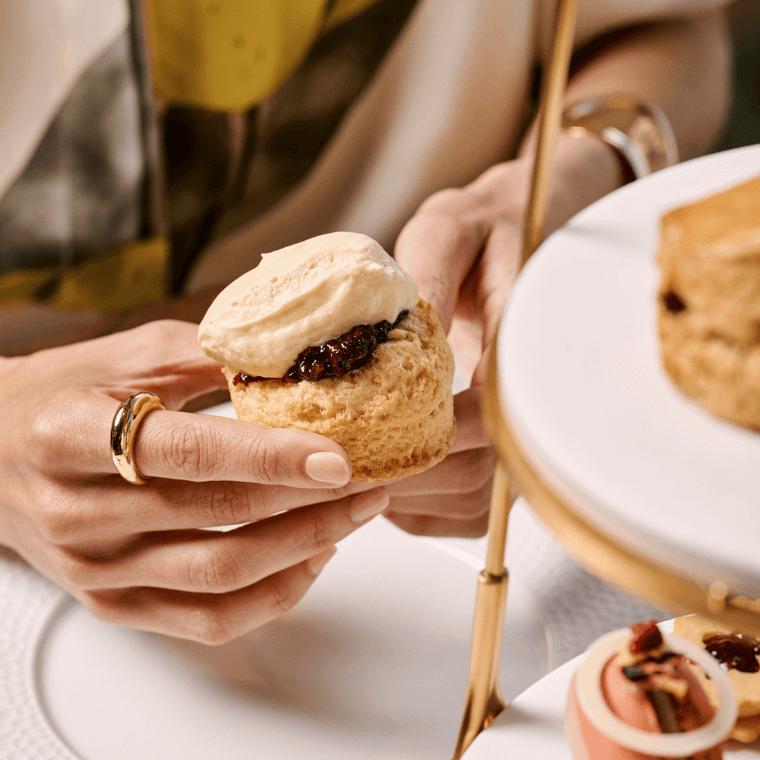 The Opera cake impressively stamped with a The Ritz-Carlton tempered chocolate insignia is sensational. We experience the nuttiness of the almond sponge cake, the deep coffee notes inspired by the Melbourne coffee culture, the creamy richness of the buttercream and chocolate ganache, and the smooth, glossy finish of the chocolate glaze.
The Ispahan macaron is not something I am familiar with and now I am a fan! It's sophisticated in its appearance, with its pastel pink colour and decorative accents. The combination of rose, lychee, and raspberry creates a complex and harmonious blend of sweet, floral, and fruity notes.
The Ritz-Carlton, Melbourne's world-class culinary team's passion for seasonal and local produce is seen through the Davidson's Plum Monte Carlo. The classic Australian sweet biscuit has been filled with a sweet Davidson's plum jam.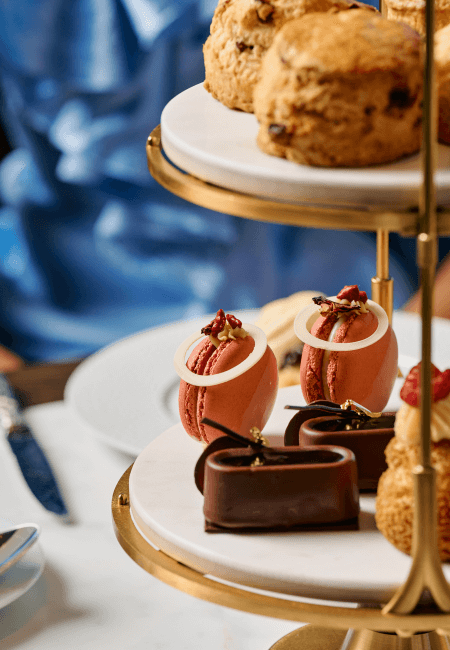 If that wasn't enough the top tier of the cake stand offers a generous serving of scones and accompaniments.
And for a final surprise we get to experience the signature Lemon Myrtle tea trolley service. In collaboration with Love Tea The Ritz-Carlton, Melbourne offers their very own custom tea blend. The smooth green tea flavours with uniquely Australian native tones of refreshing botanicals are simply delightful. This is especially true when paired with the native eucalyptus strawberry gum madeleines, a perfect way to conclude our meal and a unique variation of the classic madeleine sponge cake.
The Ritz-Carlton, Melbourne presents other luxury experiences to guests including The Ritz-Carlton Spa, where locally sourced botanicals are combined with the timeless traditions of spa therapy to offer uniquely crafted treatments. If you were to truly go all out, we recommend booking a spa appointment to follow your afternoon tea and treat yourself.
Available from Thursday to Sunday, between 12pm and 3pm, The Ritz-Carlton, Melbourne's new Afternoon Tea experience is priced from $110 per person.
The Ritz-Carlton Afternoon Tea Menu: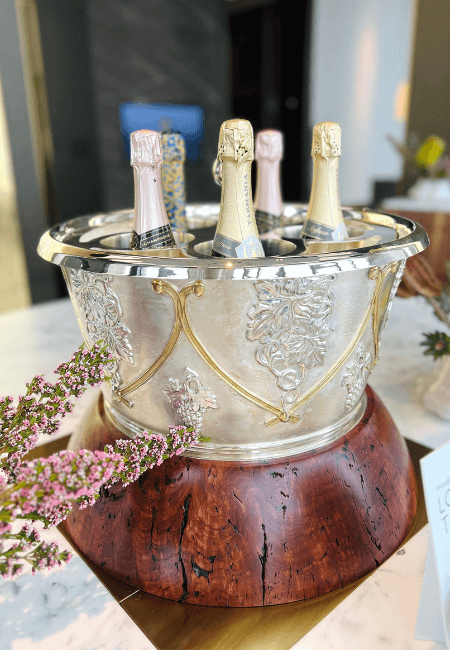 Appetiser:
Oscietra caviar and crème frachie beignets
Savoury:
Smoked confit chicken feuille de brick
Cured line-caught coral trout, wax flower, whole lemon puree, roe
Handpicked mud crab tartlet, roasted almond, preserved elderflower
Braised Macedon Ranges Duck pithivier
Sweet:
Just baked scones with a selection of accompaniments
Mascarpone choux
Opera cake
Ispahan macaron
Davidson's plum sable
Lemon Myrtle Tea Trolley:
Accompanied by Eucalyptus strawberry gum madeleines
High Tea Melbourne – find more experiences
in our High Tea Venue Directory