Settle in for Afternoon Tea at The Plaza, New York for impeccable service and the kind of décor you've only seen in classic Hollywood films.
From the minute you step into The Plaza and walk its orchid lined foyer under a chandelier so extravagant it stops you in your tracks, you know you're in for a treat.
Travelling from Brisbane, Australia for a two-week holiday in New York, the High Tea Society was delighted to be invited to take afternoon tea at one of the city's – if not the world's most iconic hotels. Situated in the hotel's aptly named The Palm Court, you quickly learn the extravagance does not end in the foyer.
Looking around the opulent palm tree and ornately adorned room it's hard not to think this is what they meant by 'lifestyles of the rich and famous'. A quick trip to the bathroom had me convinced I'd bumped into a Victoria's Secret model and I'm not someone who is easily starstruck. But this stunning hotel and its guests would have even the most stoic person's jaw-drop ever so slightly.
As we're seated at our beautiful corner table and our lovely waiter Syed takes our tea orders and talks us through the menu, I'm pleased to see there are mix of guests dining at The Palm Court. From the obviously wealthy regulars to the tourists and food lovers just like me.
There are three options for high tea, the champagne tea (US$125), the New Yorker tea (US$95) and the children's Eloise tea (US$75). Syed recommends the champagne tea for something a bit fancier and I had to laugh to myself, because this is already peak fancy in my book. We go with the champagne tea with a glass of NV Veuve Clicquot Brut Champagne. Straight up I want to acknowledge this is one of the more expensive afternoon tea experiences I have attended. $125 US is a lot of money for most people especially if you're a humble Aussie on a holiday. But if you're a lover of afternoon tea, it's worth the extra pennies.
We're 300 words in and I haven't even started on the food. At the time of writing this review, the menu had changed slightly to accommodate the holiday season and to let new Executive Chef Matt Schindler add his own magic and flair. With 30 years in the business, Chef Schindler was keen to bring his experience to the menu and love of seasonal flavours. For the purposes of this review, I will begin by highlighting the items that remain unchanged, and were coincidentally some of my favourites.
There is nothing more New York than the lobster roll, other than maybe a bagel, and I was thrilled to see a miniature version of this iconic roll on our stand. The roll was sweeter than its original namesake but not too sweet that it takes away from the lobster. It was delicious and could rival any larger version sold (for $18.50 a pop) at the Chelsea Markets. And while nothing is more New York than a lobster roll, nothing is more fancy than a caviar blini. This little bit of heaven had a perfect texture. It was like biting into a light and fluffy cake. The scones were served with lemon curd, mixed berry jam and homemade Devonshire cream so thick it went on like butter. They were deliciously biscuity on the outside and soft and fluffy on the inside. But, despite being perfect, the poor humble scone was somewhat overshadowed by its other more extravagant friends on the stand.
Other highlights, which are no longer featured on the menu included the ahi tuna tartare with lemon oil, tapenade and olive crostini. The lemon was aromatic and acted as a palate cleanser to the country pâté, which had robust flavour and a delicate smokiness.
The pastries and sweets have since been changed to more seasonal autumn/fall flavours of citrus and dark chocolate. But it would be remiss of me not to mention the golden plaza egg, which I hope will one day grace the menu again. This little golden egg filled with orange caramel had so much depth of flavour with a bitterness from the orange that coated the palate without overpowering. What I liked most about this is it wasn't too sweet and kept you wanting more.
My biggest recommendation would be to take the advice of your server when it comes to ordering the tea. With a menu that could rival a wine list at most five-star restaurants it would be easy to take the safe option and stick to what you know. Syed was kind enough to share his knowledge with us and made recommendations that were well out of our comfort zone. His recommendation for a toffee tea to accompany the sweets was spot on and something I never would have ordered on my own.
This high tea was a truly remarkable experience, from the minute you step through the vast front doors to your very last bite. It was the icing on the cake of a memorable trip to New York and a bucket list item for any lover of afternoon tea. Even the China was one of a kind, served on Bernardaud French porcelain, exclusively designed for The Plaza. And while the menu has been updated since my visit, I have no doubt that Chef Schindler has taken something pretty perfect and somehow found a way to make it even more extraordinary.
Holiday Champagne Tea at The Plaza New York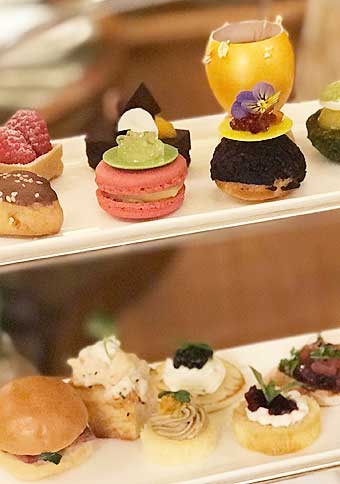 SANDWICHES & SAVORIES:
Thyme roasted prime rib, horseradish aïoli, arugula, brioche roll
Napoleon smoked salmon, pickled onion cream cheese, dill, pumpernickel
Foie gras mousse, chambord-soaked currants, panettone
Caviar blini, chive crème fraiche, daurenki caviar
Lobster roll, daikon sprouts, buttered potato roll
Porcini mushroom and thyme quichette
SCONES:
Freshly baked warm seasonal scones,
Devonshire cream, meyer lemon curd, house-made preserves
PASTRIES & SWEETS:
Mont blanc tart sablé, chestnut puree, huckleberry compote, vanilla cream
Orange-grand mariner chouquette, preserved orange
Green tea financier cake, yuzu cremeaux, coconut meringue
Dark chocolate cugelhopf, manjari cognac ganache, mocha coulis
Mandarin-orange chocolate, pain d'épice éclair
Fresh seasonal fruit tart
Mandarin-citrus white chocolate macaron
Served with a glass of Champagne.
Afternoon Tea New York – find more experiences
in our High Tea Venue Directory.