Come enjoy a casual high tea experience in the downtown Singapore city centre at Beach Road Kitchen, JW Marriott Singapore South Beach.
Exuding a more casual and cosy atmosphere, Beach Road Kitchen made me feel right at home the moment I stepped into the restaurant. As the table was slowly filling up, I could tell we were definitely in for a treat this afternoon.
The first thing that caught my eye was how quirky and cute the sweet treats were – think bright colours and whimsical designs. We decided to start off with the scones while they were still warm which, to our surprise, came with a total of four spreads – clotted cream, lemon curd, raspberry rose jam and maple syrup.
As for the savoury treats, I have never seen anything quite as refreshing as the selection before us! It is always challenging to keep the classic flavours but present them differently. In this case, they reinvented a Smoked Salmon Sandwich into a swiss roll, adding fish roe and apricot for that extra crunch. The "PBJ" Foie Gras Mousse was another interesting innovation with the sweetness from the plum jam complementing perfectly the richness of the foie gras.
Now, the most Instagram worthy dish would be the Caviar with Potato Blinis. The four quadrants were filled with four different types of caviar and fish roe. One word to describe it – FANCY! Although the base was slightly lacking in flavour, the 10/10 aesthetic definitely made up for it.
Just as we were going to start on the sweet treats, we were served two warm entrees. The Lobster Bisque was absolutely delicious. I would have preferred a thicker consistency but it overall had great umami flavour, definitely comforting to both the tummy and soul. The Quiche Lorraine also surprised me! The tart was fragrant and the insides were not too soggy. The portion was substantial enough to be savoured slowly and enjoyed between the sweet treats.
It was almost like a blind taste test when it came to the desserts as it was quite challenging to match the description to how some of the desserts looked due to their quirky outlook. If you are adventurous, the Olive Basil Chocolate Cake would be something exotic. The basil taste was undoubtedly prominent but may prove to be an acquired taste. The most eye-catching dessert would be the Pumpkin Gateau de Voyage – bright, cute and very Yayoi-inspired! Pretty rare to see pumpkin in desserts so this was definitely unique, especially when the ratio of sponge cake and pumpkin was well balanced. But my ultimate favourite would be the Infinity Strawberry. It tastes like yoghurt with the perfect balance of sweet and sour. The biscuit helped to add a bit more texture and elevate the whole dessert.
Of all the high teas I've had, this was the first that included soft serve as part of their menu! We were served a very generous cup of Vanilla Soft Serve, which concluded the afternoon high tea experience on a sweet note.
Overall, certainly an enjoyable afternoon at the JW Marriott Singapore South Beach. Taking into consideration the price point and the variety we had that afternoon, the high tea sets are certainly value for money.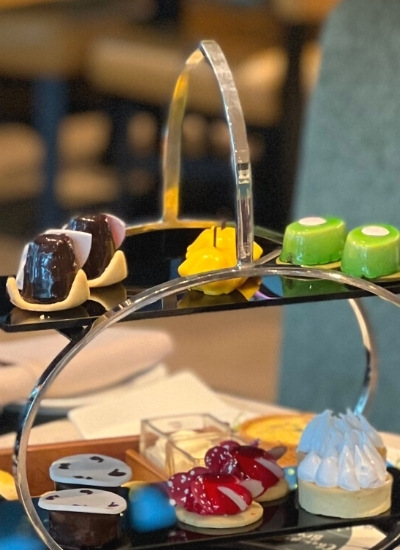 High Tea at Beach Road Kitchen Menu:
Scones served with Clotted Cream, Lemon Curd & Raspberry Rose Jam
Plain Scone
Pistachio Chocolate Scone
Savoury:
Smoke Salmon, Apricot, Cream Cheese Roll
Boston Lobster Sandwich, Lump Fish Roe
'PBJ' Foie Gras Mousse, Peanut Butter, Plum Jelly
Cavier, Potato Blinis, Cream Fraiche
Sweets:
Pesto Pine Nut Gateaux de Voyage
Olive Basil Chocolate Cake
Yuzu Grapefruit Meringue Tart
Green Tea, Peach Jelly
Infinity Strawberry
Pumpkin Gateau de Voyage
Warm Entree:
Lobster Bisque, Herb Bread
Quiche Lorraine
Add-on: Pan Seared Foie Gras, Plum & Fig Puree (supplement of $6 each)
Sweet Finish:
Soft Serve Ice Cream with Berries
You may highlight any dietary requests while making your reservations, preferably 1-2 days before your visit so the kitchen can make the necessary arrangements.
High Tea Singapore – find more experiences
in our High Tea Venue Directory