High Tea at the Gunners' Barracks Sydney offers breathtaking views and nibbles on a breathtaking clifftop location.
The leafy, laterally sprawled Northern suburb of Mosman is one that every well-heeled Sydney-sider holds in high regard, notable not only for it's fabulous coastal flora & fauna, but also for it's societal repute. Gunners' Barracks is a event location that holds it's own in a town full of flash, and, as it's idyllically set on a cliff-face, it's ideal for the many weddings, christenings and corporate functions that are held there. Luckily for its prospective patrons, there needs to be no particularly special occasion to enjoy a visit though… other than to experience a high tea of course, which the Barracks hosts every Sunday on it's wide, sun bathed terrace.
The sheer size of the uniquely purpose-adapted historical space is the first breathtaking impression that met us from within the twee decorum of the reception room, before our handsomely tailed host saw us to our white-clothed seats. We gazed through the deep gold-tint of our champagnes at the majestic azure-blue-green of the surrounding coastline, and wet our appetites for what was to come.
Tea-trays twirled to our tables shortly after we were seated, beset with generous portions of the most beautiful sweet and savoury miniatures, which, we were reminded, were all refillable should we request them to be. Not content with just offering the standard sandwiches usually found at a high tea, Gunners' Barracks served specialties including chorizo pinwheels, cheese straws and quiches, as well as a divine egg mayo classic. Warm hummus dip with falafel and crudités was prepared for, and was the favourite of, our vegan guest, who was given a totally vegan-friendly tea-tray all of her own (GF, and Halal trays are also available upon request). Sweet treats, both vegan and non-vegan, we scoffed with aplomb, the best, in our opinions, being the crunch-crumble of the seasonal rhubarb pot, and velvety vegan chocolate truffle.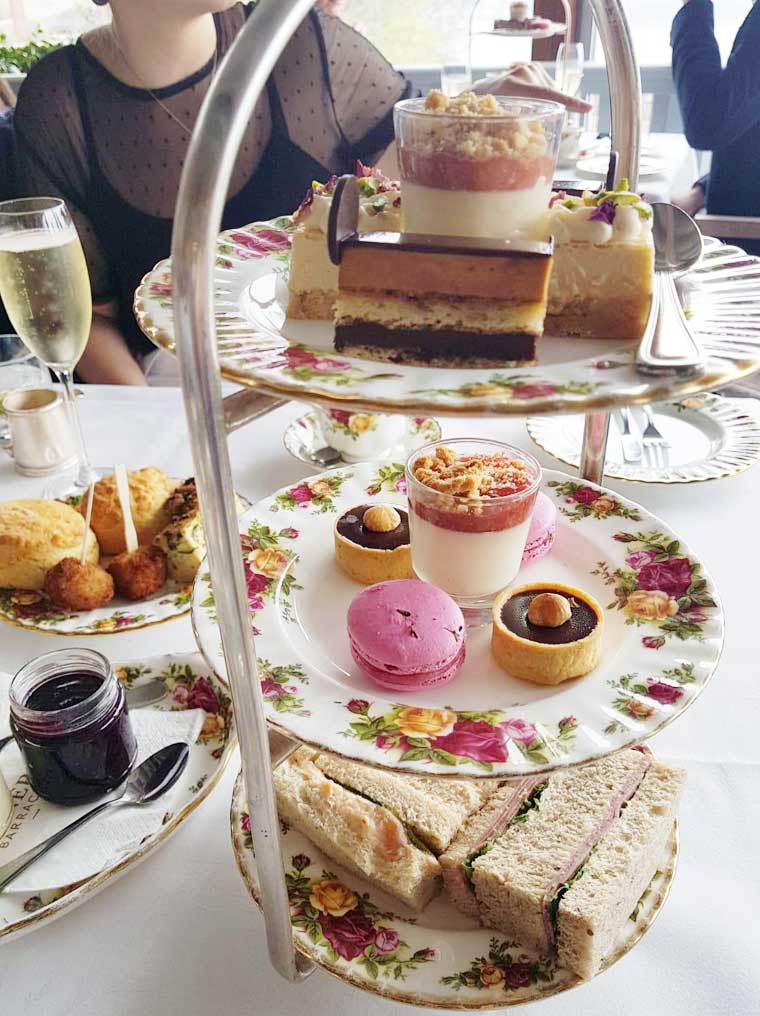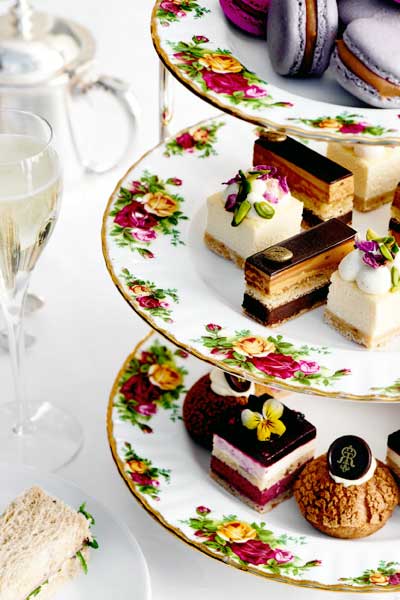 We set the bar for standard of high teas on our 'scone-o-meter', of course, and the scones on offer at Gunners' Barracks are really something. They arrive at the table just when you're ready for them, so they're piping hot and lovely right when you need them to be – a thoughtful 'extra touch' which made all the difference. Considerate, too, was the proffering of pretty white take-away boxes for us to fill with the food we were just too full and happy to quite comfortably finish – our partners at home were very pleased about this fact too after we got home! We polished our meals off imbibing refreshing peppermint, and a very special Irish whiskey-infused tea.
Patting our full tummies, we decided to end our High Tea celebration with a (thankfully, mainly down hill!) forest hike through to Balmoral Beach. As well as being an ideal mode of burning off all that indulgent food, it was a lovely way to continue our group's meet-up that day, and a unique added benefit of a visit to Gunners Barracks.
This High Tea experience left us feeling equal parts the regal society ladies and intrepid explorers, and we'll certainly be recommending a return.