As soon as you step inside The Matriarch for High Tea you know you're in for a treat. Arguably one of the most Instagramable venues in Brisbane.
The Matriarch recently celebrated its first birthday, not just surviving but thriving in one of the toughest years for the hospitality industry.
From the black iron archway at the entrance, to the industrial foil ceiling, to the fairy lit ten-foot trees and the many hanging lights that line the venue's ceiling – your eyes will be eager to take it all in. Like a playground for adults, Matriarch offers stimulation for all your senses right down to the velvet covered and multi-coloured chairs your arms will just love to rest on. Even the perfectly minimalist bar with its incredible feature wall will take your breath away.
This industrial-chic restaurant and cocktail bar, with its French indoor garden party décor, is the passion-project of Jimmy Truong, who also owns Brush and Barrel, and Top Lashes Beauty Bar. The hospitality newcomer's attention to detail and vision for Matriarch to 'stand-out', is what sets this converted warehouse apart. And the wow-factor doesn't stop at the interior design.
Just like its décor the Fancy High Tea menu at Matriarch is exactly as the name would suggest. With three different high teas on offer ranging from $45 for the standard High Tea served with a glass of Prosecco, to $55 for the Gin & Tea and $70 for the Mini Cocktails & Tea – there is something to tipple everyone's fancy (pun-intended).
The High Tea Society indulged in the standard high tea starting with a bottom tier that veered far and away from the traditional finger sandwiches and opted instead for savoury pastries and brie-filled croissants, as well as mini finger burgers and sweets including to-die for madeleines and decadent Nutella filled donuts. The cheese and onion pastry were definitely a winner as far as the small selection of savouries go, with the madeleines a stand-out for the sweets, even outshining the cornerstone of any high tea – the scones. Still warm as if they were made especially for you, with subtle hints of orange and almond, the buttery flavour will coat your mouth and have you wondering why this perfect French mini-cake is not the standard across all high teas.
Next, we jumped to the top tier of scones with TWG tea, served in the most adorably eclectic tea pots that would make the stuffy fine-bone China you're used to blush. The house-made scones served with strawberry jam and clotted cream were delicious. My only criticism of this entire high tea would be that it served three scones to share between two people. Talk about scandalous! Wars have been started for less.
For the final, middle tier we indulged in the mini desserts, which included sweet macarons, a delectable raspberry cheesecake and a tasty operas cake – to name a few. If you're a sweet tooth, this high tea is your ticket to sugar-town. While a few more savouries would have kept with tradition and balanced out your inevitable sugar-high, Matriarch's menu – just like its décor is setting itself apart.
High Tea at The Matriarch is a wonderful way to spend an afternoon with friends in a perfect Newstead haunt. With an interesting, enjoyable and affordable menu, attentive service and a great atmosphere to boot – I would highly recommend Matriarch for your next high tea experience in Brisbane.
The Matriarch High Tea Menu: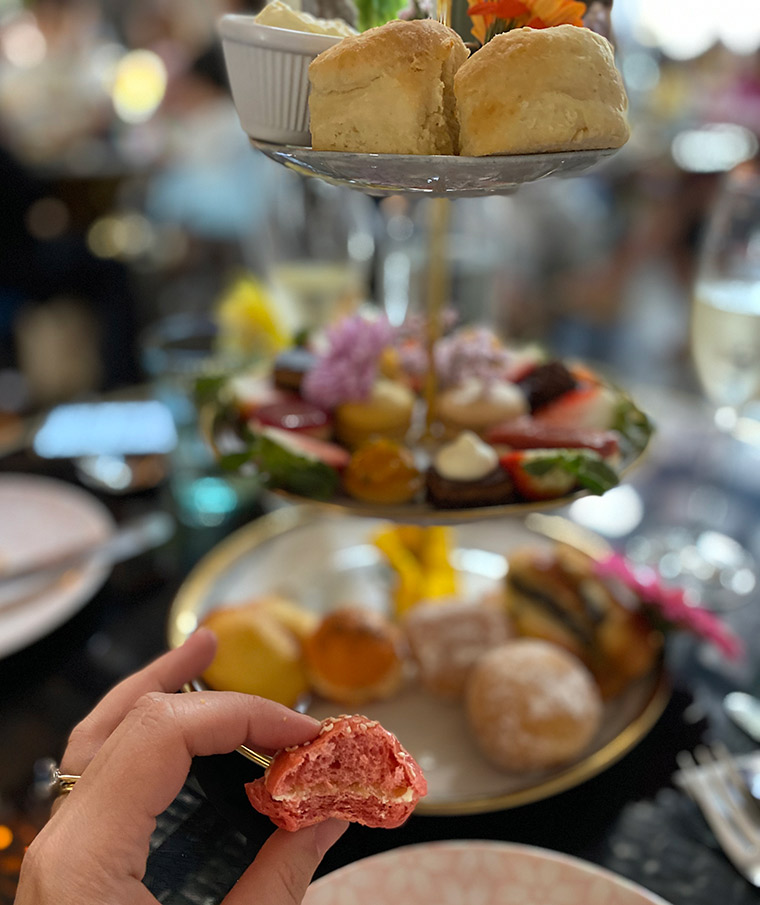 Sparkling Prosecco
Housemade scones, clotted cream, strawberry jam
Pastries:
Mini Assorts Rolls
Brie Filled Croissant
Cheese and Onion Twist
Donut Choc Hazelnut/Red Fruit
Mini St Michel Madeleine
Macarons
Strawberry slices
Almondines
Triple chocolate squares
Financiers
Chocolate crumble
Caramel and cinnamon financiers
Raspberry cheesecake
Operas cake
High Tea Brisbane – find more experiences
in our High Tea Venue Directory