Become engrossed in politics and history with delightful bites and locally produced wines during High Tea at the Parliament of NSW Strangers Dining Room.
Have you ever fancied sitting in one of the highest seats in Parliament (or know someone who does)? The New South Wales Parliament's Strangers Dining Room High Tea, offers a step inside without the need for debate or political allegiance. Probably for the best, too, as, owing to the fantastic menu, setting, and service, you'll be having far too lovely time to fuss around with politics.
High Tea Society visited the exclusive Strangers Dining Room, which is ensconced within the official Parliament of NSW, one of the oldest and richly historic buildings in all of Sydney. It was a real treat to be welcomed into such a velveteen, labyrinthine location, even though it certainly was unusual to have to pass a security clearance just for the sake of a little High Tea – although of course, we appreciate those who take the ceremony as seriously as we do…
Effervescently friendly hostess Nicolette settled us into the spacious Strangers Dining Room, overlooking Domain Park, and, whilst talking us through some background history of the grounds, poured out generous servings of the most glorious sparkling Rosé, which, as she proudly pointed out, originated from a wine list of exclusively NSW-made vintages. A nice touch, and, we thought, an appropriate-sized glass, given the stressful jobs of those working in parliament!
One might assume the menu at such an archaic institution to be old fashioned and stoic, but we were surprised at the nouveau savoury menu items, which included a yummy falafel slider, asparagus with fig and balsamic, and crisp cheese twist. The cinnamon-apple scones with jam were just the right level of sweetness and spice, and, drifting upwards to the sweets-tray, the moist richness of the chocolate opera cake was very much admired and the soft, fluffy salted caramel macaron, beset with edible violets were such a welcome surprise. One of the best we'd ever tasted – surely far too good to only be enjoyed by politicians and meriting everyone to visit the high tea to scoff one themselves!
Not just one for the history buffs, but a treat for established gourmets, and as a fun Friday lunchtime treat for city-slickers and visitors, the High Tea at New South Wales Parliament is one not to be missed.
High Tea at the Parliament of NSW, Sydney Menu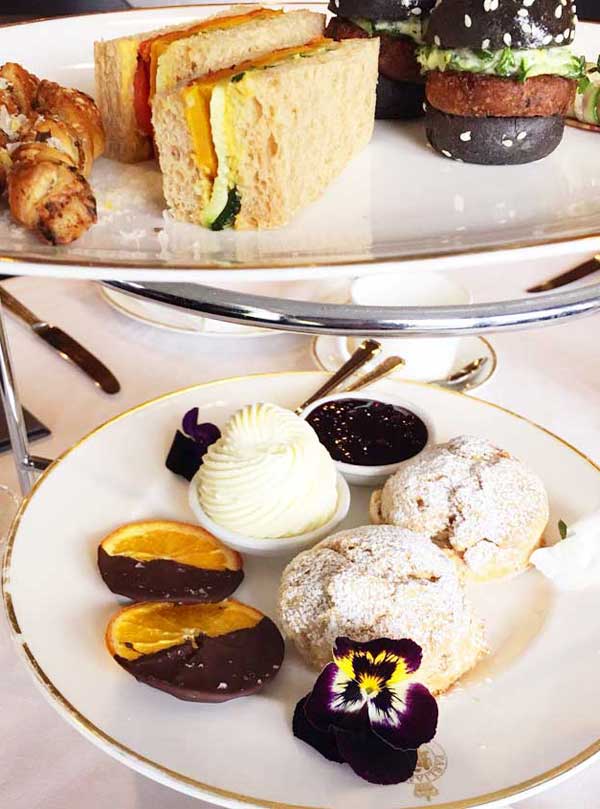 A selection of sweet & savoury delights, homemade pastries, tea cakes and freshly homemade scones served with a selection of tea & freshly brewed coffee.
Seasonal menu – example:
Summer berry macaron stack
Vanilla bean pannacotta
Raspberry meringue kisses
Chocolate mousse cones
Sultana scones with jam and cream
Summer melon salad with lemon balm syrup
Leek and gruyere frittata
Smoked salmon tartlet, taramasolata and cucumber salsa
Pulled chicken and walnut finger sandwiches
Please advise of any allergies or dietary requirements at time of booking.
Subject to seasonal changes.
Parliament of NSW Guided Tour
For a full experience, why not join the Parliamentary Tour.
Public tours depart every Monday and Friday at 1.30pm.
For groups over 10 contact the Tours Officer during business hours on 02 9230 3444.