Fleur is situated in the heritage listed Royal Hotel in Perth's CBD but don't let this inner city pub fool you. This place is rich in history and beautifully restored with a classy "Afternoon Bloom" to match.
The rich décor has an air of decadence and befittingly set the scene for a delightful afternoon that kicked off with a glass of Villa Fresco Prosecco served in a stylish champagne glass that looked like it came straight off the set of Casablanca.
The timeless sophistication continued with the first savoury of the day, caviar (no less) served on a custom made pearl spoon, nestled on a bed of crushed ice. This was quickly followed by a dainty deconstructed egg served on a blini. Both were a great introduction to the sweet and savoury menu that lay ahead.
Each week their chef, Chase, adds an extra treat to the menu and on this day it was a golden sesame crusted mini prawn toast that was bursting with flavour thanks to the garlic chive emulsion.
It was then time to launch into the official menu with the very impressive Korean inspired golden panko coated kimchi arancini, shaved cured egg yolk, kewpie and chive. After the richness of the arancini ball it was great to follow with the heirloom beetroot, brik pastry, goats curd tartlet which was light on the palette but heavy on the flavours.
Just when I thought I had this menu pegged, a wild card popped up in the form of the toasted corn cake with whipped soft cheese and truffle from Coomer Truffles in Manjimup. For starters it looked and almost tasted like a dessert and fact that it was warm gave it that it that straight out of the oven feeling. It was hands down savoury of the day for me.
I then finished up the savouries with the mortadella finger sandwich, fine herbs and red wine vinegar. The white bread was so fresh, it could've come straight out of the oven alongside the toasted corn cake. The mortadella, yuzu kosho and cream cheese spread filling was plentiful and had an extra kick thanks to the spritz of red wine vinegar making it a cut above your average sandwich.
The cleansing stone or bottlebrush and yuzu sorbet was a great palette cleanser for the delightful desserts which started with a peppermint tea and the lemon myrtle meringue pie. The lemon centre in a buttery biscuit base had just the right level of tart and was finished off beautifully with a delicate soft meringue.
Next up was an unconventional combination of flavours which worked so well together, the bay leaf and white chocolate milk jelly. This light dessert combined milk jelly, salted caramel with caramelised white shavings. But it didn't stop there, wedged in the middle was a wafer with a difference, a jerusalem artichoke crisp dusted in Geraldton wax sherbet that added an almost savoury element to the dish.
The sweetness returned with great gusto in the four peitit fours which boasted a variety of delicious flavours such as the crowd pleasing, dessert lime marshmallow, strawberry and coconut jube, roasted coconut and rum fudge and yet another surprise, a dark chocolate and raspberry cake pop disguised as a raspberry.
 I finished the day on a high with the soy chocolate ganache with sour coconut. The chocolate cup housed a whipped soy and dark chocolate ganache with caramelised milk chocolate pearls so it deservedly took out dessert and dish of the day.
At a very reasonable $65pp, Afternoon Bloom at Fleur in the Royal Hotel is a wonderful mix of old style charm mixed in with the contemporary and the service (thanks Reid!) is impeccable. Don't forget to book as they only serve this on Saturdays at 12 and 2:30pm.
Fleur Afternoon Bloom Menu: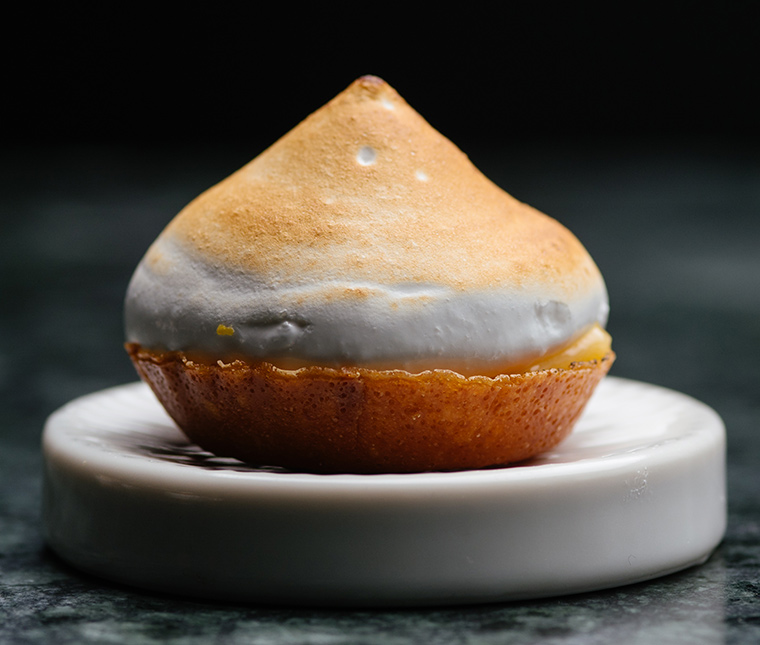 Glass of Prosecco upon arrival
Savoury:
Heirloom beetroot, brik pastry, goats curd
Toasted corn cake, whipped soft cheese, truffle
Kimchi arancini, cured egg yolk, kewpie
Mortadella finger sandwich, fine herbs, red wine vinegar
Sweet:
Lilly pilly ice, blood orange
Bay leaf & white chocolate mousse
Lemon myrtle meringue pie
Soy chocolate ganache, sour coconut
Petit fours
High Tea Perth – find more experiences
in our High Tea Venue Directory