Baccarat Hotel's newest afternoon tea offering, Sultan Abdülaziz is an afternoon tea of Turkish foods and a whole lot of crystal.
Baccarat Hotel New York is known as one of the more pricier hotels of the city, and rightly so because of its heritage. The French crystal company, Baccarat has been in existence since the 1700s, making crystal goods for royalty. And nowadays, you can purchase or experience the crystal in various ways. Visit the Baccarat museum in Paris, wear fine crystal jewelry, display a beautiful crystal vase in your home. Or better yet, have afternoon tea at Baccarat's only hotel in New York City.
The hotel is strategically located in midtown Manhattan among New York City's landmarks. Think the Museum of Modern Art (MOMA) right across the street and the shops of Fifth Avenue just around the corner. Upon entering the hotel on the ground level, you'll take an elevator to the first floor and be greeted by the Grand Salon, where afternoon tea is served.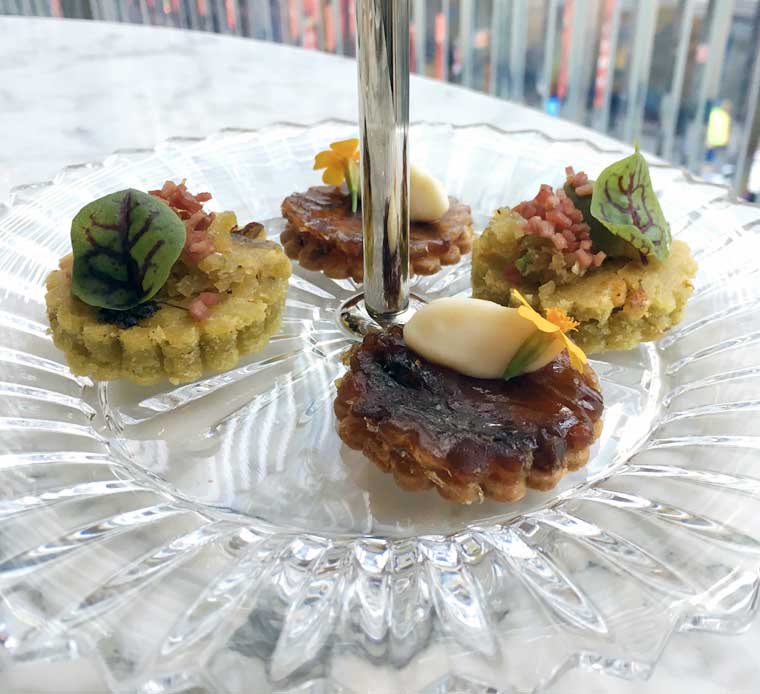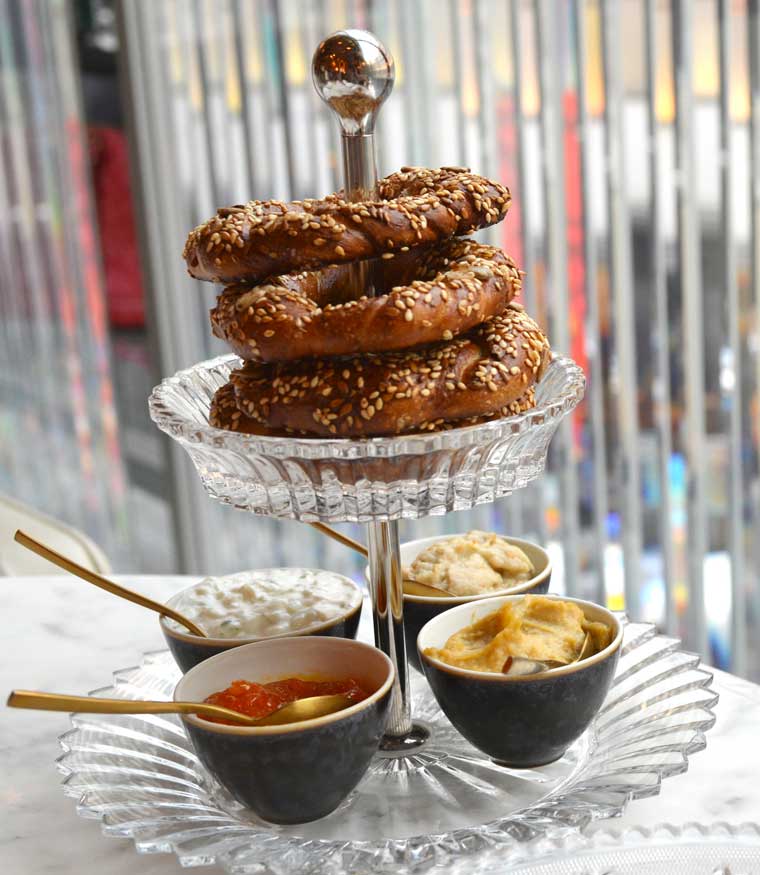 I walked into the Grand Salon on a Friday afternoon. The clientele does get dressed up whether they're there for lunch, a drink, or afternoon tea. There were tourists lounging after a day of shopping at nearby Saks Fifth Avenue, business meetings in occurrence, and groups of ladies like myself having tea. I was seated by the window, which is covered in layers of glass, obstructing the view from outside. Quite honestly, there isn't much to see outside so the window coverings add to the overall ambience of the interior. There's a 64 arm Baccarat chandelier, marble tables and large bouquets of red roses, paying homage to the Baccarat branding.
As I sat down, I was given a menu and another 'menu' which had the prices for each of the Baccarat tableware used in the Grand Salon. If you like what you're using, you can buy it!
Tea is served Wednesdays to Sundays from 1 to 4 pm. And it is highly advisable to make a reservation at least 24 hours in advance, as the hotel makes everything in house. I was at the Baccarat Hotel to try their newest afternoon tea offering, the Sultan Abdülaziz. It is unlike any usual afternoon tea because it's not just an afternoon tea. It's an experience.
Before the experience began, I had the privilege of meeting the tea sommelier at the hotel, Ms. Gabrielle Jammal. She described the concept behind the new tea, which was in the making two whole years before launching. Every item on the menu has been carefully picked and each afternoon tea package has a back story. For example, the Prince of Wales package is an English tea. It's called the Prince of Wales tea because the Prince of Wales commissioned an art deco set of glassware from Baccarat. Further, The Tsar Nicholas II, another tea package, known as the caviar tea is on the menu because Baccarat created crystal items for the tsars.
As for the Sultan? Sultan Abdülaziz was responsible for decorating the Dolmabahçe and Yildiz palaces in Turkey with the world's largest collection of Baccarat crystal chandeliers.
With this back story in mind, I was ready for the first course, bite sized items like Marcona almonds, dates and fig. Ms. Jammal recommended drinking cocktails and saving the tea for last. The options are Arak, an alcoholic liquor typically drunk with water or ice. For a non alcoholic option, there's a mocktail of rosewater lemonade.
These cocktails paired well with the next two courses. First, a Baccarat two level pastry stand came with three savory items for each person with flavors like fennel, duck, date and lamb. Next, another two level stand came with two simits per person with different dips, including a baba ghanoush, which was my favorite. I was full after the chicken pastilla and was glad I only had a very light lunch before!
Lastly, a scoop of labneh ice cream with candied kumquats again, served in a beautiful Baccarat coupe glass was later enjoyed with a cup of mint tea. Pouring tea for myself out of a Mariage Freres camel shaped gold plated tea pot, where the tea comes out of the camel's mouth was a fun ending to the entire experience.
I loved that this wasn't a usual English afternoon tea that I usually have. Instead, the Sultan Abdülaziz afternoon tea focuses on savory items, Turkish flavors and an interesting history, all tied to the Baccarat brand.
Sultan Abdülaziz Afternoon Tea Menu at Baccarat Hotel New York: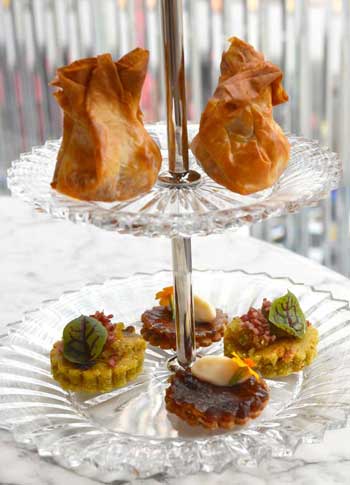 Savories (part 1):
Pistachio financier, roasted fennel, olives
Date crisp, parsnip, duck prosciutto
Lamb Merguez, feta cheese, filo purse
Savories (part 2):
Chicken pastilla, almonds
Sunflower fennel simit
Hummus
Baba Ghanoush
Apricot saffron jam
Sweet:
Labneh
Rose halva
Candied kumquats