The Connaught, named after Queen Victoria's son the first Duke of Connaught, invites you into the elegant venue with warm smiles.
Lights were sparkling, fires crackling, and contented laughter rippled across the marble tables as we blew in from the cold. We were welcomed with wide smiles, a table at the ready, and every member of staff who happened to pass us saying hello.
While our finger tips warmed from the icy air outside, my friend and I sipped on Laurent-Perrier champagne and looked out at Mayfair through the floor to ceiling windows. The amber stained-glass panels by artist Jean-Michel Othoniel added a beautiful glow to our mid-afternoon view, and as the light faded, the ruby tones added a cozy feeling to the buzzing room.
Our sandwiches were simply presented on white crockery and they spoke for themselves. The walnut bread wrapping ham and cheese made a delicious sandwich, just the right amount of soft warm bread and crunch from the walnuts, and seconds were requested. The coronation chicken had just the right amount of spice and the cucumber sandwich was light and refreshing.
Although the Jean-Georges at The Connaught restaurant where we were seated for our afternoon tea, named after the world-renowned chef, is classy and modern, the hotel has been in the heart of Mayfair since the early 19th century. The hotel first opened in 1815 as the Prince of Saxe Coburg Hotel and after an extensive rebuild was reopened as the Coburg Hotel in 1897. In 1917 during the First World War, the decision was made to change the name to the less-German "Connaught". The name was taken from the title of Queen Victoria's 7th child, Prince Arthur, the first Duke of Connaught.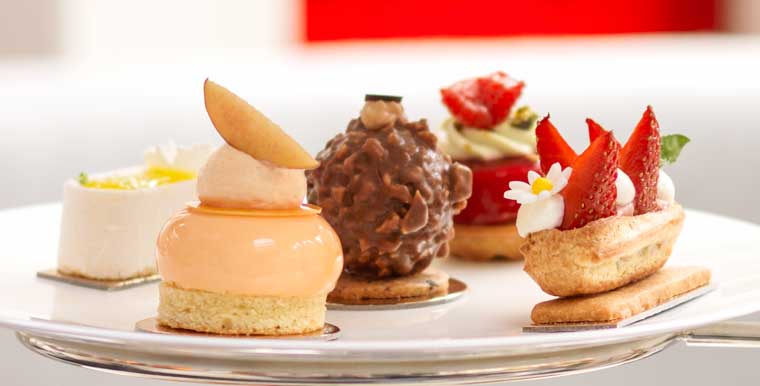 There was a small yet considered menu of teas to choose from, including green, white, black and herbal, and I selected the Earl Grey French tea which is described as having fragrances of bergamot and royal blue flowers. A bite of cream and jam covered scone followed by a slurp (elegantly done, naturally) of tea was a Goldilocks-perfect combination.
The scones were warm and arrived in a silver dish but as always it seems there is never enough cream to be as generous as you'd like to be, especially with two people dining. I waited a little while for the next cream pot to arrive by which point the scone was cold, but it gave me a natural rest to my indulgence. The lemon curd was a welcome option, nice to try a new flavour on the scone. With plates, tea pots, tea cups, cake stand and champagne glasses, the marble-topped table did get a little crowded but what a nice problem to have!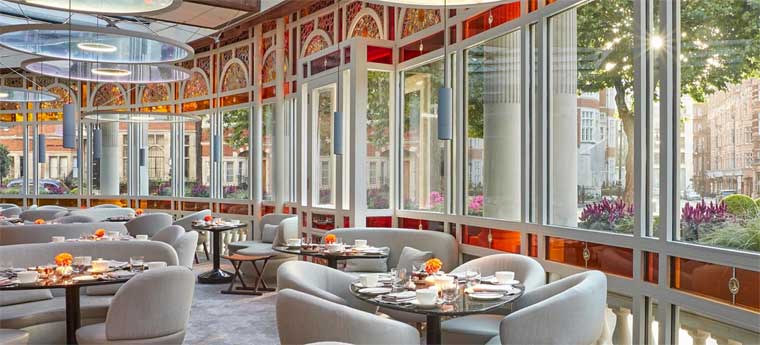 All the desserts were very well presented and it was clear how much skill had gone into crafting them. For my companion and I, and indeed the diners next to us, they were all a wee bit too creamy and moussy – there were three mousses, a ganache with cream and a puree with vanilla chantilly – and we agreed we'd have liked a bit more variety in textures. The orange jam and chocolate ganache with cinnamon cream was sharp yet refreshing and the black forest mousse with cherry jam had a rich kick to it, lovely deep flavours.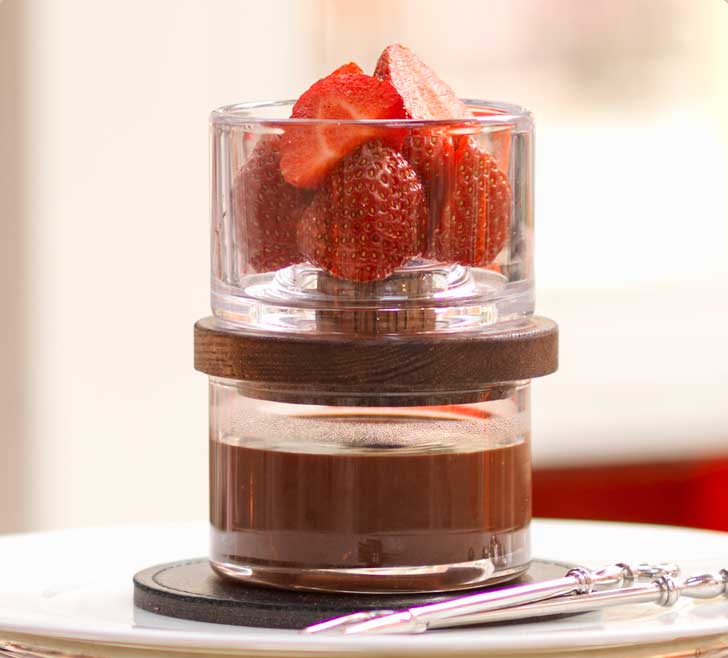 However, my favourite was by far the chocolate fondue, fully equipped with something to dunk into it. For our festive visit it was a gingerbread man, but madeleines are the normal fare. Makes my mouth water writing about it, a great addition to the sweet selection.
The hotel boasts two luxury restaurants, Jean-Georges at The Connaught and Helene Darroze at The Connaught, and an exceptionally sophisticated looking Champagne Room. There are also two bars, one of which, the Connaught Bar, won the World's Best Cocktail Bar at the Tales of the Cocktail Spirited Awards in both 2012 and 2016. Next time, I'm going to test out that title!
The Connaught Hotel Afternoon Tea Menu:
Sandwiches:
Cucumber, Greek yogurt, lime, mint, white bread
Egg & truffle mayonnaise on onion bread
H. Foreman's smoked salmon, chipotle, coriander and iceberg lettuce
Home-made salt beef, watercress, horseradish crème fraiche on dark rye bread
Chicken, confit smoked tomato relish, lettuce, mayonnaise on herb bread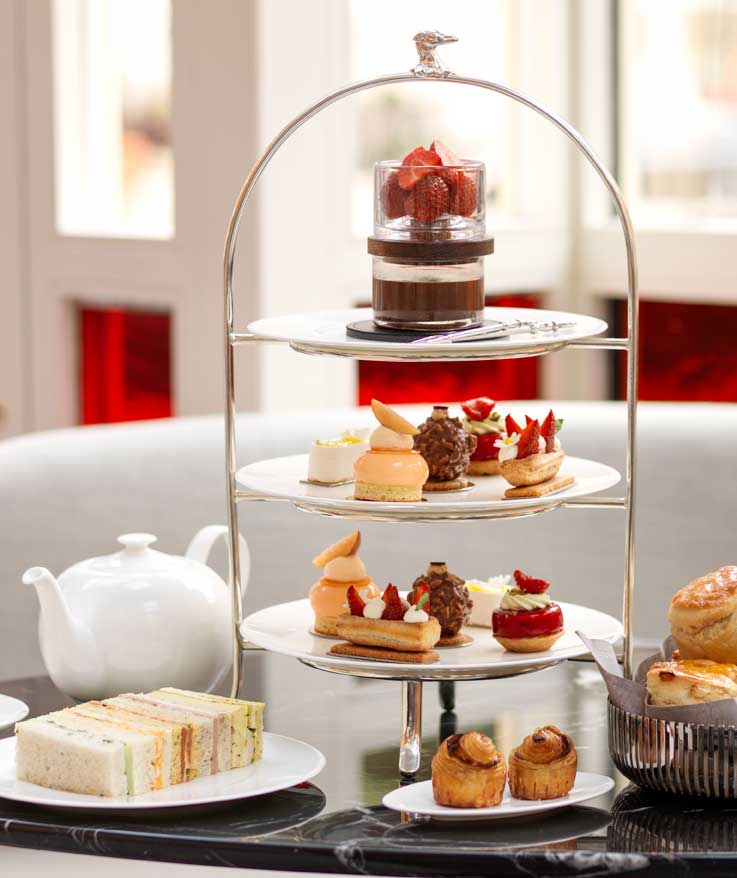 Scones:
Plain and wholemeal raison scones with Cornish clotted cream, strawberry jam and lemon curd
Sweets:
Chocolate fondue with madeleines (gingerbread man during festive period)
Rocher: hazelnut praline, milk chocolate
Lychee mousse, grapefruit jelly, rose whipped cream
Chestnut & vanilla mousse, chestnut puree, Madagascar vanilla cream
Finger lime caviar, lemon and almond frangipane, meringue
Passion fruit & chocolate éclair: passion fruit crémeux, mango, dark chocolate
Tea selection:
Green and white: Fuji-Yama, Jasmine Pearls, Thé à L'Opera, Thé de la Longévité
Black: Breakfast Tea, Earl Grey French, Marco Polo, Darjeeling Beauty, Assam First Flush, seasonal tea
Theine herbal tea: Dream tea (a balance of the finest chamomile verbena lemongrass and mint), Rouge Metis Red tea, fresh mint tea, Chamomile, Canarino
Afternoon Tea London – find more experiences
in our High Tea Venue Directory.