Gin lovers rejoice! There's a new tea in town – a G&T High Tea that is - at the Hyatt Regency Sydney.
Available every Saturday from 2.30pm in the lobby lounge this one is heavy on the Australian botanicals, both in the four G&T creations and the accompanying menu.
The lounge area is home to a glittering bar with a mix of café sized tables or banquet seating and it was full when we arrived, so we'd recommend booking in advance. Ambient lighting and soft piano music give an ambience akin to catching up with friends for a few cheeky cocktails, just replace the bar snacks with a loaded high tea stand (and dessert table, but more on that later).
The savoury options are delivered while the staff explain the first two G&T matches for you to choose between – a classic and a spiced. If you don't mind sharing with friends get one of each, they're both great options.
There is a selection of hot and cold canapes, all with a lot of thought put into matching the food with the botanicals found in the gins. Flavours like orange, fennel, juniper, coriander and ginger are featured on the menu. All done well, our standouts were the smoked duck on brioche that had a gentle hum of citrus orange, and the whipped goats curd on a crisp fennel cracker that held up well to the curd without going soggy. A special mention must go to the lamb koftas, they were beautifully moist but oh boy did they pack a spicy punch! The labne on top cooled things down nicely though, as did the G&T of course.
With the savouries complete we moved on to the scones and the second set of G&Ts – a pina colada inspired creation and a butterfly G&T that changes colour before your eyes when they pour the tonic table side. The scones are served in a cute little hessian package that you need to unwrap, and the small scones inside were served piping hot instead of the usual warm. The thick clotted cream melted into them like butter. The plain matched well with the fig jam and cream, while the blueberry scone was better with just the clotted cream on top.
This is where the G&T matching comes to an end, replaced by your choice of artisan teas from The Rabbit Hole. The list is long and filled with their signature and Australian native collections. The French Earl Grey I chose is one of the best I've had the pleasure of drinking in a long time.
To finish there is a dessert table filled to bursting with an array of sweets and chocolates. Again, a heavy focus on botanicals, this time to complement the tea menu. After the generous choice of savoury canapes, it was nice to be able to select as few (or as many) sweets as we felt like. I can't go past a Portuguese tart and this one had a coriander crumble topping which added an earthiness to the otherwise sweet egg custard.
All said and done, the Gin High Tea offered by the Hyatt Regency Sydney is one that any lover of gin will enjoy. Even if you don't know much about gin, head along and learn a bit about Australian botanicals at the same time. Everyone gets a lasting souvenir too – make sure you take the menu card home to plant in your garden. It has seeds embedded in it which will grow into a lemon-scented bottle brush so you can grow your own botanicals at home.
Gin High Tea Menu: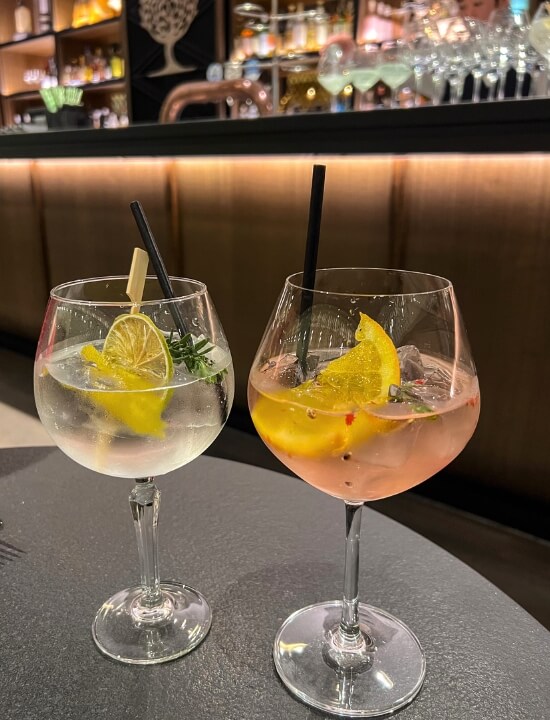 The food menu:
Cold canapes
Smoked duck, orange glaze, brioche
Whipped goats curd, fennel croute, toasted almond
Seared wagyu beef, juniper cream, potato rosti
Gin infused scallop, ginger vinaigrette, chilli
Hot canapes:
Tempura prawns, rosella chutney, black sesame seeds
Red bean and fennel empanadas, lime aioli
Lamb kofta, labne, cracked coriander
Sticky pork belly bao with wattle seed slaw
Native Scones:
Blueberry, muntries and cinnamon scone
Yoghurt and cumin scone
Served with fig-eucalyptus jam and clotted cream
Botanical dessert table:
Bergamot and white chocolate brulee
Ginger-apricot mascarpone slice
Portuguese custard tart, coriander crumble
Lemon jelly, turmeric cream
Fennel pudding, Sambuca Chantilly
Chocolate surprise dome
The G&T menu:
Sunrise G&T – Poor Toms pina colada gin, coconut jelly topped with Fever-Tree elderflower tonic
Old Tom G&T – Hayman's old Tom gin, juniper berries, olives and lemon peel topped with Fever-Tree Indian tonic
Butterfly G&T – Scapegrace gin, fresh flowers, butterfly pea, mint and basil topped with Fever-Tree Mediterranean tonic
Spiced G&T – Opihr Oriental spiced gin, cardamom seeds, cloves, pink peppercorns and fresh orange, topped with Fever-Tree orange clementine tonic
High Tea Sydney – find more experiences
in our High Tea Venue Directory