An exceptional five-star afternoon tea at the central London Corinthia Hotel. Make a reservation immediately.
I shamefully admit that I had never heard of the Corinthia Hotel before my visit. Since then, I've outrageously promoted the hotel to friends due to the exceptional afternoon tea experience I enjoyed.
We were graciously welcomed in from the rain by waiter Jacob, leaving at the door the horns of London taxis and shush of tires on wet road. We walked through a sophisticated bar and a tropical room (which turned out to be an incredible flower shop) with bright blooms and sweet scents readying our senses as we arrived in the Crystal Moon Lounge to the accompaniment of tunes from the Steinway piano.
We sat in comfortable, high-backed arm chairs which gave us a feeling of privacy even in a big room and used bone china bespoke to the venue at a crisp white linen covered table. Created by British designer Richard Brendon, the china complimented the huge circular Baccarat crystal chandelier hanging in the lounge like a, yes, crystal moon. The red spot in the middle of the chandelier represents the heart and passion of the hotel and Brendon's collection reflects this with one place setting of china per group being striped red rather than grey. It's not the only this his work reflects – the mirrored surface of tea cups reflect the striped red or grey lines of the saucer it sits in.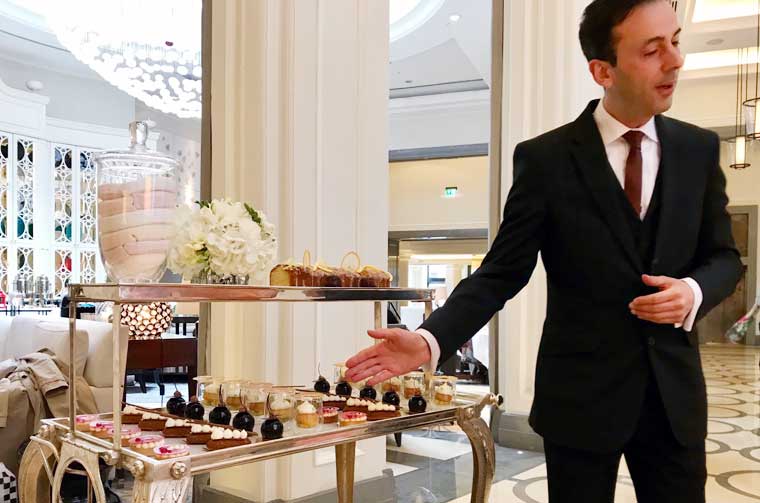 Great care has clearly been taken to curate the design of the interior and the food with the values of the hotel, a visual story to express the Corinthia hotels' mission for passion, precision and 'craftsmanship of care'. It comes across extremely well.
We started our afternoon tea with a Baccarat crystal flute of champagne while the menu and teas were explained to us by Jacob. The new afternoon tea menu was launched in April 2018 and it's clear that the hotel prides itself on the quality of what they serve and how they serve it. Three different tea variations have been blended exclusively for Corinthia London – I chose a mellow blend (medium strength) of Earl Grey, Assam and Oolong but an aromatic and a robust blend were also available. There are plenty of other teas available, such as black blends, green teas, oolongs and white teas. I counted 25 varieties on offer, the Mango Black Blend and the Dragonwell green tea sounded really interesting.
The finger sandwiches arrived in a row on the striped bone china. The egg mayo truffle and watercress on spinach bread sandwiches were particularly yummy and I gave up valuable tummy space to have an extra one when offered. Personally, I can always tell if an afternoon tea is going to be good if I spend time over the savouries, rather than race ahead to the scones. The tandoori chicken, green apple and raisin sandwich made me 'mmmmm' out loud.
The rhubarb and tonka bean jam with the scones (which came in their own scone box) and cream really made me smile, the slight sharpness of the rhubarb worked so well with the cream and vanilla of the tonka bean (Corinthia, please sell me this jam). All the desserts were served from an antique trolley which added another touch of glamour to the already winning afternoon. The sweet treats were contemporary in presentation yet with a nod to traditional English tea-time tastes – lemon and rose drizzle cake, rhubarb and strawberry tartlet and long strands of strawberry and vanilla marshmallows. But the exotic fruit baba was my favourite.
Piano music fluttered around us and at one point the pianist accompanied a rendition of 'Somewhere Over the Rainbow', which it turns out was sung by, much to my delight, one of Australian TV show 'Neighbour's' Mangles! Sean Bean passed us as we were having a conversation with manager Nigel about whether it was jam or cream first and he stayed talking to us, making me feel like the movie star.
The remaining treats we couldn't quite finish were tucked into a goodie box and just before we slowly headed through the flower shop again, we were presented with The Tiny Book of Tea, a small souvenir each visitor receives. It tells little bite-sized stories about tea and ends with a reminder that tea solves all problems in Britain, although sometimes you may need a biscuit as well. Lovely.
Everything from the service to the atmosphere, the tastes and how the food was presented to the decoration, it was a luxurious feast of an afternoon and I recommend visitors to London make a reservation immediately! Very much looking forward to seeing what happens next in the Corinthia Hotel London's afternoon tea story.
Afternoon Tea at The Corinthia Hotel Menu:
Selection of finger sandwiches:
Cucumber, radish and cream cheese on white bread
Ego mayo truffle and watercress on spinach bread
London smoked salmon, gherkins, capers, crème fraiche and spring onion on brown bread
Tandoori chicken, green apple and raisin on white bread
Roast beef, caramelised onion and wholegrain mustard with rocket salad on granary bread
Plain and sultana scones served with rhubarb and tonka bean jam, strawberry jam and Cornish clotted cream.
Sweet delicacies:
Chocolate peanut sphere
Rhubarb and strawberry tartlet
Exotic fruit baba
Irish Coffee Éclair
Lemon and rose drizzle cake
Strawberry and vanilla marshmallows
Afternoon Tea London – find more experiences
in our High Tea Venue Directory.