Satisfy your desire for scones, small savories and pastries any time of day with afternoon tea at the Crosby Street Hotel New York.
New York City may not have the same afternoon tea culture as London, but Kit Kemp has brought a bit of it to the city that never sleeps. Kit Kemp is the founder and designer of Firmdale Hotels, a hotel group based in London. Having afternoon tea at Crosby Street Hotel, one of Firmdale Hotels' two properties in New York City, might just offer a taste of London's tea culture.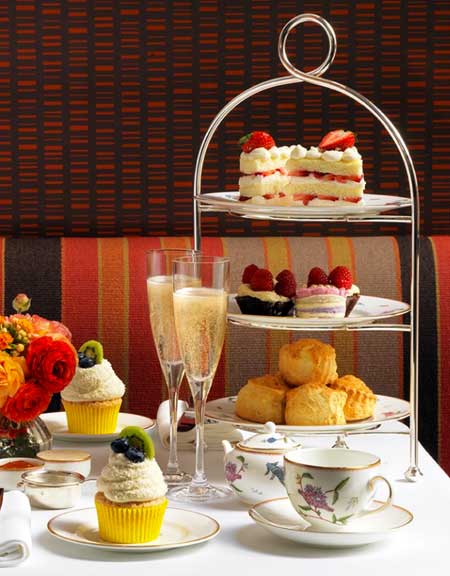 What makes the Crosby Street Hotel truly special is its interior design, which is displayed in The Crosby Bar where afternoon tea is served. With several options for seating, like outside when weather permits, to inside on a chair with a bright mix of purple, orange and green tones, this is a place to have afternoon tea with a stylish yet casual feel.
When I arrived at the Crosby Street Hotel, I was delighted to be seated right by the window overlooking Crosby Street. It was here that I took a moment to breathe, relax and watch iconic yellow taxis drive by, after navigating my way from the busy streets of New York to the hotel. My attention was brought back indoors as it was time to choose a tea. Crosby Street Hotel offers a selection of three teas that are included with the afternoon tea package: English breakfast, earl grey and chamomile. For an additional fee, you can choose from a larger variety of teas from Darjeeling to green, rooibos and oolong teas. I'd recommend sticking with what comes with the afternoon tea package, especially the Bespoke English Breakfast Blend, which is made exclusively for Firmdale Hotels.
My Bespoke English Breakfast Blend arrived in a beautiful Wedgwood pot, which was designed by Kit Kemp in a collection called Mythical Creatures. The little creatures adorning the pot have a textured look that match the fabrics on the chairs and even walls around the hotel. Much to my delight, the afternoon tea tray arrived with more mythical creatures patterns. All of the fine china used for afternoon tea are from Wedgwood and Kit Kemp's Mythical Creatures collaboration.
After gushing over how beautiful the china was, it was time to pay attention to the food. The Crosby Street hotel offers two afternoon tea packages: traditional and gluten-free. Starting at the bottom tier, were the scones, wrapped in a cloth napkin to retain the heat. When they arrived at the table, they were still warm and delicious especially with clotted cream and two flavors of fruit preserves. Whether your diet requires gluten-free items or not, the gluten-free scones were one of my favorites on the menu as it had flavors of spices like cinnamon.
Next were the savories. While you'll have a traditional cucumber sandwich, you'll also find some items paying tribute to certain aspects of the hotel. For example, the smoked salmon crostini is a hat-tip to the hotel's location, similar to a classic New York lox and cream cheese bagel. Meanwhile, the pea mash crostini and steak pie each come with Stilton and English cheddar cheeses, both from England. Last but not least, the pastries satisfy any sweet tooth. My favorite was the classic Hummingbird cake, which is also catered for the gluten-free afternoon tea package.
The Crosby Bar in general caters to every need. The restaurant is open for all meals of the day, and you can have afternoon tea at any time that the restaurant is open, though 12 to 5 pm is recommended. You'll find families, couples, and groups that are just visiting the city or having a business meeting. The dress code is pretty casual, but leaning towards business casual. Even at 3 pm when I had tea, people were having a late lunch, or just hanging out with friends over snacks by the bar. Overall, afternoon tea at the Crosby Street Hotel is a delightful experience. As a hotel brand with roots in London, having tea is like experiencing a little of London's afternoon tea culture in New York City.
Traditional Afternoon Tea Menu at Crosby Street Hotel: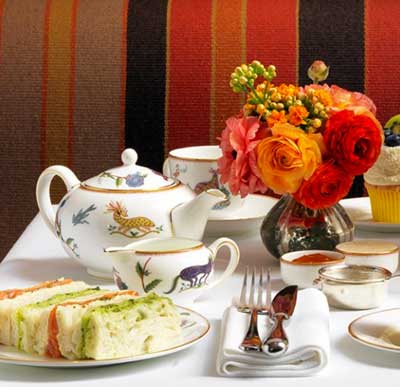 Traditional Tea Sandwiches:
Cucumber sandwich, sweet butter, dill
Minted pea mash, English cheddar, toasted sourdough crostini
Smoked salmon crostini, capers, red onion
Steak and Stilton pie
Pastries, Tartlets and Scones:
Traditional and fruit scone with clotted cream and preserves
Peach cornmeal tart
Milk chocolate raspberry torte
Coconut passion fruit opera cake
Classic hummingbird cake
Gluten Free Afternoon Tea Menu at Crosby Street Hotel: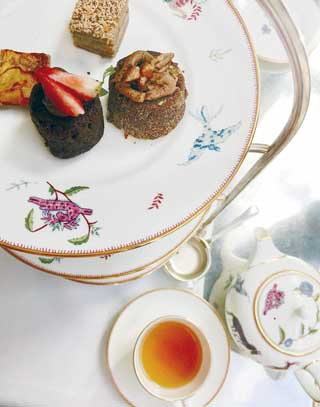 Gluten Free Tea Sandwiches:
Quinoa flatbread, cashew cheese, baby heirloom tomatoes
Sprouted chickpea hummus, lentil chips
Sweet pickled cucumber, English pea mash, Marcona almond
Cucumber sandwich, hummus, fresh herbs
Gluten Free Pastries, Tartlets and Scones:
Two scones with clotted cream and preserves
Paleo sticky bun, toasted pecan
Chocolate avocado cake
Hummingbird cake, coconut frosting
Roasted peach galette