With a historical venue and its beautiful harbour surrounds, afternoon tea at Dunbar House is an affair of relaxed elegance.
Update October 2018 – Dunbar House no longer serve High Tea to café patrons Monday to Sunday, but it is still available for group bookings.
Dunbar House at Watsons Bay is a grand historic Sydney venue. Built in the 1830's as a four bedroom majestic sandstone home, it's had various uses over the years as a hotel, a personal zoo, and as local council chambers. Now it serves as a cafe/function centre, with a full cafe menu serving breakfast, lunch and afternoon tea options. Afternoon tea can be accompanied by an Australian Sparkling or a glass of champagne.
We arrived at Watsons Bay with the usual dilemma of weekend parking, after driving around the circuit a few times it became apparent driving was not the best option. Whilst the area is well serviced by busses, the Ferry across the harbour would have been great, and is only a 2 minute stroll away. The venue itself is a wonderful example of retaining a historical building with some very modern renovation. We were seated on the beautiful wrap around balcony which has views over the bay and parklands, a lovely setting on a warm sunny spring day.
Sitting there enjoying the harbour breeze and a glass of sparkling, we were presented with individual stands, which was a nice touch as it meant no sharing! The tea service consisted of mis-matched pieces with floral designs and pretty patterns. There were the traditional sandwich options of egg, ham, and salmon with white, wholemeal, and brown bread respectively. They were quite lovely, very fresh with a good ratio of bread to filling. A mini smoked salmon bagel served warm, which I really enjoyed but my companion was not sure about. A small tart with a perfectly crisp shell filled with mashed avocado and diced red onion which was completely overpowering, we both agreed it was a bit odd. Then there were the smooth and silky coconut panna cotta pots with fresh strawberries and blueberries – although strangely, no spoon was given to eat them with (we pinched one out of the jam and cream pots).
Then out came our teas, we had a house made chai served black with warmed milk on the side – a lovely touch, and a "Wellness" tea with flavours of lemon verbena, lemongrass, fennel and ginger (one of the Ronnefeldt's range of teas). We moved on to the sweeter morsels, with a layered hazelnut and chocolate mousse/ganache, a nice mix of flavours and not too chocolatey. A cheesecake square which was lemony, light and had a lovely mousse like texture, topped with a mixed berry gel. Unfortunately the granola base, while being well spiced completely fell away from the cheesecake – still delicious though once we scooped it up with our stolen spoons.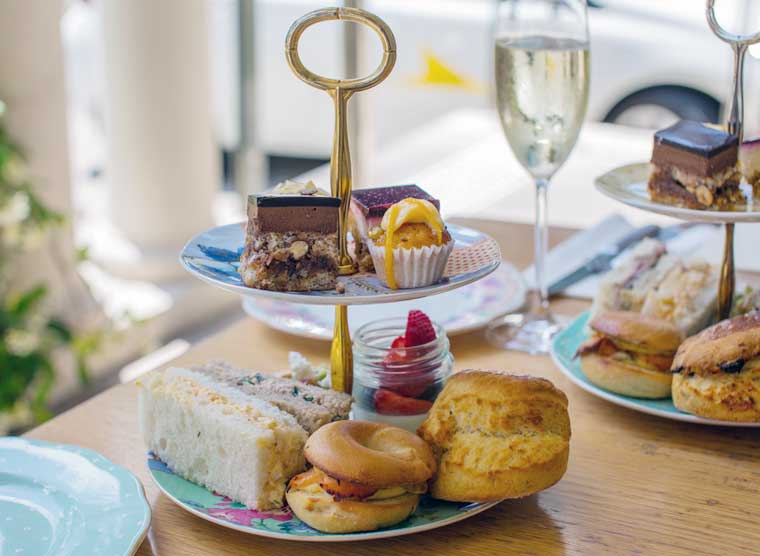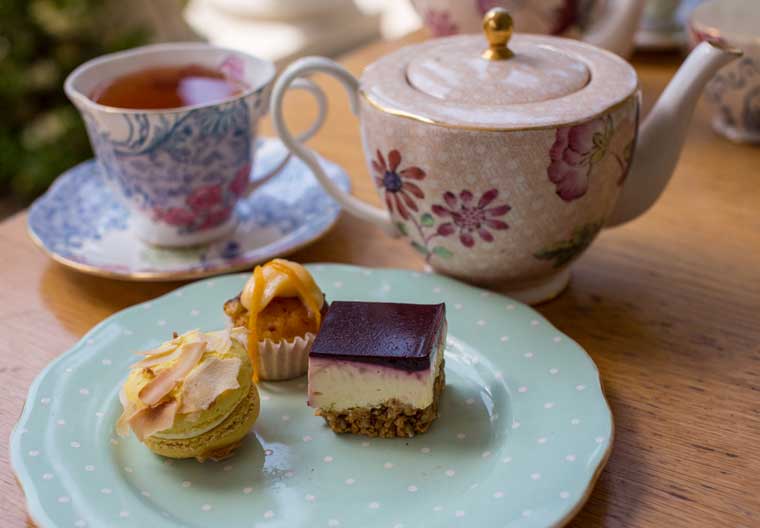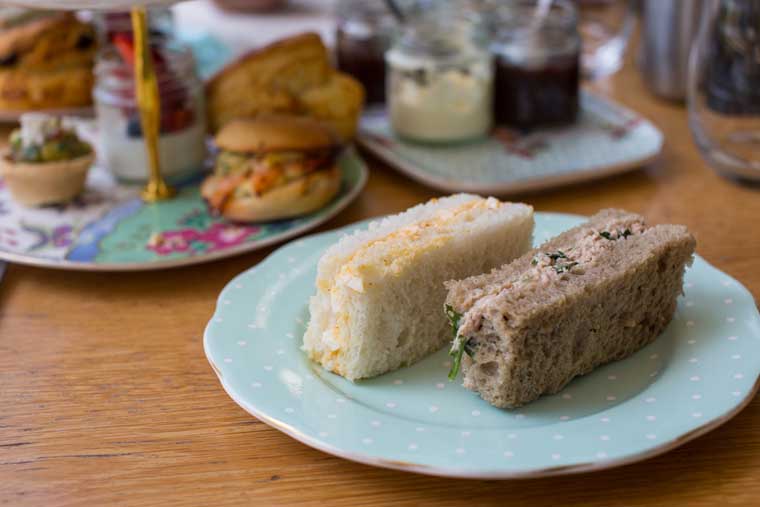 The scones had a lovely golden crust, were perfectly risen and had a light texture inside. My scone had sultanas and the ones on the crust had become beautifully caramelised. They were served with dolloping cream and a berry jam. A mini macaron with passionfruit and coconut flavours, with toasted coconut shards on the outside and a mini cupcake with lemon curd and pistachio were also on the stand. I think it's the first time we've actually enjoyed a cupcake at a high tea, which is saying something!
With a historical venue and its beautiful harbour surrounds, afternoon tea at Dunbar House is an affair of relaxed elegance, but next time we are taking the ferry!