Escape the hustle and bustle of Barcelona with afternoon tea at El Palace Hotel, a classic nod to British tradition in the Catalan capital.
When visiting Barcelona, highlights include admiring the modernist architecture by master Antoni Gaudí, shopping till you drop on Passeig de Gracia or perhaps catching an FC Barcelona football match at Camp Nou; high tea isn't usually on the must-do list. But there's only so much touristing, shopping and football watching you can do before the desire to take a load off, and enjoy a more tranquil activity takes hold. Enter afternoon tea at El Palace Hotel. Just a short walk from tourist highlights La Pedrera and Casa Battló, and Barcelona's best shopping, El Palace Hotel sits on Gran Via de les Corts Catalanes presiding over Barcelona's L'Eixmaple district. A classic high tea in Baroque surroundings, an afternoon at El Palace is an excellent addition to any Barcelona itinerary, and sets one up to dine at the later time enjoyed by locals.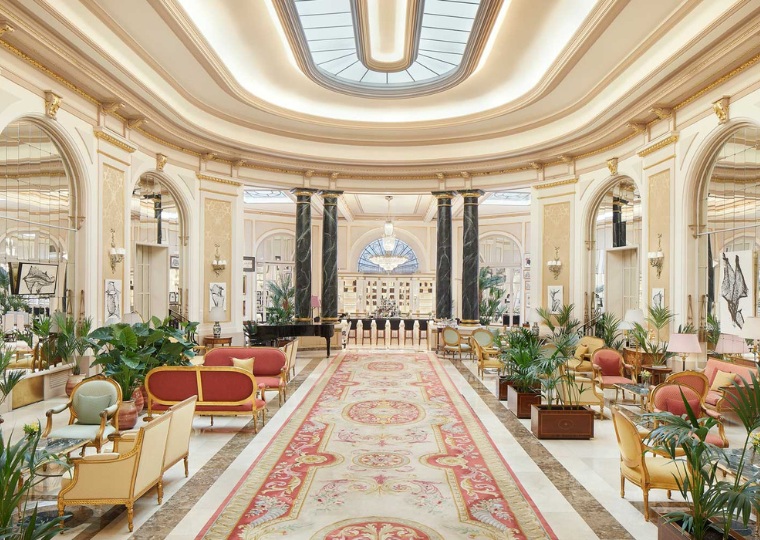 Born of the desire of Catalan politician Francisco Cambó to have a Ritz hotel to rival those in Paris, London and Madrid, El Palace Barcelona was opened in 1919 with the Barcelona International Exposition set to take centre stage just ten years later in 1929. The oldest luxury hotel in the city, it has seen all phases of the city's history, being unionised during the Spanish Civil war in 1936, its basement converted into a bomb shelter and its rooms into a hospital for the Red Cross. It passed back into Government hands following the conflict and thanks to Josep Tarradellas (Former President of the Generalitat of Catalunya and for whom Barcelona's airport is named) it returned to its original purpose, evolving into the renowned hotel it is today. With close links to art and culture, since opening its doors in 1919, El Palace has been synonymous with gala parties, fashion shows, live music and creative visual arts – a tradition that it continues today with a full calendar of events and activities. The hotel has designed six special suites for exemplar artists in their respective fields that guests can enjoy, from the painting suite of Salvador Dali, to the literature suite of Carlos Ruiz Zafón and the music suite named after, and designed in conjunction with the legendary Rolling Stones guitarist Ronnie Wood.
Afternoon Tea at El Palace is served in the Great Hall, the soul and centrepiece of the hotel. Even so, tea in the Great Hall remains a tranquil and relaxing experience accompanied by live piano and song Friday through Sunday evenings. Perfect for couples or small groups, the Great Hall exudes luxury and provides respite from the world outside.
Afternoon Tea consists of the traditional offering of sandwiches, scones and sweet treats prepared by El Palace's renowned pastry chef Miguel Costa. These are served upon a three-tier tea stand and alongside a selection of black and green teas and herbal infusions from Frankfurt-based Ronnefeldt Teas. This bio-organic producer has been crafting teas since 1823 using ethically produced hand-picked tea leaves from the world's best tea gardens across Asia and South America. For those seeking a slightly more decadent experience, tea can be enjoyed with a glass of champagne or Mirgin Alta Alella cava. Spain's DOC sparkling wine, cava is produced in a manner similar to its French cousin but with unique flavours due to terroir and local grape varieties. No trip to Catalunya is complete without a tasting of this local specialty.
On this occasion, we opted for a glass of the cava which was a perfect transition from the busyness of a Sunday spent exploring the city to an evening in one of Barcelona's most well-known locations. We then began with the sandwiches. The classic cucumber sandwich is served on spinach bread and is light and fresh which pairs excellently with the cava. A slight twist on the usual egg salad sandwich, El Palace's version is made with chopped watercress and truffle for an elevated taste. This is followed by a smoked salmon brioche before the deliciously crunchy chicken curry sandwich. Served on tomato bread (not to be confused with the traditional pa amb tomàquet of this region), this sandwich includes sun-dried tomato and walnuts which remind us of a long, hot Barcelona summer, regardless of the season in which high tea is experienced.
As we enjoyed the sandwiches we were serenaded by the live pianist and vocalist, Fer Tejero, who covered a variety of classics and modern pop tunes. The Darjeeling black tea was light and easy drinking, perfect for an afternoon tea alongside the other delights on offer. The Heritage Collection China is understated and elegant, allowing the focus instead to fall on the opulent surroundings of the Great Hall with its Baroque furniture and exquisite decor. High backed seats and settees are comfortable, yet keep guests upright and ensure no siestas happen – for these one of the 102 exquisitely appointed hotel rooms would be more appropriate. Staff are gracious and helpful, though do not hover, leaving guests to enjoy their moment unencumbered.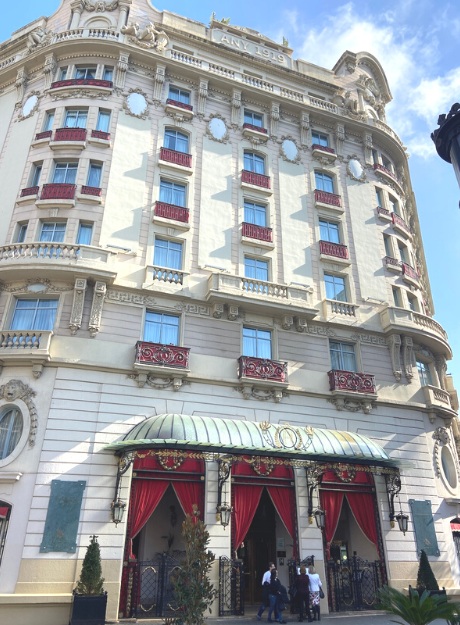 Moving along, the artisan scones have a delicate crumb, served with traditional clotted cream and raspberry jam as well as a bitter orange jam reminiscent of the Spanish sun, and perhaps the orange-tree studded lanes of nearby neighbourhood Poble Nou. Both the scones and clotted cream are well-balanced and not too sweet making the entire afternoon tea lighter than some, leaving room for some of the wonderful Spanish tapas the city is known for, or perhaps a meal of locally sourced specialities in one of El Palace's stunning restaurants. But first, the final tier of the tea stand, the mini sweets from pastry chef Miguel Costa. Arriving as we did, in the week following Saint Valentine's Day, we were treated to a special heart-decorated pastry which alongside a banoffee tart, a raspberry-topped creme brûlée and a chocolate and hazelnut tartlet this was the perfect way to round out a lovely afternoon tea. These are not too sweet and allow guests to indulge in a little decadence without feeling overwhelmed – perfect for those who wish to continue their afternoon exploring in this enigmatic city by the sea.
The only hotel in Barcelona to be featured on the Conde Nast Traveler Gold List in 2023, a visit to El Palace and afternoon tea in its Great Hall, should not be missed! As they say themselves, "There is always something happening at El Palace Barcelona."
Afternoon Tea Menu:
Sandwich de pollo al curry
Brioche de salmón ahumado
Sandwich de berros y trufa
Sandwich de pepino
Scones with jam and cream
High Tea in Europe – find more experiences
in our High Tea Venue Directory