There were tea lovers as far as the eye could see on March 10 at Crown Perth's Epicurean for the ever popular Afternoon Tea with Peter Kuruvita and Dilmah.
Aside from being one of Australia's leading chefs, Peter is also a restauranteur, TV presenter and author of several successful cookbooks. If that's not enough he is also a Dilmah ambassador and it was this role that brought him to the Epicurean to talk about all things tea, specifically tea gastronomy. What is that you ask? Simply put it's all about using the delicate flavours of tea as a food ingredient and infusing it into both sweet and savoury dishes.
So the Epicurean's afternoon tea buffet was the perfect avenue to showcase this unique blending of flavours. This also meant there was A LOT to try so here we go!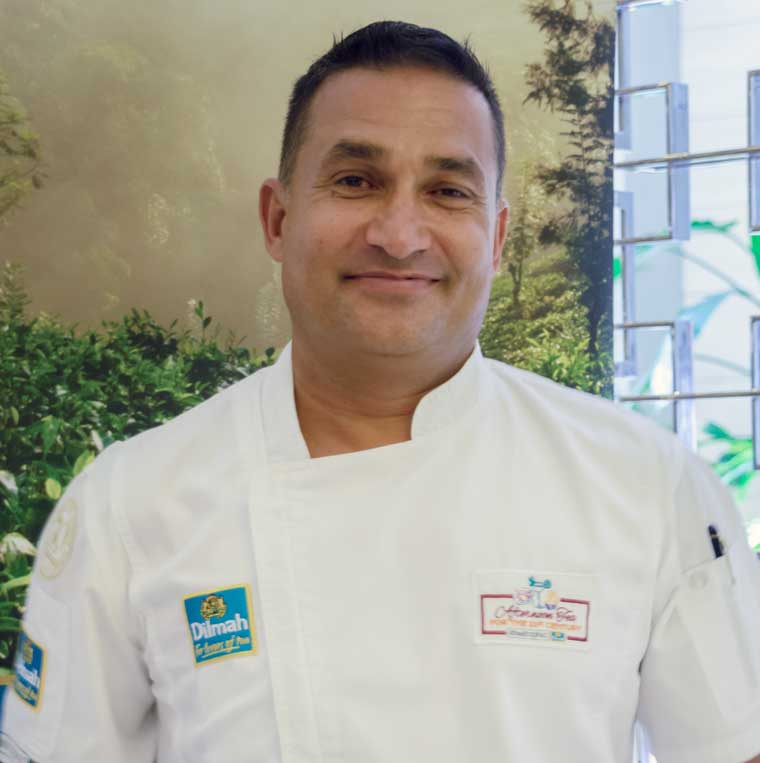 My visit kicked off with a gin and tea cocktail that was simply sensational. The Earl Grey tea, gin, strawberries, orange zest and fruit juice was so refreshing, never mind the sugar frosting that adorned the side of the glass, so pretty! I then opted to try my first ever iced tea, a thirst-quenching peach and pear. There was also a Berry Sensation on offer that I sampled before leaving, and yes I'm now an iced tea convert!
There was plenty of Dilmah tea infused cuisine on offer. First dish of the day was the Sencha Tea Onigiri with Salmon. The salmon rice ball was a pleasure on the palette and had I not had so many dishes to sample I would've gone back for seconds. Next up was quite the mouthful in more ways than one, Panipuri with Lemongrass and Peppermint Tea Poached Chicken Breast with Cashew Cream. This Indian dish was a bite size delight and then some, before rounding out the savouries with the flavourful Spinach and Feta Momos, with Spiced Elixir of Ceylon Tea with Peach and Almond.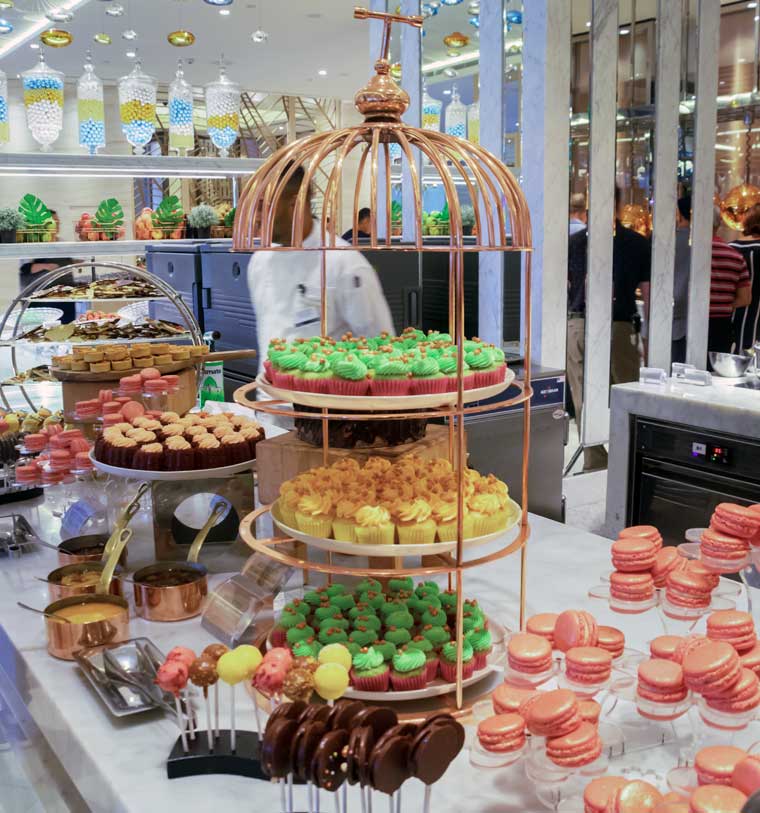 It was then time to turn my attention to the tea infused sweet treats at Epicureans infamous dessert cube. There was so much to sample, apologies up front for the long and exhaustive list, assorted tea mini chocolate cones, Rose and French Vanilla Tea macarons, Earl Grey Cremeaux Chocolate Streusel, Raspberry and Elderflower Infusion Petit Gateau, Italian Almond Gateau, Blood Orange and Eucalyptus Crème Brulee Tart and Green Tea Mini Cheesecakes.
Surprisingly my tea infused pick of the day was the English Breakfast Tea scones with Earl Grey whipped cream, tradition with an oh so moreish twist. I could quite happily dine on those Devonshire Tea style on any given day with a pot of one of the Dilmah teas on offer, Elegant Earl Grey, English Breakfast, Pure Camomile Flowers, Ceylon Green Tea and Pure Peppermint Leaves.
It would be remiss of me not to mention some of the Epicurean favourites that you will find at their afternoon tea buffet that is on every Sunday for just $59 per person, kids $30. Starting with the hot savouries, the mini quiche lorraine was to die for thanks to the buttery pastry and creamy filling. Not far behind was the seafood basket with tartare sauce. Other crowd pleasers included the samosas with mint chutney and mini wagyu burgers with truffle mayonnaise and melted vintage cheddar.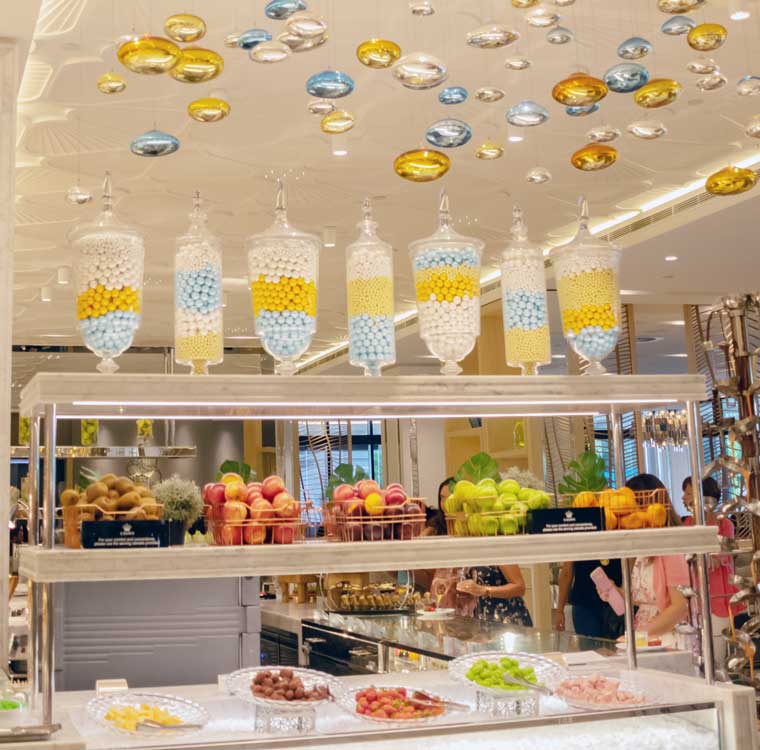 The dessert cube was like a scene from Willy Wonka and the Chocolate Factory. Case in point the delectable chocolate tower with treats to dip that will keep the kids and the young-at-heart entertained for hours. Then there's the Red Velvet Friands, with Cream Cheese Frosting, Choc Dipped Oreos, Dark and White Choc Barks with Apricots and Pistachios and one of my personal favourites, the Nutella tart. This is merely a drop in the ocean as there are desserts as far as the eye can see.
Set amongst the delicious desserts is a tower of assorted finger sandwiches, Egg Mayonnaise and Chive on Country Bread, Cucumber and Cream Cheese on Herb Bread, Guacamole Spinach Tortilla Wraps and Mini Smoked Salmon Bagels, Dill, Cream Cheese.
I will admit I didn't have enough room in the tummy for the cheese station but there is plenty on offer to suit most palettes such as Camembert Royal Faucon, vintage cheddar and Gorgonzola to name a few.
So there is really is something for everyone at Epicurian's lavish afternoon tea buffet. Whether its tea infused or not the standard is top notch. It really is a joy for the senses so it's no wonder the event was a sell out the day I was there.
Epicurean also serve a regular Afternoon Tea menu Sundays 3.15 – 5pm