Just a short train ride from central London, Afternoon Tea at The Grand Brighton, is the perfect way to end a day trip to the seaside.
Served each day in the Victoria Terrace & Lounge, afternoon tea at The Grand has been voted Brighton's Best Afternoon Tea in the Brighton Restaurant Awards three years running. Serving classics such as freshly made sandwiches, pastries and scones, vegan and gluten-free options are also available alongside a selection of over 30 loose leaf teas and infusions, as well as coffee, sparkling wines and cocktails.
From the moment guests step inside The Grand on Brighton's seafront they're transported into a by-gone era, attended by elegantly dressed footmen and surrounded by refined furnishings. Designed by John Whichcord Jr., The Grand Brighton was officially opened on 21st July 1864 to great fanfare and celebrated as the original 'Palace By The Sea'. With the beauty of the South Downs behind, and the seafront a stone's throw away, today its seven floors of guest rooms set around the original dramatic sweeping staircase take us back in time, evoking memories from the past.
A major renovation project in 2019 restored the stunning Victorian facade to its former glory, maintaining The Grand as a true Brighton icon alongside others including the West Pier, the Palace Pier, the Brighton Bandstand, and the Royal Pavilion and gardens. For those guests who wish to take a true trip into history, 'Grand Moments' can be discovered via QR codes throughout the property, recalling days of grandeur from the hotel's past.
Afternoon Tea is enjoyed across two spaces: guests can choose either the light-filled terrace with sea views, or the opulent Victoria Lounge for a cosier experience. We sat in the sunny terrace on a warm autumn afternoon and felt as though we were in a lavish garden, surrounded by plants, botanical print wallpaper and green velvet high back chairs. In the background an instrumental smooth jazz playlist matched guests' smart casual attire and an atmosphere of relaxed celebration.
Afternoon Tea consists of three tiers of sweet and savoury delights, as well as a savoury appetizer and a choice of a slice of several succulent cakes prepared fresh daily (on this occasion by Pastry Chef Molly Ash and her apprentice Joe Moore). A full wine and cocktail menu is available for those celebrating a special occasion (or any day in fact!) including local Ridgeview Cavendish Sussex sparkling wine as well as more traditional Italian Prosecco or French champagne. For those guests who enjoy a unique High Tea experience, The Grand offers a Brighton Gin&Tea high tea featuring locally made Brighton Gin in one of their fabulous balloon glasses.
Served on Wiliam Edwards fine bone china from the Reed collection, guests are welcomed with a freshly baked pork and leek sausage roll in buttery flaky pastry and a sun blush tomato, smoked cheese and rocket quiche. Both pastries are melt-in-your-mouth and set the scene for the afternoon tea to follow. Inspired by the natural beauty of the English countryside and featuring vibrantly hand-painted illustrations of iconic wetland birds and insects, the Reed collection is delicately edged in 24-carat gold. Whether guests choose one of the bespoke Grand Hotel blends, or a traditional tea or infusion from the Kent and Sussex Tea company, they will be charmed by the adorable details on the teacups, as well as the silver teapots and serveware as they move onto the three tiered tea stand of delights. We chose the signature Grand Blend which was well balanced, and enjoyed without need for sugar or milk. With a classic selection of sandwiches, guests enjoy poached fresh salmon, cucumber and mint cream cheese, ham and English mustard and egg mayonnaise and cress from the lowest tier of the tea stand.
Moving on to the star of the show, the Shipton Mill cherry and almond scones are truly wonderful. With buttery, crumbly pastry, a thick luscious Tiptree strawberry preserve and just-sweet-enough clotted cream, these are the perfect introduction to the sweet elements of the tea. The top tier of the tea stand is a delight for all senses with four beautifully presented mini cakes and pastries. With double flavoured macarons, a blackberry and white chocolate panna cotta mousse and a mango and passionfruit curd meringue tart, the light, fruity flavours are well covered before guests move onto the final sweet bite. The dark chocolate, caramel and raspberry cup is rich, thick and delicious, the perfect decadent end to a wonderful experience… except that it's not the end! Guests are then treated to a slice of cake from the cake trolley which features a selection of cakes prepared fresh daily. On the day we visited, we chose a carrot cake which was moist, dense, spicy and with a superbly creamy cream cheese icing. For those who find this extra treat a little much, The Grand offers cake boxes to allow guests to continue enjoying the experience at a later time at home.
Whether you're celebrating a special occasion, visiting Brighton from out of town, or wish to treat yourself, afternoon tea at The Grand is an excellent way to spend an afternoon. Providing respite from sightseeing in seafront winds, or a rest for tired feet after a shopping adventure in Brighton's lanes, the Victoria Terrace and Lounge is the perfect spot for couples or small groups. From the exquisitely dressed doormen to the professional and friendly guest services staff, the team at The Grand will take care of your every need whilst you enjoy their award-winning high tea experience. With a full bar, as well as gluten free and vegan menus they have options to suit everyone, so we can all enjoy a piece of history in the 'Palace by the Sea'.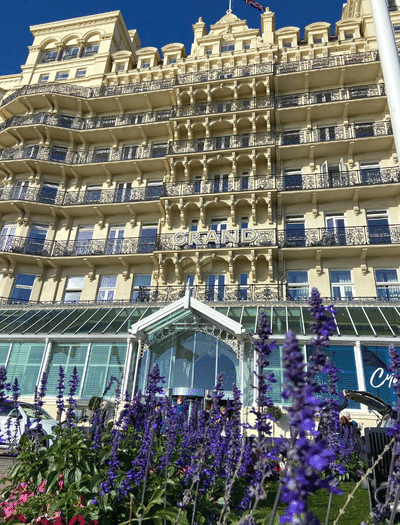 Grand Afternoon Tea Menu:
Savouries:
Freshly baked pork and leek sausage roll in the ultimate buttery flaky pastry with sea salt
Sun blush tomato, smoked cheese, and rocket quiche
Freshly made sandwiches filled with:
Poached fresh salmon
Cucumber and mint cream cheese
Ham and English mustard
Egg mayonnaise and cress
Freshly baked Shipton Mil Scones:
Plain
Cherry & almond
With clotted cream and Tiptree Strawberry preserve
Cake Trolley – Chef's Favourite Mini cakes & Pastries:
Blackberry and white chocolate pannacotta mousse
Mango and passionfruit curd meringue tart
Dark chocolate, caramel and raspberry cup
Double flavour macarons
Served with our own blended leaf tea or world-renowned blends and infusions.