The Great Scotland Yard Hotel collaborates with England's historic Floris perfumier for a total satisfaction of the senses.
After a somewhat 'Indian Summer' in London, with warmer temperatures and sunny days lasting well into October, it felt refreshing to feel winter's first nip in the air as we walked on a darkening afternoon from Westminster station to the Great Scotland Yard Hotel on the way to our Afternoon Tea. We needed something to warm our hands, hearts, and tummies – and as we saw the grand and glittering front façade of the hotel, we instinctively knew we'd be in for an utter treat.
Stepping into the cosy aurora of the front entrance, greeted by two smiling bellhops (dressed in olde worlde shiny-buttoned suits), we were led to The Parlour, and seated on cosy, intimate banquettes at a low table and settled ourselves down into the space. The Parlour is themed throughout with designedly touches of the Victorian explorer era – complete with a lovely scent in the air and vintage tea chests and grandfather clocks. A wonderful touch for total escapism for the senses.
Our polite hostess invited us to choose from either the classic, champagne, or the 'unlimited' menu, and although we were tempted to choose the third option, which included a full bottle of champagne (!), we thought we'd be responsible-(ish) and stick to just one glass of Veuve Cliquot, alongside a shiny pot of fresh mint tea.
The savouries appeared next, delivered from the chef herself, and included a great selection of classic and more modern varieties, our particular favourites being the cute, moreish chestnut and cheddar mini Yorkshire pudding, and the coronation chicken sandwich on brown bread. It was only proper, of course, to enjoy a couple of these, what with Buckingham Palace being just down the street!
Tiny baby scones came next, warm in their white napkin jackets, and it was pleasing to this jam-lover that they were served with lashings of apple and blackcurrant conserve and cream – giving a great ratio of flavour and texture next to the bake. Once we'd tasted sweetness, we rather fancied a different tea, so we ordered some rooibos which perfectly paired.
After quaffing a sizable portion of all of the above, we wondered whether we had room for the sweeties, but when they arrived we were so delighted with them that we ended up eating the lot. They had a spookily strong hold on our hearts; as the Afternoon Tea was served just a few days before Halloween, we received a cute bat-decorated gingerbread cookie, and a pumpkin and clove mousse Cinderella would have been proud of, alongside a delicious classic vanilla, hazelnut and chocolate entrement.
This particular incarnation of the Great Scotland Yard's Afternoon Tea was designed in collaboration with the historic British perfumier Floris London, and as we settled back into our chairs, we observed that our whole sensory system – including olfactory, along with taste, sight, smell and touch, had been totally satisfied at The Parlour. We left feeling totally relaxed, not caring about the chilly London air one bit as we floated homewards.
Afternoon Tea at the Great Scotland Yard Hotel Menu: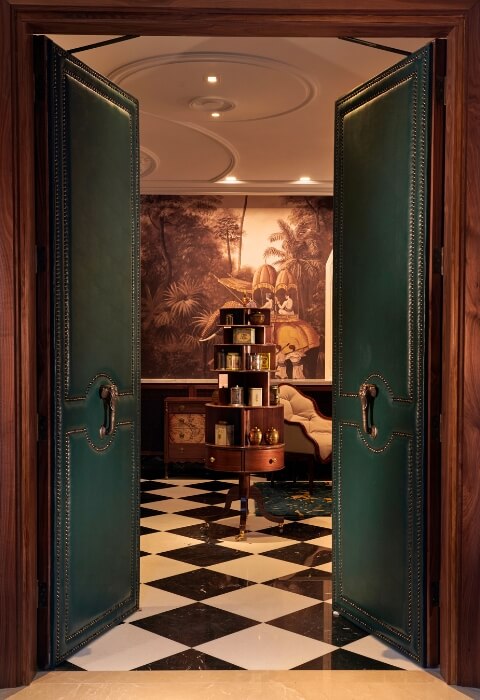 Savoury:
Wild mushroom and rocket quiche
Chicken coronation on brown bread
Smoked salmon, caviar, horseradish cream on malted bread
Egg truffle mayo and chives
Chestnuts and montgomery cheddar Yorkshire pudding
Assortment of tea cakes & pastries:
Pumpkin and clove mousse
Apple, sesame and nutmeg whipped ganache tart
Vanilla, hazelnut and dark chocolate entremet
Warm Scones:
Freshly baked plain and raisin scone with Cornish clotted cream, blackberry and apple jam.
Menus are seasonal and subject to change.
High Tea London – find more experiences
in our High Tea Venue Directory