High Tea Society checked in for a lesson of decadence at No. 50 Cheyne, the lucky local to Chelsea residents and a masterclass in luxuriously appointed interiors.
The décor is sumptuous, the details dotted around the room mean that some time is spent merely soaking in the atmosphere, embodying some part of the luxury surrounds to fully heighten the afternoon tea experience.
Downstairs is a bistro-esque experience with a striking open grill, but for us, the main event happens upstairs – the airy drawing room with a view over the river.
The tiered stand is a thing of beauty, sandwiches are open and light – cured salmon with crème fraiche and avocado, heritage tomato with basil and the traditional cucumber and crème cheese. The sourdough bread makes the open sandwiches somewhat denser than your usual sandwiches, but adds a delicate enhanced flavour.
The table is laid with delicately golden Villeroy and Boch Anmut Samarah serving platters and the brilliantly orange cups and saucers pop against the table laden with treats.
Scones are brought to us warm when we request them, with the usual condiments of clotted cream and strawberry jam, which go perfectly with the excellent collection of teas on offer. I opt, as always, for the Earl Grey tea and I'm delighted to find that it's also a key ingredient in the signature cocktail of No. 50 Cheyne – the Earl of Champagne.
The cocktail was so wonderful that we simply had to request the recipe. A vodka, lemon juice, earl grey syrup combination topped with champagne foam was one I absolutely loved and I found it a lovely point of difference to the normal glasses of champagne normally served at afternoon teas.
Desserts came in the form of chocolate brownie squares with fresh berries, a strawberries and cream Eton mess, a lemon meringue tartlet and a summer fruit salad. With the added sweetness coming from the cocktail, the fruit salad was a lighter refreshing touch but I was not able to do true justice to all my sweet treats.
It's a minor complaint given that this is an afternoon tea, the time of day where a selection of sweet treats take precedence, but I did just want something to balance it all out. The location of No. 50 Cheyne places you but a few minute's walk to the heart of the Kings Road and Chelsea and that's a good a place as any to walk off your excesses and give your wallet aa workout.
No. 50 Cheyne London Afternoon Tea Menu: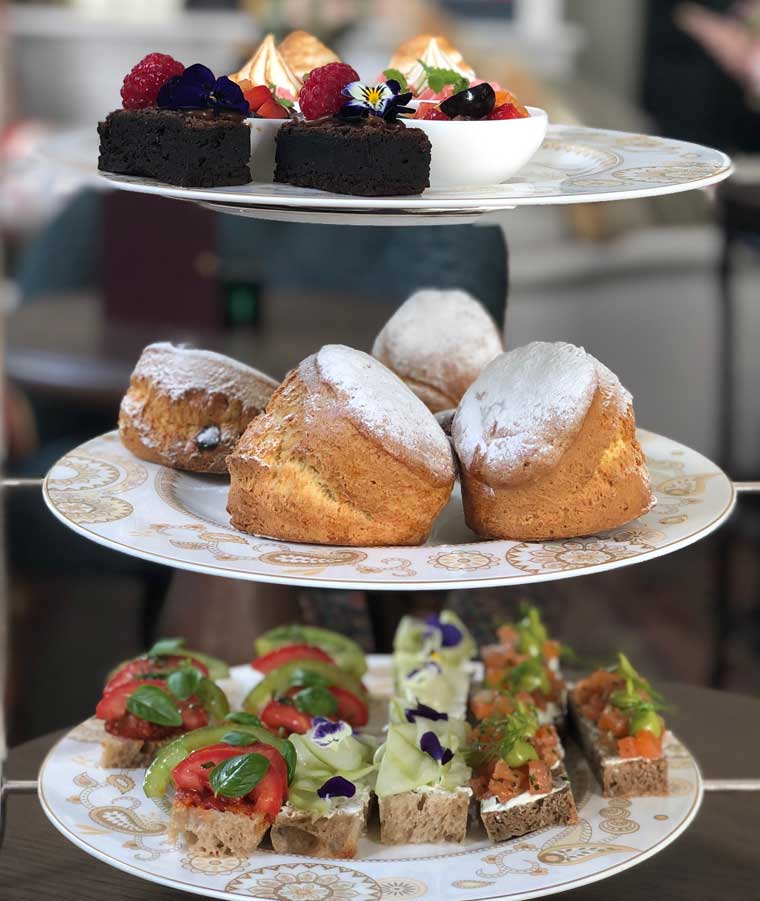 Open Sandwiches:
Cured salmon with lemon crème fraiche and avocado
Heritage tomato with basil
Pickled cucumber and chive cream cheese
Fancies:
Chocolate brownie squares with fresh berries
Strawberries'n'cream
Eton mess
Lemon meringue tartlet
Summer fruit salad
Scones:
Home-made scones
Cornish clotted cream and strawberry jam
Accompanied by tea or coffee