I was intrigued as to how Pan Pacific London, known for its Singaporean heritage would tackle this very English tradition of afternoon tea.
The melting pot of cultures that form Singapore have a diverse culinary heritage, taking influences from Malaysian to Indian to Chinese cuisine and creating a new cuisine that has its own unique identity. Afternoon tea conjures up a very different type of picture in the mind's eye – originating from the British Royal family, I was intrigued as to how Pan Pacific London, known for its Singaporean heritage would tackle this very English tradition of afternoon tea.
The lobby of the Pan Pacific Hotel, a stone's throw away from Liverpool St station and therefore ideally situated for Business travellers is as you might expect, calm and decorated in muted tones. Splashes of colour come in the form of Singapore's national flower, the Orchid dotted around the room housed in glass terrariums along with other plants and flowers, all lending a tropical air.
To kick things off, a glass of the Nyetimber Cuvee Cherie and a Hibiscus Spritz for me while we perused the tea menus. Pan Pacific London serves the finest teas from the Rare Tea company and if, like me, you need assistance in choosing the best beverage for your menu, the tea connoisseur is on hand to help with those choices.
A palate cleanser comes in the form of Bergamot sorbet with hibiscus syrup, complete with a dark chocolate ganache and strawberry compote cookie. Or a chocolate version of a Jammy dodger if you will. The perfect light bite to whet the appetite for more to come. We opted for the Kopi Tiam afternoon tea – directly translating to 'Coffee time' in Malay, give a hint as to the flavours we should expect.
There is real flair put into the presentation here, our selection of asian savouries, a Dim Sum basket, a crispy taro dumpling and a Mushroom Bao come suspended in a golden birdcage on vividly patterned china. The crispy dumpling has our hearts and it takes real effort to not ask for another, knowing that there are many courses yet to come.
A lemon shortbread Corgi bridges the gap between savoury and sweet and is immediately followed by the scones. You have your usual clotted cream and jam, but the highlight undoubtedly is the Kaya. Kaya, or Coconut Jam is a Singaporean delicacy and my only complaint is that they must underestimate how delicious it is, because we scraped the portion clean and wanted more.
Chef Cherish Finden, Executive Pastry Chef, is the lady at the helm of the afternoon tea and you can rest assured that the lady is very much present at the hotel's kitchens. She pops over to say hello and it's lovely hearing about her fondness for her home country and how she uses those flavours as inspiration.
We're almost too full for the final hurrah, the pastry selection and with delicacies like these, they're almost too beautiful to eat. The lemon meringue pie sits on a base of lemon shortbread, the English rose macaron has an accompanying strawberry buttercream with lime jelly, the chocolate eclair is made of 67% dark chocolate with local heather honey but your eye instantly goes to the Pistachio Tower of London with its intricate patterned lace. Toasted pistachio mousse and pistachio buttercream, this was my absolute favourite and if it wasn't so breathtakingly delicate, I'd want many more in a little goodie bag to take home afterwards.
Although originally not feeling like this was the traditional spot for afternoon tea, we were blown away. Staff are friendly and attentive and there wasn't much Matthew couldn't do for us or tell about the origins of what we were eating, helping with tea choices and all round helping make this a memorable afternoon of luxury.
Cherish Finden's Childhood Afternoon Tea is available until 6th November when a new collection will begin.
Kopi Tiam Afternoon Tea Menu: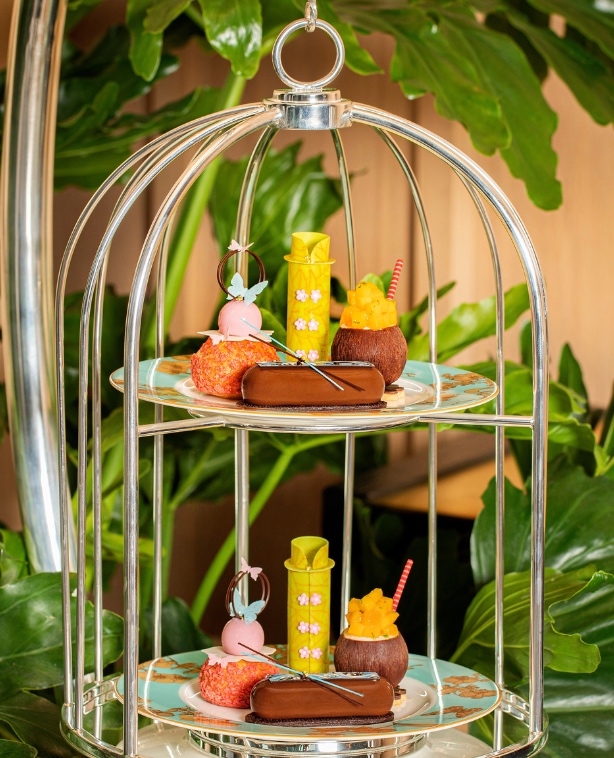 Savouries:
Dim Sum Basket: Prawn, Seafood and Chicken
Gai Gok: Crispy Rice Dumpling with Chicken, Pork and Mushroom
Mushroom Bao: Button and Chestnut Mushrooms
Cherish's Childhood Favourites:
Taste of Umami: Seaweed Sesame Shortbread, Soya Sauce Caramel
Mochi: Dark Chocolate Ganache, Lime
Handmade Pastries:
Lychee: Lychee Chaux, Crémaux, Rose Bandung Sphere
Coconut: Mango, Coconut Mousse, Shortbread
Cheongsam: Matcha, Yuzu, Black Sesame
Chocolate: 67% Guanacoa, Praline,
Chocolate Brownies, Crunchy Pearl
Afternoon Tea London – find more experiences
in our High Tea Venue Directory