Singapore's luxurious Shangri-La offers an extravagant Afternoon Tea buffet showcasing European favourites alongside Asian delights.
Singapore's luxurious Shangri-La has been serving Afternoon Tea from its mezzanine restaurant since 1991. The Rose Veranda, located above the lobby offers diners a choice of traditional English Afternoon Tea as well as a buffet selection of European favourites and Asian delights.
Shangri-La Singapore is a luxury hotel with a grand lobby and international dining near the stylish shopping precinct of Orchard Road. Set amidst 15 acres of lush greenery, Shangri-La is a popular hotel for business travellers, holidaymakers and locals dine to enjoy their legendary Asian hospitality. The Rose Veranda is a luxuriously furnished restaurant on the Mezzanine level with plush carpet, deep leather chairs and Murano glass chandeliers creating a sense of occasion.
Guests can choose between the Afternoon Tea Buffet or the traditional tiered Afternoon Tea stand for an indulgent experience.
The Afternoon Tea Buffet offers an array of international cuisine. From the simplicity of Tomato and Mozzarella pizza, tasty Cajun Chicken wings to Beef Stew and Roast Chicken with Baby Carrots, there's something for everyone at the buffet. I loved the DIY Laksa, with bowls of fresh ingredients, vermicelli and broth all ready to put together to create your own spicy noodle soup dish.
Once you've devoured the savoury selection, move to the showstopper the dessert station. Here you'll find a chocolate fountain ready to dunk your favourite treats into the cascading chocolate. There's an impressive selection of sweet treats including yuzu lemon tart, walnut brownies and green tea cheesecake. Don't miss the DIY ice-cream station with lychee sorbet and strawberry gelato alongside a selection of candies and marshmallows to sprinkle on top. If that's not enough, there's a cheese trolley to put you into the ultimate food coma.
While the Afternoon Tea buffet is a popular choice, you may also opt for the traditional tiered Afternoon Tea stand laden with delectable goodies. Starting with the hot selection, the lower tier included mini quiches with the finest buttery shortcrust pastry as well as mini sausage rolls.
The top layer featured the sandwich selection including creative deconstructed salmon sandwich with salmon wrapped around the outside and topped with caviar. Likewise another sandwich was wrapped in seaweed as well as more traditional ham cheese and egg sandwiches.
Finally, the sweet selection featured a petit éclair an assortment of chocolate and lemon cakes and macaron perfection. The delightfully rich chocolate brownie was like death by chocolate and the lemon yuzu tart was a standout. Guests may choose a plain or raisin scone, I opted for the plain, which was an unusual texture, more like shortbread than a traditional fluffy scone.
Leading the sweet temptation is Area Executive Pastry Chef Herve Potus. Potus joined the hotel in 2008 and oversees the pastry operations for Shangri-La Hotels in the region. Potus trained in pastry shops in Lyon, France and has created cakes for royalty over his stellar career.
"I strongly believe pastry is about attention and creativity. I draw inspiration from the everyday, experimenting with different ingredients and combination, it makes my day when I see our guests are delighted by our new creations." Area Executive Pastry Chef, Herve Potus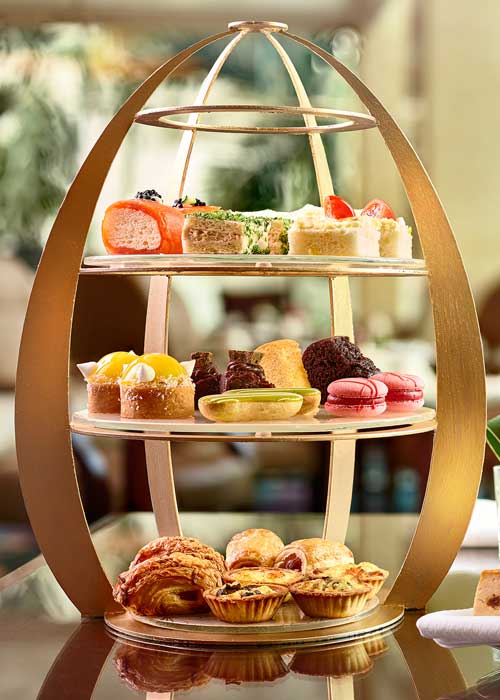 The serving attendants at The Rose Veranda are serene and quietly spoken as they glide around the room providing pre-emptive service. There is a mix of guests enjoying Afternoon Tea on our visit, which was impressively busy for Monday Afternoon Tea service. There were couples, mother/daughter trios, ladies who lunch and family gatherings, all are welcome at the Rose Veranda. The dress code is smart casual and even the children were well dressed.
The menu invites guests to enjoy the ancient ritual of drinking tea with suggestions for how to appreciate, smell and taste tea. The restaurant offers local Singaporean Gryphon Tea Company as well as Zesta Connoisseur Tea Collection from Sri Lanka with more than 30 flavours of premium tea including Black Tea infused wit Osmanthus Flower, Tie Guan Yin and Oolong.
The chefs at Rose Veranda are able to accommodate dietary requirements such as gluten free and vegan.
Afternoon Tea at the Rose Veranda at Shangri-La  Singapore is a special occasion to share with family and friends in a formal and luxurious setting.