The first thing that struck me as I sat down at my table was the impressive wine room behind me, that alone is worth a visit to Silks at Crown Perth.
It wasn't long before I was served the refreshing butterfly honey lemon tea which had a touch of theatre about it as it changed from electric blue to clear when it hit the lemon in the glass cup.
Presented in a bamboo steamer, the afternoon tea menu itself boasted a mix of sweet and savoury delights.
I kicked off with the warm cumin lamb served in a green steamed bun and what a way to start. The mild spicy flavours combined beautifully with the melt in your mouth bun. I could've dined on that alone all day so it deservedly took out savoury of the day.
However, the king prawns with chilli sea salt was also a tasty morsal, so much so another couple would've gone down a treat. My last savoury was the one I was looking forward to the most, the scallop puff with black squid ink. It had plenty of crunch that perhaps took a little away from the scallop hiding inside.
It was then time to turn my attention to the desserts where I took the unconventional route of ordering the Silks Delight mocktail to accompany my sweet treats. The fresh mint, pineapple juice and coconut cream were a triumph on the palette and another highlight during my visit.
The waitress recommended I start with the warm beetroot black sesame ball and I'm glad I did, it was a subtle segue from savoury to sweet. The green tea choux was next and my favourite dessert on the day. The two-bite delight was pretty as a picture and had just the right amount of sweetness while the passionfruit with raspberry sphere had a strong fruity flavour that made it the most refreshing inclusion on the modern Cantonese menu.
I finished up with the mandarin orange macaron with a chocolate centre which was also a crowd pleaser as it allowed me to round off the day with my customary chocolate treat.
Silks Afternoon Tea is certainly not your traditional high tea, however, it ticks a lot of boxes in terms of flavour and ambience and gave me a taste of what the modern premium Cantonese restaurant offers for only $45. For a little extra you can also indulge in a mocktail or cocktail.
Available on Saturdays from 2.30pm to 4.30pm, their only downfall is each menu item is quite small, maybe that's by design so you stay on for dinner.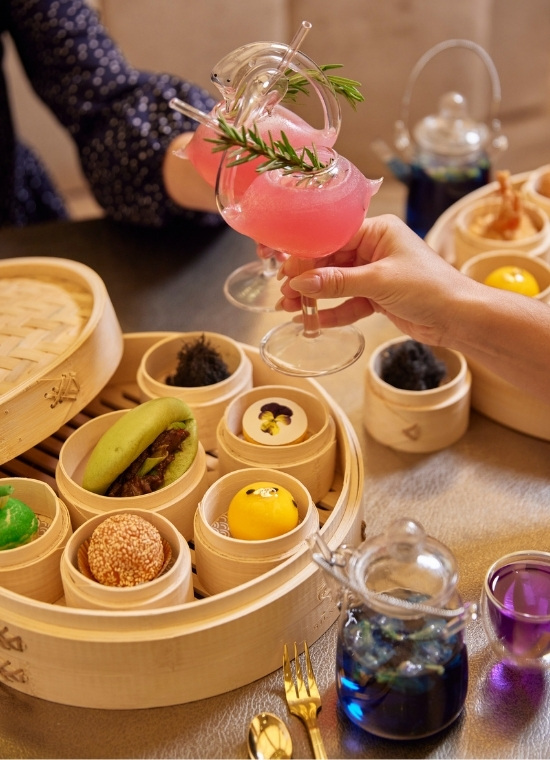 Silks Afternoon Tea Menu:
Scallop Puff with Black Squid Ink
Wok Fried King Prawns with Chilli Sea Salt
Wok Fried Chinese Style Cumin Lamb Serve with Bun
Beetroot Black Sesame Ball
Green Tea Choux
Passionfruit with Raspberry Sphere
Mandarin Orange Macaron
Butterfly Honey Lemon Tea
Selected menu items only
Pink Flamingo Cocktail
Cocktails
Mocktails
High Tea Perth – find more experiences
in our High Tea Venue Directory