This Soho and jasmine gin infused afternoon tea held in an arts and design gallery turned hotel – The Soho Hotel, offers a delicious flavour to your central London experience.
Britain's traditional drink of gin and tonic has inspired a flavourful and modern afternoon tea at The Soho Hotel in London.
Amidst streets pulsing with creativity and cafes, culture and cultures, The Soho Hotel is hidden away in plain sight, the calm in the storm of London. The neon hotel sign flashes either side of a Britannia flag and when we arrived a gaggle of photographers was crowded around the entrance. We didn't spot who they were there to see, the hotel often a hangout for celebrities and actors, but it was rather a fun welcome.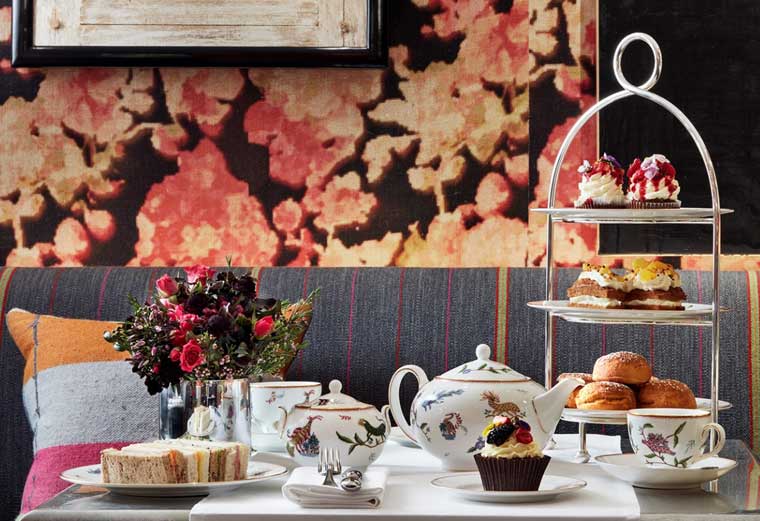 Given that Soho has a bit of everything that makes London great – art, restaurants, shops, history, theatre, and plenty of pubs – and that anything goes, I shouldn't really have been surprised that there was a giant sculpture of a cat in the lobby. Fernando Botero's 10ft bronze sculpture welcomes people with a cheeky sticking-out tongue, instantly bringing a smile to your face.
I wasn't quite sure what to make of the drawing room where we were cheerily led for our G & Tea afternoon tea, I hadn't experienced a Firmdale Hotel style before. It had the feel of an English country home with deep sofas and armchairs, wooden tables and kitchen dressers, yet the colours were bright and modern and the art could have been straight from a gallery. Kit Kemp, interior designer and founder of the Firmdale Hotels with her husband Tim, describes the design as "different, exciting, vibrant and a haven of calm". I didn't think vibrant and calm would go together, but hands up, I was wrong. She has created an incredible living space away from the rush of the streets, yet keeping the vibrancy of London so that the afternoon tea becomes a classy addition to your London visit rather than a rest from it.
G & Tea is an afternoon tea inspired by and infused with gin from independent artisan tea makers We Are Tea. We chose to kick-off the experience with gin and tonics, but Bellini's or other alcoholic drinks are available. While we waited for the drinks trolley to arrive (yes, they bring it to you), we took a turn around the room, trying to take in all the art around us, and my eyes fell on the felt afternoon tea on a cardboard stand. I admit I hoped that it wasn't the scrummiest afternoon tea we'd see that day, all show and no flavour, but the drinks trolley arrived to start our G and Tea experience so, as the banner up for the baby shower at the other end of the drawing room said: "Let the adventure begin".
Luca – whose smiles kicked off the lovely service – mixed our fresh jasmine infused gin cocktails in front of us on the stylish trolley, the exclusive gin created with London dry gin infused with a jasmine tea blend. Fresh, bright, ridiculously more-ish and garnished with deliciously scented lemon verbena leaves. Subtle extracts from the tea blend appear throughout the afternoon tea, bilberries and cinnamon most notable.
I'm not going to lie, sandwiches for me are the boring bit which I patiently get through to get to the scones and treats. But these were good, so good my partner asked for seconds after the scones. Controversial. Pear and sage sausage roll, prawn cocktail bridge roll (with red pepper, worked really well), cucumber and cream cheese and egg mayonnaise and watercress – traditional sandwiches done well.
The plain and fruit scones were small yet warm tucked in their little napkin package. Traditional strawberry jam and a new jam for me, passionfruit and apricot; the flavour worked so well with the scones and to be honest I wish the hotel sold jars! Bigger portions of cream needed, because we all need a good dollop, but when we asked for more it came very quickly so the scones were still warm.
The low wooden drawing room tables made it a little tricky to eat and I felt like I needed to take my shoes off and tuck my feet under me on the sofa to get comfortable. The Kit Kemp designed Wedgwood china made me smile – fairly sure I saw a cactus with legs and a two-headed fish – and brought a touch of Harry Potter's fantastical beasts to the afternoon.
We enjoyed earl grey and bourbon vanilla tea poured through tea strainers, the vanilla smell delicately wafting over our scones. Not a huge number of teas on offer – nine speciality teas including Persian Rose and Jasmine Pearls – but I liked the simplicity of the one-sided menu, sometimes there can be too much choice which can be overwhelming without recommendations.
And then on to the desserts, each one of them subtly playing with the botanicals used to produce We Are Tea gin. The bilberry compote with the baked vanilla cheesecake and the cinnamon frosting on the cupcake were delicious, but the éclair and financier were just lovely – four small sweet treats which were just the right amount. Just as the flavours subtly came out, we began to distinguish between the many pieces of art, sculpture and design in the drawing room. A Francois Bard painting hangs between the fireplaces and a stunning Aphrodite bronze sculpture by Breon O'Casey stands proud along the wall of windows.
It's quite a skill to make people feel at home in a huge city, while keeping the zest of life humming just outside the door, but Kit Kemp and her staff at The Soho Hotel have done just that with their interior and culinary style and design. The Soho Theatre just a few steps away, The Photographer's Gallery down the road and plenty of shops to visit, I felt energised to step into the best city in the world again.
Afternoon Tea at The Soho Hotel London Menu:
Pear and sage sausage roll
Egg mayonnaise and watercress sandwich
Prawn cocktail bridge roll
Cucumber and cream cheese sandwich
Plain and fruit scones, clotted cream and preserves
Baked vanilla cheesecake, bilberry compote
White chocolate and jasmine éclair
Apple and almond financier
Plum cupcake, cinnamon frosting, honeycomb
Dietary requirements are catered for and a gluten free option is available
Includes your choice of coffee, hot chocolate or tea.
Afternoon Tea with G & Tea includes a G & Tea cocktail in addition to the menu above. Only available until the 31st of December 2017.