When one thinks of London's Westminster, the imagination immediately conjures images of icons steeped in stories; Big Ben, the majestic Thames, Parliament. It's a destination, for Londoners and tourists alike, perhaps thought of perfect for history buffs, and potentially not high tea lovers.
St. Ermin's Hotel, our destination today, opened it's doors in 1899, is indeed itself surrounded by, historic landmarks and has a rich history itself, and as we walked into the tree-lined courtyard, we felt that we were not just entering a luxury hotel: but going back in time.
First impressions count: and we had to say that the large, grand, Edwardian-style lobby really knocked us for six through all of our senses. The comfortable baroque-plush furniture, the crackle of the fireplace, even the scents in the air really would not have been out of place in a stylish Tom Ford movie, and we almost didn't feel like drifting up the white marble staircase to the hotel's high tea lounge, it really was that beautiful. Luckily, after we were seated by the smiling staff, and ensconced in a comfy plush rococo-style chair, we were refreshed with a cool water and a glass of beautifully chilled Lanson Champagne.
The surroundings of the tea lounge are so fascinating to gaze at – from the vintage teapots glittering on the shelves, to the intricate plasterwork, we almost were surprised when our food appeared in front of us, but greedily then tucked into the selection of sandwiches, which ranged in flavour from delicious (vegan!) hummus and grilled peppers on onion bread to (not so vegan… but oh so historic!) coronation chicken, a favourite menu item of ours not lately seen on so many of our trips.
The scones, nestled in their little basket in the centre of our table, were yummy, but yummier still was the homemade strawberry jam they were served with; we could have done with a jar of that to take home, it was so delicious! It is of note that the hotel has a unique feature of a kitchen garden on the rooftop and their very own beehives, a wonderful feature that allows some of the ingredients to be as fresh as possible.
Feeling now, thanks to the surrounds and the champagnes, rather like characters from Bridgerton, we settled into the sweets – which were the real diamond in the crown of the high tea. Interesting flavours were paired with skilful craftsmanship, expressed in creations such as a pistachio & cherry financier, and a white chocolate and bailey's cheesecake – as if we ever needed an excuse for a little more booze! The hotel's staff were polite enough to offer us a little take-away box without us having to ask when we couldn't quite finish the last lime and basil posset, which was lucky, as we rather did fancy scoffing it when we had some more room after we returned home.
The St. Ermin's Hotel claims that the space is 'a home to guests, a hotel to us', and we really did feel made so at home there. We couldn't help but wonder how many figures of history had sat just where we had, discussing important political matters over afternoon teas past, too. A perfect daydream trip into history with gorgeous refreshments – we couldn't have asked for a more ideal afternoon.
Afternoon Tea at St. Ermin's Hotel Menu: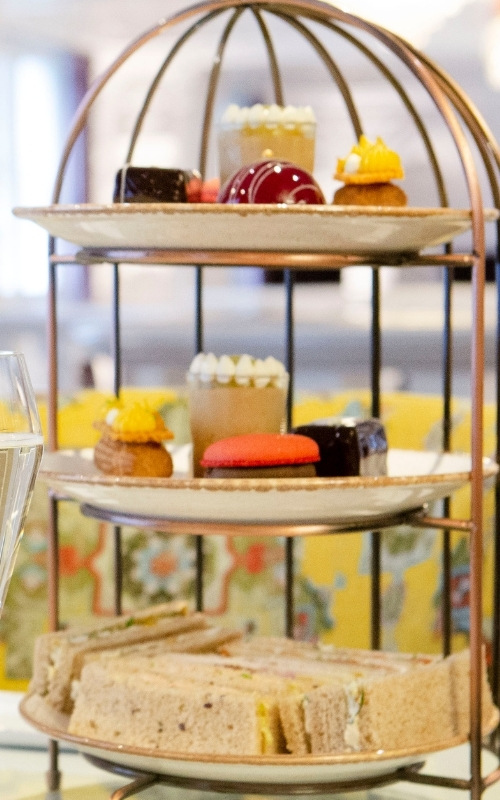 Freshly baked scones:
Plain & fruit scones with clotted cream and a selection of jams
Sweets:
Pistachio & Griottine cherry financier
Hazelnut praline & passion fruit mousse
White chocolate & Baileys cheesecake
Pomegranate & almond Bakewell tart
Lime & basil posset with compressed pineapple
Savouries:
Coronation chicken
Smoked salmon, lemon and dill cream cheese
Honey roast ham & tomato chutney
Crayfish, chilli, spring onion and coriander
Grilled courgette, mint and crème fraiche
A selection of Tea Makers of London teas
Afternoon Tea London – find more experiences
in our High Tea Venue Directory