A little slice of Paris has made Brunswick home. Located along Sydney Road, about a block away from the strip's bridal boutiques, By Josephine is a charming little French cafe, macaron specialty shop and high tea venue all rolled into one.
Update: Josephine's will be closing on Sunday the 23rd of September 2018
The salon, which seats up to 24, is decorated rustically with white wood-panelled walls, wooden tables and chairs and a glass display case featuring no less than 12 different types of macarons and other scrumptious-looking desserts.
Tables are laid out with mismatched floral china, which is accompanied by dainty silver ware, a glass jar of brown sugar and a small arrangement of flowers in a glass jar.
The business is the brainchild of Parisian-born Josephine Acker Tuil, a florist by trade who started making her family's secret macaron recipe for friends when she first moved to Australia in 2009 and soon found herself supplying macarons for a catering company.
From there, business steadily grew and by 2012, Josephine had set up shop in Brunswick.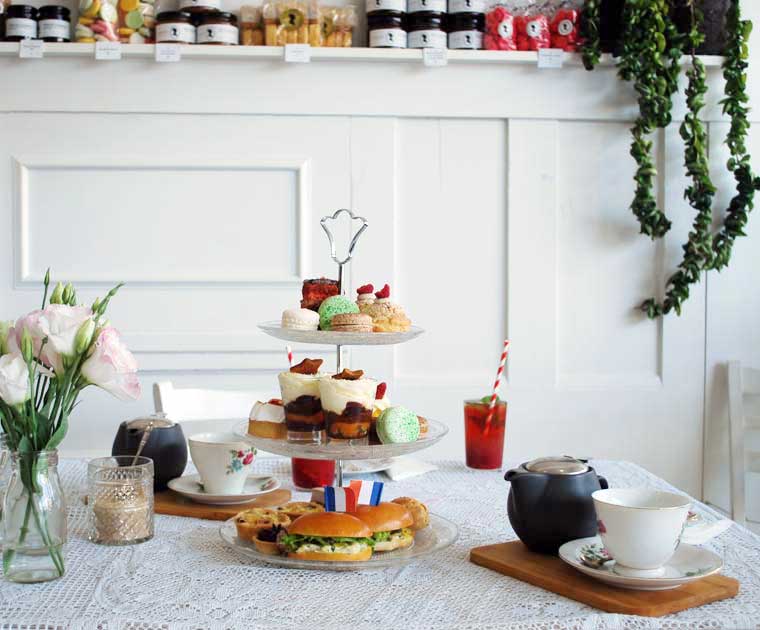 At By Josephine, no two high tea menus are the same. Josephine only uses the freshest ingredients in season, and likes the idea of keeping her customers enthralled by the ever-changing menu.
However, two things are a certainty when trying a By Josephine high tea: one, that the menu will have a distinct French influence; and two, the menu will not feature scones. However, what the menu does feature when the High Tea Society pays a visit is truly delightful.
We are served a home-made raspberry and mint iced tea on arrival, and are given the choice of a hot or cold beverage to enjoy later on.
The offering is served on a glass three-tier cake stand, with the savoury items – including a chicken and tarragon pain au lait decorated with a mini-French flag – served on the bottom tier, and desserts, including a number of Josephine's famous macarons, spread out across the top two tiers.
The savoury items alone are quite filling, and the pain au lait is absolutely divine, while the whipped goat cheese and pesto filling in the gougere had a wonderfully creamy texture. It was also a pleasant surprise to see the terrine – not your standard high tea fare – on the menu.
On the dessert front, it's truly difficult to pick a stand-out, with each one seemingly surpassing the one before.
The gingerbread, cherry and kirsh trifle, served in a glass and topped with cream, is reminiscent of a Christmas pudding.
The rhubarb and raspberry is delightfully – and aptly – tart, and the spongy mandarin gluten free cake has a great citrus flavour to it.
The addition of peanut butter to the layered dacquoise is a stroke of genius, and the soft choux pastry gives way to a very creamy raspberry and vanilla filling.
And, as perhaps expected, the macarons alone are worth a return trip here, with the caramel chocolate my personal favourite.
For those so inclined, vegetarian and gluten-free high teas are also available.
At only $45 per person, By Josephine is one of the most well-priced high teas you'll come across in Melbourne, and one of the most original. A must try.
By Josephine High Tea Menu:
Chicken and leek terrine
Petite quiche Lorraine
Chicken and tarragon pain au lait with pickled zucchinis
Tartelette with goat cheese, beetroots and toasted seeds
Cheese gougere filled with whipped goat cheese and pesto
Rhubarb, raspberry and meringue tart
Vanilla and raspberry choux
Macaron selection (lemon myrtle, chocolate, caramel and dark chocolate, vanilla)
Mandarin gluten free cake with fresh berries
Chocolate and coffee dacquoise
Gingerbread, cherry and kirsh trifle
Home-made raspberry and mint iced tea on arrival
A choice of a hot or cold beverage