Milk the Cow offers a Sunday afternoon Cheese High Tea at their Carlton venue. Cheese aficionados will certainly enjoy this cheesy take on the traditional High Tea.
Wine and cheese are unquestionably a match made in heaven so when Carlton's favourite fromagerie Milk the Cow was hosting its monthly Cheese High Tea, High Tea Society was excited to test out its cheesy delights.
As those familiar with Milk the Cow's cheese boards and fondues know, they have a wonderful selection of cheeses and wines from around the world. It was a delightful surprise to find their high tea starts with a cheese and sparkling wine flight.
Patrons are guided on this tasting with a knowledgeable cheesemonger who encourages you to get to know each cheese by picking it up, feeling it and tasting it before sipping the paired wine. We started this flighting with a Saint Angel (a TRIPLE cream brie), then a local chevre followed by a Parmigiano Reggiano. The flavour of each cheese is enhanced so perfectly by the wine pairing, especially the parmigiano which was paired with a Lin 910 Lambrusco. I may be a wine novice but I wholeheartedly agree with our cheesemonger who called it the world's best Lambrusco. What a burst of flavour.
With such a strong start, I couldn't wait for savouries and sweets. This course included a Montgomery cheddar scone, a savoury profiterole, smoked salmon sandwich, a Mille-feuille and ice cream. Each was a cheesy take on a classic. The highlight of this course was Gjestost Green Apple. This is a mini replica of a Granny Smith apple with a cheese filling. It looked amazing and was well balanced in flavour. The profiterole was a good choice, especially with the saltiness of the ham and freshness of the pear providing a tasty counterpoint to the cheese. The scone also had a nice flavour but needed a creamy butter to compliment it. The other items missed the mark for me. For instance, the sandwich was dry and the thick slice of cheese in the Mille-feuille didn't compliment such beautiful pastry.
The final course was a black smoked tea matched with a piece of sweet and milky cheese. The tea is Lapsang Souchong Zheng Shan Xia Zhong, which is a black tea known for its smokiness. However, the taste was too overpowering for my palate.
While it's great to see venues pushing the boundaries, this serving was so heavy on the cheese, there was little to cut through and balance the flavours as you did with the wine and cheese flighting. I love cheese, but it can get overwhelming if there aren't other flavours to balance it out. There are additional sparkling wines on the menu. Perhaps ordering these wines offered that balance I was lacking throughout the sweet and savoury course.
Milk The Cow in Carlton only host this Cheese High Tea once a month, in their beautiful The Grenier Room (this room seats 40-50 and can be booked for private functions- check it out). The cost of the high tea is $95 so with only 40 seats available, you need to book to snap up a seat.
Now, this places Milk the Cow on par with high-end places like the Windsor and the The Conservatory at Crown Melbourne that specialise in High Teas. You do get some bang for your buck with the opening cheese and sparkling wine flight enjoying three glasses of beautiful sparkling wines – Monmoussea Brut Etoile NV, La Prova Pet-Nat Aglianico Rosato and the celebrated Lin 910 Lambrusco. However, these are available on their regular menu too. Those with a strong savoury palate are going to love this cheese heavy High Tea, whereas a sweet tooth may struggle. So the question is, are you sweet or savoury?
Cheese High Tea Menu: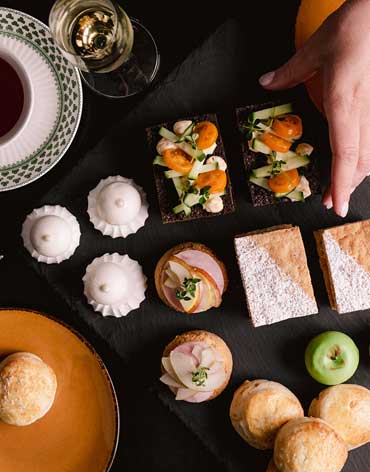 To Begin:
A Sparkling Wine & Cheese Flight
Monmousseau Brut Etoile NV paired with Guilloteau Saint Angel
La Prova Pet-Nat Aglianico Rosato paired with Meredith Farm Chevre
Lin 910 Lambrusco NV paired with G. Cravero Parmigiano Reggiano
Savouries & Cakes by Christy Tania:
Montgomery Cheddar Scones
Spicy smoked salmon and Meredith Farm Chevre on rye
L'Artisian Mountain Man profiterole with ham and pear
Gjetost Green Apple
Reypenaer VSOP Mille-feuille
Delice de Bourgogne Ice Cream
To Finish:
A Cheese & Tea Match
Lapsang Souchong Zheng Shan Xiao Zhong paired with Mauri Tallegio
Champagne & Sparkling wine available by the glass
High Tea Melbourne – find more experiences in
our High Tea Venue Directory