From the moment you arrive at Brookfield House in Camden to the moment you leave, it's clear to see that mother daughter duo, Natasha and Jacinta, have painstakingly researched how to restore a country manor house to its former glory so they can host traditional English high tea - with an extra-large dollop of whimsy included.
Built in 1896 for the mounted infantry, historic Brookfield House stands as a timeless testament to the past. Surrounded by gardens, this stately residence exudes an aura of grace and elegance. The house has witnessed generations of inhabitants with countless stories having no doubt unfolded within its walls. Today it stands not just as an historic landmark, but as a cherished piece of living history, lovingly restored as an authentic English style tea house.
There are several rooms where high tea is served. We were in the Garden Room which felt very much like an English conservatory. Large windows along the walls bathe the room in natural light making it bright and airy. The pink quartz tables set with vintage kitsch mismatched fine boned China and the bright patterned wallpaper all serve to make it an extremely welcoming space. It turns out that Natasha is also a graphic designer and the different wallpapers throughout the rooms are her own bespoke design.
The tea menu has around 30 different teas all blended in house by Natasha who has studied as a tea master. The teas are also available for purchase in the onsite tea shop where Natasha is on hand to make suggestions and answer any questions. She's definitely a tea nerd. The recommendations she gave us based on our usual favourites are pretty amazing teas.
At Brookfields House the scones are served as a first course to kick things off. Golden brown with a slightly crisp exterior giving way to a tender flaky interior with just the right amount of crumble. Topped with the accompanying strawberry jam and cream they're delightful. It's a generously sized serving of two large scones per person, so perhaps save one until the end so you've got room for the rest of the treats first. We ended up taking ours home to enjoy later.
The birdcage stand that arrives at the table is quite beautiful. With one tier of savoury and one of sweet it's overflowing with an array of treats that change seasonally. We had the Forest Jewels High Tea which has the widest selection of handmade treats on offer – hence the need for a doggy bag at the end. The savoury options were all quite light and we really enjoyed the addition of a floret of freshly blanched broccolini on the brie and honeycomb crostini, it elevated it from a basic cheese cracker to a more substantial canape, we'll be pinching the idea at our next dinner party.
The sweets are all well balanced and perfectly constructed. The hint of mint in the chocolate forest log is a refreshingly bright hit to the taste buds. Our favourite was the little mug of tiramisu, rich and full of fresh espresso flavours.
The meticulous attention to detail from beginning to end is fantastic. From the interior design, to the tableware and menu, it makes the high tea experience at Brookfield House one you simply must try. It is well worth the 45-minute drive (from Sydney) out to Camden and is one we will most definitely be returning to visit ourselves.
High Tea at Brookfield House Camden Menu: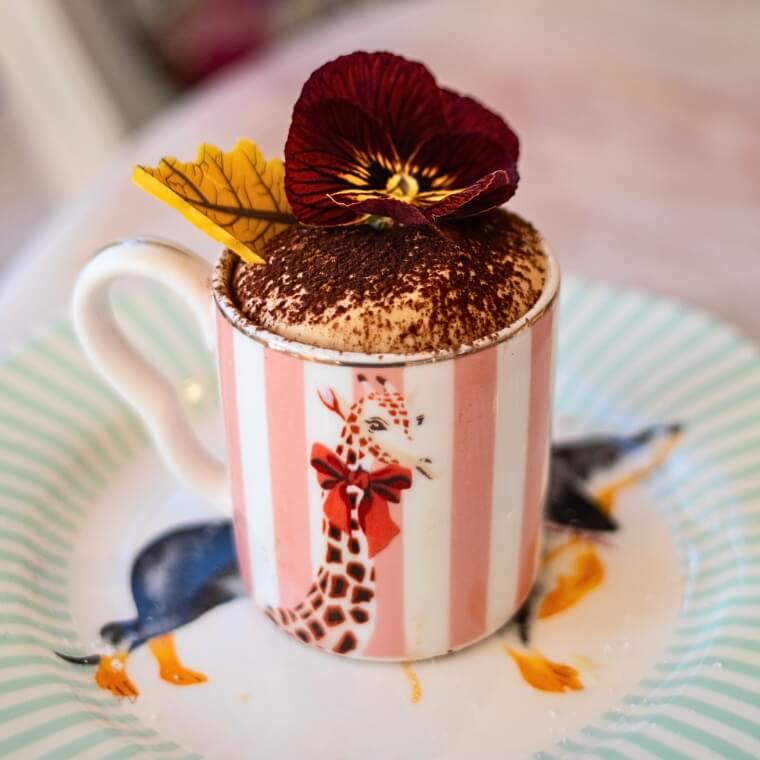 Freshly baked scones with locally made jam and cream
Sweets:
Wild carrot cake with cream cheese icing
Chocolate forest log with a hint of mint
Sweet forest toadstool with zesty mousse and berry jewel
Fierce tiramisu
Savoury:
Birds nest filled with chicken and avocado
Baked ricotta and pumpkin tart
Cucumber and cream cheese sandwich
Crostini with brie, locally sourced honeycomb and broccolini floret
High Tea NSW – find more experiences
in our High Tea Venue Directory