High Tea is served in the Artisan Dining House which is situated in five star Bolton Hotel.
The hotel was opened in 2005. It sits just off The Terrace and around the corner from both Parliament and the Reserve Bank. The Bolton Hotel is an independent hotel and has the feeling is of a classic European hotel with thick carpets, tasteful art and bold colour schemes. The lobby houses a cafe and bar and Artisan Dining House can be found up a spiralling staircase. High Tea at the Artisan Dining House is an elegant, European and almost formal affair. It borders on the masculine side and chocolate is favoured.
On arriving at the restaurant we were greeted by the restaurant manager and shown to our table. The table was beautifully laid with the restaurants signature classic white linen, stemware plus a large selection box of TWG tea. We were offered still or sparkling Antipodes water, presented with the tea menu, a lovely glass of Mumm champagne and left to choose our selection. Once we had made our decision a stunning silver TWG teapot of hot water was presented along with our individually sealed TWG teabags. The tea was of excellent quality and the choice wide. The classic silver theme continued with the milk, sugar and High Tea Stand.
The food arrived on a solid three tier stand and I could imagine a similar High Tea being served in a colonial hotels of yesteryear. There were no sandwiches or scones to be seen and chocolate featured through the top two tiers. We went with convention and started at the bottom. This layer had a delicious Beef short rib Croquette on a spicy mayonnaise, a robust but light Chicken liver pâté en croute, Salmon Tartar spoon topped with caviar and a Canelé. The salmon mousse was very good and I enjoyed picking off the caviar to taste individually. The Canelé was a very good choice as a bridge to the sweet tiers and isn't a common sight in Wellington, it was cooked perfectly.
A Caramel Candy Bar was the first sweet choice, it had a crunchy base and reminded me of a Snickers bar but refined. The peanut was subtle and the chocolate delicious. Equally delicious was the Blueberry and Orange Chocolate Entremet topped with lemon curd, it was reminiscent of a black forest cake and brought a smile to my face. My fellow diner, Lucy has the orange mousse dome and she thought this was very much like the British classic Jaffa cake. I had another style orange chocolate gateau which I also enjoyed. We both finished on the classic coffee flavoured Opera cake. It would have been nice to have equal amounts of each cake and a printed menu to guide us through.
The High Tea is a joint collaboration between the French Pastry Chef and the restaurant chef team overseen by Executive Chef MacLean Fraser. As a side, the walls are adorned with the art work of the New Zealand artists, Rita Angus and a guide book is available to learn about the paintings.
Artisan Dining House is an elegant place to eat at any time and we very much enjoyed the setting for a High Tea. This venue would suit groups of mixed ages who like to hear each other talk. The highly professional staff would be able to deal with all, we had our children with us due to unforeseen circumstances, they were accommodated with no fuss and treated wonderfully.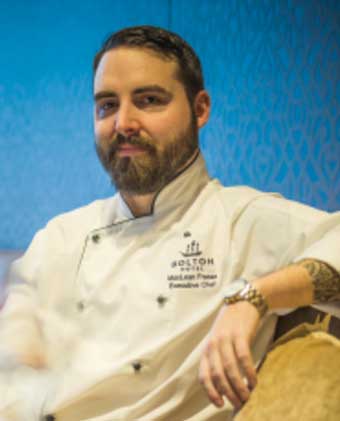 The Bolton Hotel, Artisan Dining House High Tea Menu
Opera cake
Caramel candy bar
Canelé
Blueberry & orange chocolate entremets Orange & Chocolate entremets
Crunchy Chocolate mousse
Chicken liver pâté en croute
Beef short rib Croquette
Salmon Tartar