If you're after a high tea with a difference look no further than the Atrium at Crown Perth. For starters it's a buffet chock-a-block full of scrumptious sweets and savouries.
Not to mention the vast array of beverages on offer where upon arrival kids have the choice of a complimentary soft drink or fruit juice. This extends to adults, or a glass of bubbles may be more to your liking.
The Atrium also has a feature cocktail. I was lucky enough to try a Gordon's pink gin, berry vodka topped with lemonade, fresh strawberries and lemon cocktail that looked and tasted sensational for just $19.
So yes the Atrium is fully licensed. For a few dollars more you can partake in cocktails, mocktails, wine, beer, spirits, sparkling and fortifieds.
Now the food!
There's essentially three stations, hot savouries, cold savouries and the sweets, oh the sweets.
I started with the hot savouries. The food was labelled so you knew exactly what you were getting, namely steamed pork buns, deep fried prawn gyoza's, prawn cutlets, spicy chicken wings, sausage rolls and mini chicken pies. The standouts for me were the prawn gyoza's that were a dumpling with plenty of prawns mixed with a subtle blend of garlic and ginger and the mouth watering curry chicken pies which had a delicate balance of spices that left you wanting more.
The cold savouries catered for many tastes as well. There were platters of white, wholemeal, rye and pumpernickel finger sandwiches. The fillings were equally as varied ranging from smoked salmon, dill and cream cheese to the more conventional delicate cucumber sandwiches.
There was also an antipasto bar comprising of thinly sliced ham, sopressa salami, pickles, mustards, marinated local olives, grilled marinated vegetables and vegetarian temake sushi. Not forgetting the largest platter of smoked salmon I have ever seen, yum.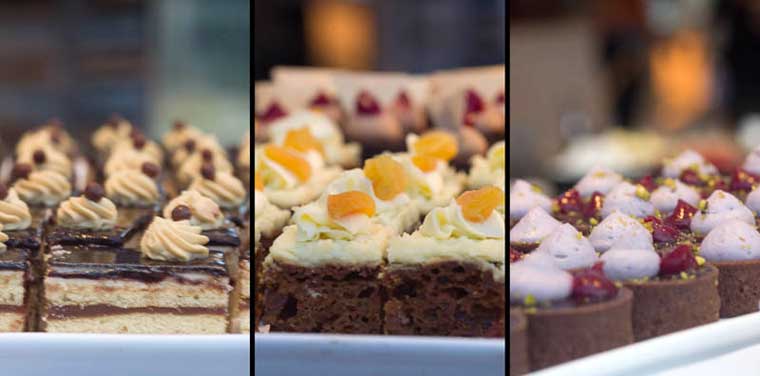 Next up we ordered our tea from the ever attentive staff. There were choices to suit most palettes, English Breakfast, Peppermint, Chamomile, Earl Grey and Green tea. The coffee was plunger but for a little extra you can order your flat whites, cappuccino's etc.
I opted for peppermint in readiness for the star of the buffet, the sweets. What first struck me was the sizable chocolate fountain with fruits and lollies to dip, a definite crowd pleaser and favourite with the kids. Then there was the beautifully lit trays of bite size delights that felt like they went on forever.
Where do I start? Well here goes, there were miniature custard tarts (dessert of the day for me), shot glasses with semolina and custard (a very close second), lemon meringue tarts, green tea mousse with pistachio, coffee tortes, chocolate mousse, raspberry mousse, carrot cake, red velvet cake, cookie jars, brownies, chocolate ganache tarts and chocolate cupcakes. Not to mention the delightfully warm mini scones with jam and cream and the macaron tower made up of Jaffa, lemon and coconut biscuits. For the health conscious there was a fruit platter of watermelon, pineapple, rockmelon and lychee.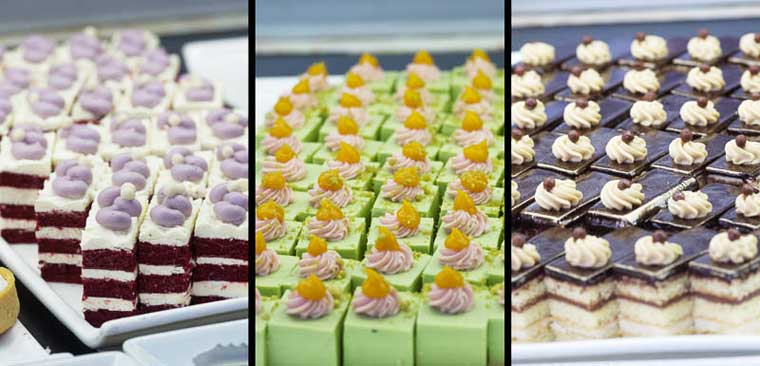 There are also gluten free options available in both sweet and savoury.
The menu changes every two weeks and given the number of enthusiastic people there on the day I suspect there would be a few that go there often as it is true value for money. The seating is a mixture of booths that seat up to 10 people and tables that can be moved to accommodate larger groups of people. Oh and there is a cosy room to the side that seats 8-10 people, that's a great inclusion as well.
You will need to book 2-4 weeks in advance as it pulls quite a crowd. If you're planning on holding a special occasion let the staff know when you book as they will let you into the dining area prior to 3pm to set up.
You will never leave the Atrium hungry and if you do you only have yourself to blame.