A modern Japanese restaurant that is serving high tea? When High Tea Society heard that Calia Emporium was adding high tea to their plentiful offerings, we just had to see what the fuss was about.
Calia – which offers up dining, retail and a coffee bar over two levels – is part of The Emporium but conveniently has its own large Lonsdale Street shop front, so it's easy to find.
The high tea is served in the level two dining area, which also serves up a modern Japanese menu.
This space exudes inner-city café vibes and is decked out in earthy colours, marble tabletops and greenery hanging from the wooden rafters. There's an open kitchen that allows you to see the hustle and bustle behind the scenes.
With a starting price of $48 per person including tea, going up to $58 with a glass of Chandon Brut or Rose, this is definitely one of the more affordable Melbourne CBD high teas on offer – however it's clear from the outset that Calia doesn't skimp on its offering.
We start with a glass of Chandon, served in branded Chandon champagne glasses, and have nine teas to select from, including your standard English Breakfast, Peppermint and Camomile and a great selection of Japanese green teas including Genmaicha, Hojicha and Sencha.
The tea is served in silver and white tea pots and teacups that perfectly compliment the elegant three-tier Georg Jensen Alfredo Etagere SS cake stand that the high tea is presented on.
The menu itself is a masterful mix of traditional high tea fare with Japanese elements cleverly weaved in and, pleasingly, each item is very generously portioned.
Among the standouts is an open sourdough layered with cucumber ribbons then heaped with fresh salmon and topped with caviar and capers.
Then there's the Danish filled with lavish helpings of spinach and ricotta encased in flaky pastry, followed by a very creamy truffle tamago (Japanese rolled omelette) sandwich.
Moving up to the desserts, and the pick of the bunch here is the dark chocolate tart featuring a bottom layer of salted caramel, dark chocolate filling with chocolate peaks, topped with a passionfruit cream, salted caramel disc and popcorn. Yum!
Matcha fans will love the nama matcha chocolate slice, while the strawberry tiramisu is a bit more reminiscent of a panna cotta rather than your traditional tiramisu but is nevertheless enjoyable.
Last but not least, there's a yuzu white chocolate scone and Earl Grey scone, accompanied by yuzu tea jelly and cream with vanilla bean. The yuzu tea jelly is a different and delightful accompaniment to the scones, which have a crumbly, biscuit-like texture.
Having only started serving high tea in late August, we were pleasantly surprised to find that Calia Emporium's offering was playful, elegant and excellent value for money.
With The Emporium at your doorstep, Melbourne Central across the road and Bourke Street Mall a hop, skip and jump away, this is a great high tea for when you're taking a break after a long morning of shopping.
Better still, when you're done you can pop downstairs and check out Calia's coffee bar and shop, which is filled with everything from homewares to condiments to alcohol to kitsch gifts.
Calia Emporium High Tea Menu: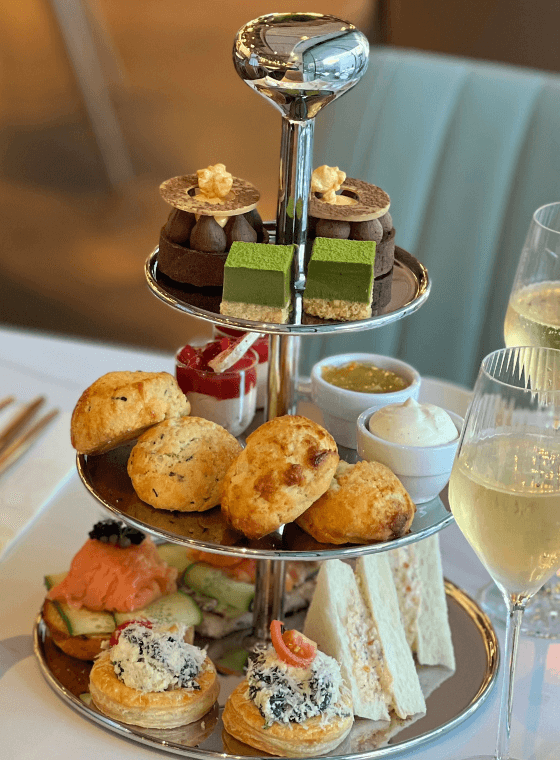 Savouries:
Truffle Tamago Sando
Ricotta Spinach Danish
Smoked Salmon, Cream Cheese, Caviar & Sourdough
Pastries:
Strawberry Tiramisu
Nama Matcha Chocolate
Chocolate Tart, Salted Caramel, Passionfruit & Dark Choc Mousse
Scones:
Yuzu White Chocolate Scone
Earl Grey Scone
Housemade Yuzu Tea Jelly & Fresh Cream
Served with tea with the option to add a glass of Chandon Brut or Rose.
High Tea Melbourne – find more experiences
in our High Tea Venue Directory