High Tea at the Cielo Tearoom & Patisserie is now open in the Adelaide Arcade.
Adelaide Arcade opened in 1885 with stunning features from marble floors to glass-panelled ceilings. The old tea rooms in the basement are now visible through a glass floor. Over 100 years later, Cielo Tearoom & Patisserie is now open in the arcade.
Owner/Operator Chaveli Goya has beautifully recreated her childhood memories of having hot cinnamon tea with her Chilean great grandmother; Bisabuela and grandmother; Abuela with the Cielo High Tea or Tecito.
Cielo make up their own tea creations ranging from Sticky Chai to Rose & Hibiscus and Chocolate & Coconut. With so many selections, the challenge is deciding what tea you would like to try. I ordered the Adaptogenic Hot Chocolate which includes cacao, reishi mushroom and various vitamins/herbs. I have had this before at Cielo and I always feel so good after drinking this. It tastes delicious too!
Each item is freshly made on site, even the sourdough bread! All items were fresh with so much flavour. The double brie with the antipasto was the most mild, buttery and creamy brie I have ever had. The savoury items were light on carbs so you don't feel heavy and can fit in more desserts!
The standout items from the sweet selection were the caramel meringue tart and the rose tart. The flavour combination of the caramel and meringue worked extremely well. The texture was light and fluffy. I am a huge fan of anything with rose in it. The Rose tart was so delicate and light with right amount of rose on the palate.
You won't go hungry with Cielo's Tecito. There was so much food, and it was all so appetizing and luscious!
It goes to show that in any culture, a cup of tea warms the heart and the soul and creates connection. Make sure you taste the Cielo Tearoom & Patisserie Chilean Tecito.
Cielo Tearoom & Patisserie Premium Tecito Menu: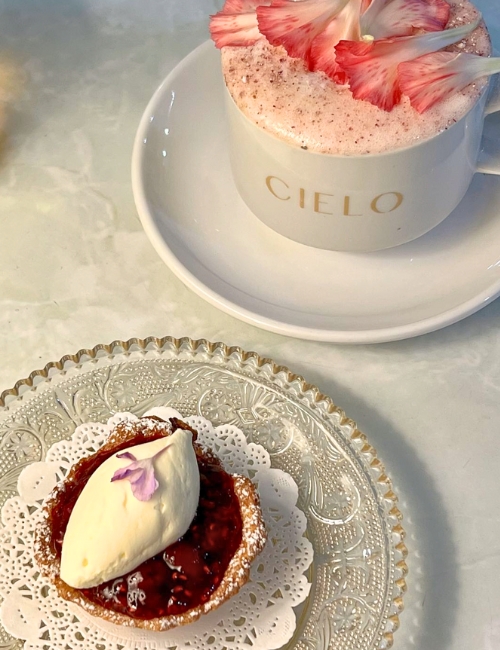 (items may vary)
Drinks:
Glass of Non-Alcoholic Sparking or San Pellegrino
Starter:
Antipasto
Freshly Baked Sourdough & Butter
Savoury:
Cucumber & Crème Fraiche sandwich
Mini Puff with Tomato & Parmesan
Devilled Egg
Sourdough sandwich with Tomato, Bocconcini & Pesto
Skewered Cucumber, Tomato & Bocconcini
Sweet:
Scone, Jam & Cream
Meringue Tart
Rose Tart
Madeleine
Bread & Butter Pudding Slice
Carrot Cupcake
Mixed Berry & Almond Tart
Tea and Coffee:
Cielo Tea Selection
Cielo Coffee and Hot drinks
High Tea Adelaide – find more experiences
in our High Tea Venue Directory