As Singapore's first eclair specialty store and cafe, be treated to an array of aesthetically pleasing and extremely delicious eclairs that will leave you (and your cameras) satisfied!
Located within close proximity to the most happening part of Singapore, L'éclair Pâtisserie is just a stone throw away if you need a little rest and relaxation, to fuel up with a high tea experience after all that shopping! Stepping into the cafe, my eyes were immediately drawn to rows and rows of eye-catching, perfectly decorated eclairs, which to be honest, felt too pretty to be consumed. I was literally drooling as the staff guided me to my seat.
Their savoury canapes included more tart, pie and choux pastries which were definitely more unique as opposed to the classic sandwiches we see at most high tea spots, hence I was very excited to start digging in. I went straight for the Mini Chicken Bacon Pie which turned out to be one of my favourite savoury item. The filling in the pie was generous, while the crust was crispy and buttery, but not heavy. The overall taste was slightly sweet but I still loved it.
Quiches are something that you either love or you hate, and I think that most people find it hard to appreciate something like this. Between the Mushroom Quiche and Ham Quiche, I prefer the mushroom one as it was slightly more moist, it almost felt like a mushroom ommelette instead.
The next highlight would definitely be the Cheese Scones. If you are a cheese lover, this will definitely be up your alley! It did not have the usual scone texture, instead it was a bit more dense and chewy, which made it delish! Quite refreshing I must say as it was something different compared to your usual plain or raisin scones.
At this point, all that butter in the pastries was kind of getting to me. They were all quite strong in flavours, so perhaps you might want to move on the eclairs for a change in palette before going back to the savoury canapes. Well, no one said you can only start on the sweets only after finishing all the savoury items right?
There will always be 3 classic eclairs and 3 seasonal eclairs. We were lucky as we coincided with the Christmas season. The Peppermint White Chocolate Eclair had normal custard inside, with speculoos cream on the top, and it tasted like Christmas for sure! The other seasonal ones were Speculoos Eclair which was not as sweet as expected and Paris Brest Eclair, which included quite a generous portion of hazelnuts.
The ultimate highlight for me would be the Isaphan Eclair. The rose, raspberry and lychee just somehow gels really well together, giving it a fragrant yet refreshing taste. And their Dark Chocolate Eclair, albeit bitter but it does help to cut through all the sweetness.
All in all, the eclair pastry is extremely well done! By the time we got to it, the pastry was still holding up well and not soggy at all, which was a huge plus point!
L'éclair Pâtisserie uses tea leaves from Betjaman & Barton and they are the only cafe in Singapore that is currently carrying this brand. The tea is non refillable, so remember to pace yourself throughout your high tea session.
At $68 nett for 2 pax, I would say it is quite value for money and would highly recommend this place for high tea!
High Tea Degustation: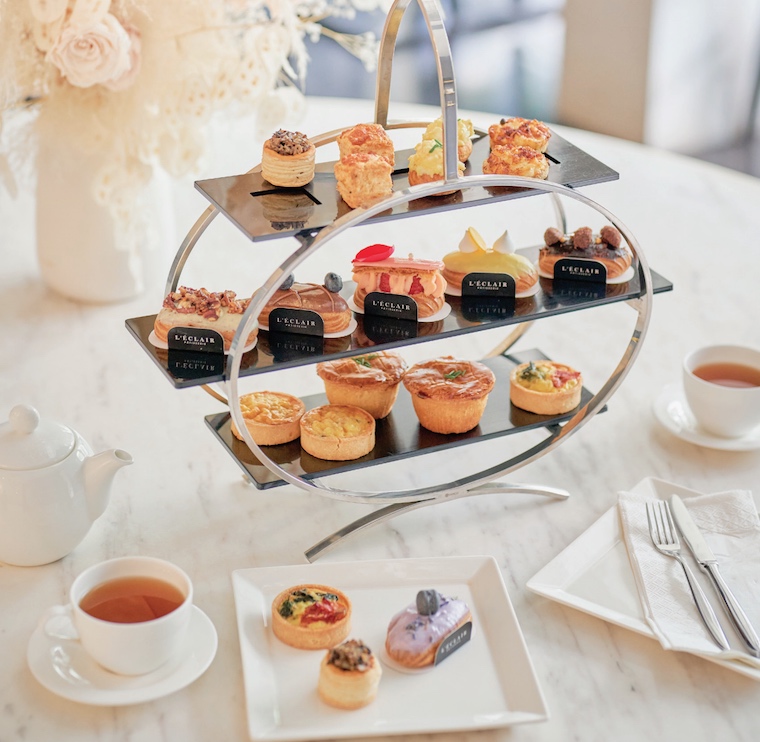 Savoury:
Mini Chicken Bacon Pies
Assorted Quiches
Mini Savoury Scones
Parmesan Onion Crostini
Egg Mayo Choux
Mushroom Vol Au Vent
Sweets:
You may highlight any dietary restrictions while making your reservations, preferably 2 days before your visit so the cafe can make the necessary arrangements.
High Tea Singapore – find more experiences
in our High Tea Venue Directory