Fiora Christou, owner of The Duchess On Queen: Atelier of Fine Teas in Adelaide was at a crossroad in her life and in her own words said, 'I love tea' and decided to open a teahouse.
Update February 2022: The Duchess on Queen has closed
I'm very glad she did. Fiora has an amazing eye for detail and knows what makes an exquisite High Tea. From the details in the crockery, to the ambience at the premises, to the quality of the food.
Nestled in the popular, cosy and retro suburb of Croydon; as soon as you walk inside The Duchess on Queen: Atelier of Fine Teas, think Doris Day, Frank Sinatra, Velvet and Floral Dresses. Duchess on Queen takes you to another time.
We were fortunate enough to be served the Gold Class three-tiered High Tea. There was a lot of food!
Local tea producer, the T bar make exclusive blends for The Duchess on Queen. The challenge is to pick a tea from the extensive list! From The Barefoot Princess to The Robed Monk. I had The Pompous Duke with chai and rose petals.
Firstly, we were served a mirror glazed mousse cake from award winning Zacary desserts. We had the chocolate hazelnut and the strawberry flavour. It was decadent with 24 carat gold flakes and was melt in your mouth and is also gluten free!
The sandwiches were fresh and delicate with various combinations of wonderful flavours including bocconcini, tomato + basil and curried egg. The labneh sandwiches were stunning with different colours blended including carrot and red cabbage.
The sausage rolls and quiches from a South Australian bakery were tasty and fresh.
The scones made on site and are fresh daily, take me back to my Nanna's house; fluffy and delicious. We were able to choose our own Jam, which is specially made in Healesville, Victoria with some excellent flavours on offer. We had rhubarb + cinnamon with fresh cream.
The dessert section of the Three-Tiered High Tea was outstanding. The Mini Pavlovas made on site, were fresh and tasty. The winner of the sweets was the Rose, Pistachio + Turkish Delight Tart. The Duchess on Queen: Atelier of Fine Teas make them at the premise. They can only be described as perfection! If your stomach and budget can afford it, it is worth ordering the Gold High Tea just to taste them.
There were so many delicious desserts, I can't write about them all here so you will just have to try them yourself!
We finished off with Turkish Delight from the Turkish Delight Shop at the Adelaide Central Market. They know their Turkish Delight, that is for sure.
You won't be disappointed in the High Tea at the Duchess on Queen: Atelier of Fine Teas. They take pride in their High Teas to ensure customers have an enjoyable experience.
The Duchess on Queen High Tea Menu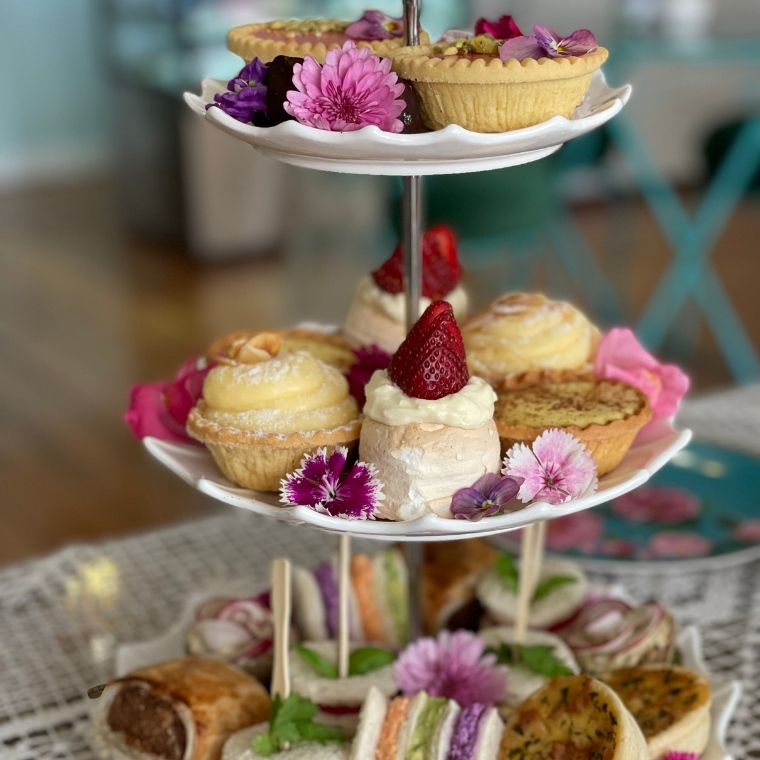 (Standard High Tea 2 tiers)
To Start:
Cucumber finger sandwiches
Egg Mayonnaise and Watercress rounds
Chicken and Pesto
Miniature Quiche Lorraine
To Follow:
Custard Tart
Lemon Heavenly
Rose Vanilla Cupcake
Chai and Cinnamon Macaron
Moorish Treats
Locally handmade chocolates
Artisan Turkish Delight
The Finale:
Freshly baked scones with your choice of jam and cream
*Menu current at the time and is subject to change
Please advise of dietary requirements when booking.
High Tea Adelaide – find more experiences
in our High Tea Venue Directory