Once a month the team at Flowerdale Estate open their dining room to lovers of High Tea. It's a country drive and outing that is absolutely delightful, and for this reviewer, our visit will be long remembered.
Flowerdale Estate is steeped in history, the original building, on the then 10,000 acre sheep farm, dates back to 1838. More buildings followed with the main homestead (where High Tea is hosted) being completed in 1842. Until its sale to the ANZ Bank in the 1980's the property was a working farm – ANZ converted the extensive quarters and stables into their own conference and retreat facilities. In 2012 the property returned to family ownership and the current owners continue to run conferences and events during the week, opening to the public on weekends as both a dining venue and weekend retreat.
With a lovely garden to explore, a menagerie of farm animals and wildlife to take in – Flowerdale Estate is much more than a High Tea. And yet, don't assume this hidden treasure doesn't also pack a punch when it comes to memorable High Teas, we were pleasantly surprised to find that this kitchen is absolutely up there with the very best in Melbourne.
I am hard pressed to choose favourites from this menu as it was all so good… but the ones I am still dreaming about from the savoury selection are the tuna tartare and the egg sandwich. From the sweet selection it was all absolutely 💋👌#chefskiss delicious.
View this post on Instagram
Flowerdale Estate High Tea Menu:
Our High Tea on 22 October 2023 included the following items.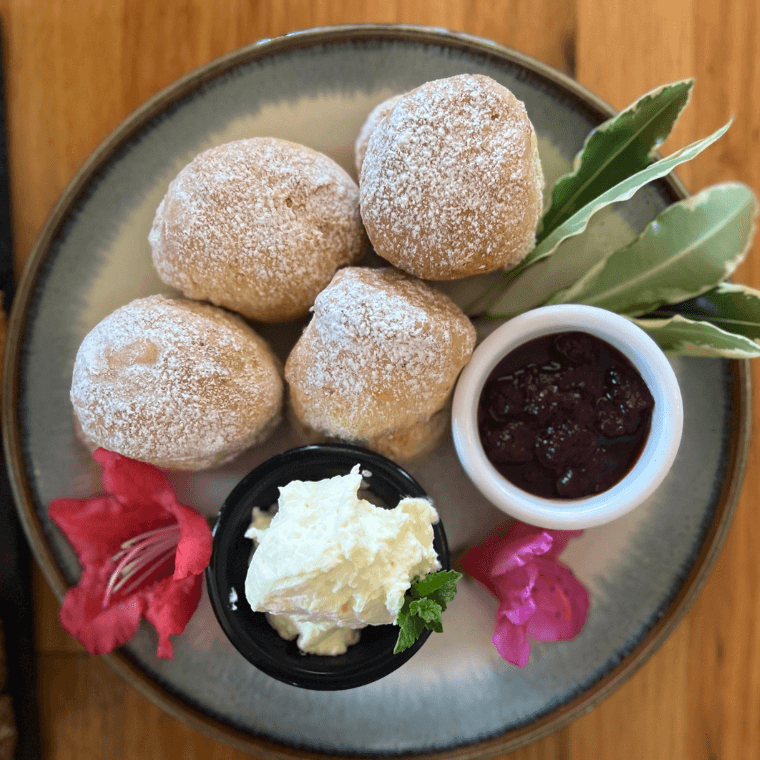 Savoury:
Soy marinated tuna & sesame tartare
Beef satay skewer
Kewpie egg mayonnaise ribbon sandwich
Smoked salmon, kimchi, spiced mayo slaw bagel
Chickent katsu ribbon sandwich
Cucumber & avocado sushi with crispy broccoli (vegetarian GF option)
Sweet:
Strawberry & yuzu cheesecake
Dark chocolate tart, miso caramel
Mango brown sugar croque en bouche
House baked scones, jam & cream
Hazelnut & chocolate truffle (GF option)
The tea selection was from Yarra Valley Tea Co and you could choose from an extensive drinks menu including the cocktail of the day (which was Pimms).
Thank you so much for having us to visit Flowerdale! I can't wait to visit again.
High Tea VIC – find more experiences
in our High Tea Venue Directory