It's been a while since the Four Seasons Sydney has offered a high tea to guests, but after our experience we'll gladly welcome it back with open arms.
Located a short five-minute walk from Circular Quay train and light rail stations, Mode restaurant is in the Four Seasons Hotel Sydney foyer. It's cleverly designed, surrounded by an opaque glass barrier to separate it from the hustle and bustle of the foyer giving the space some intimacy without feeling locked away.
Executive Pastry Chef Quentin Zerr has put together an amazing menu which his team execute exceptionally well. Pops of colour, flavour and texture have been thoughtfully assembled into a high tea that is one of the better ones we've experienced in a while.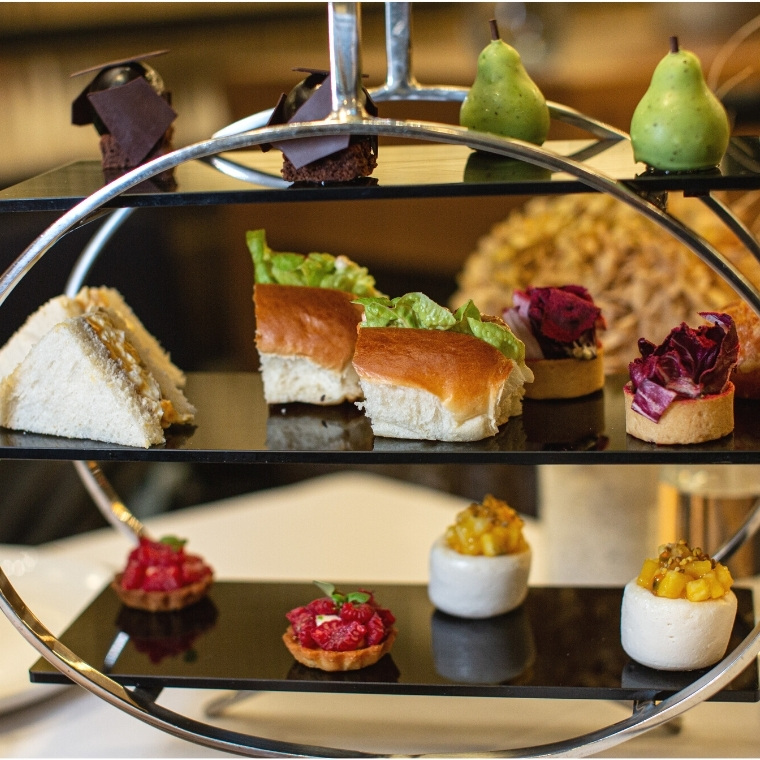 If you're looking for a perfect example of a savoury choux pastry look no further than the Comte gougeres. A thin crisp shell encases a pillow soft cheesy centre. Make sure to eat them first while they're still warm.
The radicchio tart is a pretty little thing. The bitterness in the leaves is tempered by the creamiest of gorgonzola sauces topped with a sprinkle of vivid beetroot powder adding a touch of sweetness.
We're noticing of late the addition of a hint of truffle creeping into egg sandwiches and it's a tweak we're hoping will stay. The truffle elevates the humble egg into a luxurious, morish sandwich.
The tiger prawn roll was just like a prawn cocktail served in a bun. It could have done with a few more prawns to balance out the amount of bread, but of course that's just my preference.
Before we embarked on the sweet treats, we chose our tea from a special tea cart that was wheeled over and each tea explained just like we were choosing a fine wine. It was a fun point of difference and the cart was equipped with everything needed to brew straight away at the table. I chose the tea which started as a compressed camomile flower that slowly bloomed in the teapot as it steeped. Very pretty and it had the flavour of a camomile and green tea blend. I need to buy some for my home collection of teas.
We can't recall ever having had a pavlova at a high tea before, and now we're wondering why not. It was a deliciously crisp shell with a slightly chewy meringue centre. Topped with tropical pineapple and passionfruit it was 2 bites of an Australian classic – shoosh New Zealand, the pav is ours!
The raspberry tartlets had just the right amount of fresh raspberry zing sitting atop a vanilla custard in a shortcrust shell. The chocolate delice was dark and rich which is exactly what you want from the Valrhona chocolate.
The showstopper sweet is most definitely the lifelike mini pear. Slice it in half to reveal a creamy vanilla and pear mousse centre encased in a white chocolate shell.
Lastly, the scones. Larger than most other scones we've had, they were perfectly formed just holding together without a hint of doughiness that larger scones can sometime suffer with. Served with a Chantilly cream and raspberry jam they're definitely in our Top 5 list.
All in all, the high tea at the Four Seasons is one that any high tea aficionado should have on their list to try. Be sure to bring some newcomers along with you to experience just what a high tea should be. In a word – delightful.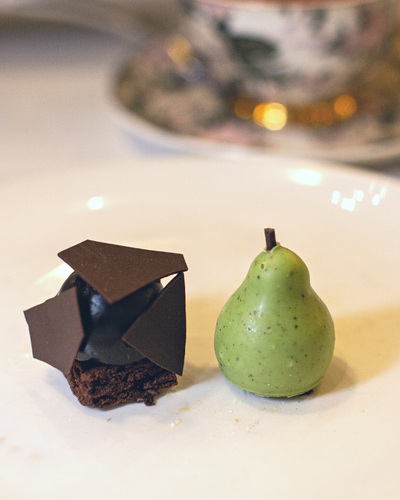 Mode High Tea Menu:
Savoury:
Eggs & white truffle sandwich
Tiger prawns roll
Comte Gougeres
Gorgonzola and radicchio tart
Sweet:
Raspberry tartlet
Mini pear
Valrhona dark chocolate delice
Pineapple and passionfruit pavlova
Scones, whipped cream and berry jam
Jing tea and coffee
High Tea Sydney – find more experiences
in our High Tea Venue Directory