The Georgian Santa Monica is a relaxed spot to take high tea and watch the world go by from The Veranda Restaurant sipping Highball cocktails and indulging in a decadent high tea while watching the spectacular Santa Monica sunset.
Santa Monica is known for its laid-back beach vibes, epic sunsets and there is no better place to soak up the Californian sunshine than the sunny terrace at the iconic Georgian Santa Monica for Afternoon Tea.
With old Hollywood glamour The Georgian sits proudly on palm tree-lined Ocean Avenue just moments away from Santa Monica Pier. The Veranda Restaurant is the perfect vantage point to watch the world go by as you savour High Tea and while away the afternoon.
The historic beachfront hotel built in 1931 features a stunning Art-Deco façade in bright turquoise and yellow with striped awning and topped with an American flag waving proudly. The hotel has attracted a stylish clientele and Hollywood celebrities over the decades and oozes charm and grace.
The indulgent Palisades High Tea starts with a cocktail glass filled with strawberries and mascarpone, followed by a three-tier afternoon tea stand laden with goodies and a Hibiki Harmony Japanese Whisky cocktail.
Starting with the lower level sandwich selection, you won't go hungry as the "finger sandwiches" are generously proportioned and overflowing with delicious fillings including the smooth and creamy avocado and egg salad and grilled shrimp, jamòn & cana dè cabra with the jamon providing a satisfying crunch.
The middle tier features high tea essential, freshly baked traditional and currant scones and the top layer held the house made seasonal preserves including the most delicious fig jam, lemon curd and Devonshire cream.
Executive Chef Garee Battad's sweet selection included a pecan shortbread cookie with great flavour and crunch. The opera cake was beautifully layered and delicious with subtle coffee notes and the strawberry and chocolate macarons were flavoursome and a pleasingly petite in size.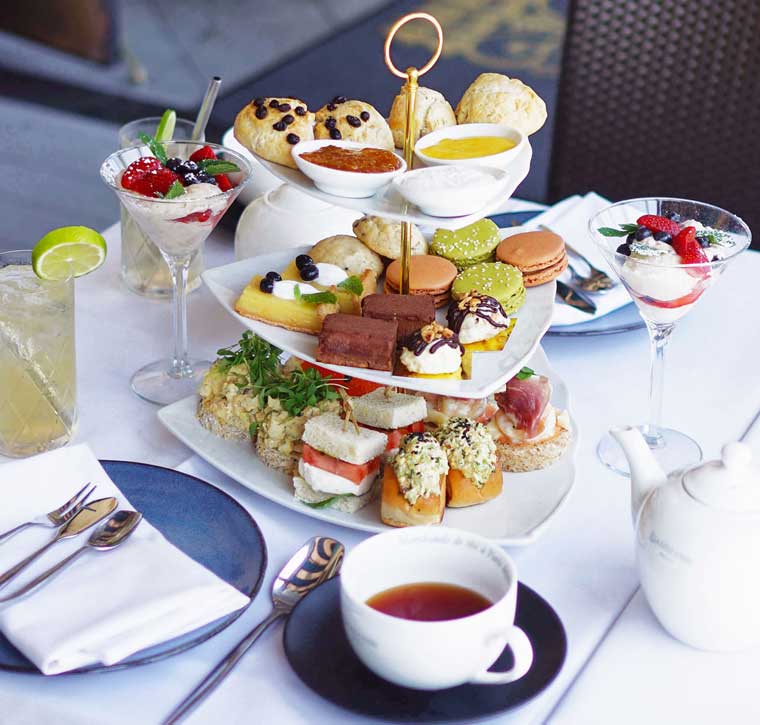 The attentive Georgian hotel staff provided warm, welcoming service and the table was clothed and set with a Dammann Frères tea set. The French Dammann Frères tea includes an exotic selection such as vert gunpowder, vert jasmine, blanc d'anjii as well as breakfast, Darjeeling and earl grey and your tea arrives already infused.
The atmosphere is delightfully relaxed, as you'd expect from the SoCal beach strip location and when we dined, the Veranda was mostly filled with fellow Australian travellers.
The Georgian Santa Monica High Tea is available with 24-hour advance reservation from 2.00-5.00pm daily for al fresco seating on The Veranda.
Guests may select from The Pier Tea, which includes the full menu and your choice of premium hot tea or upgrade to the Promenade Tea with a welcome glass of Mumm Napa Prestige Champagne or the ultimate Palisades Tea including a Harmony Highball, a caviar canapé, and a parting gift of chocolate truffles.
The Georgian Hotel Santa Monica provides a relaxed setting overlooking bustling Santa Monica to sit back, relax and soak up the chilled Californian vibe with a cocktail and indulgent afternoon tea.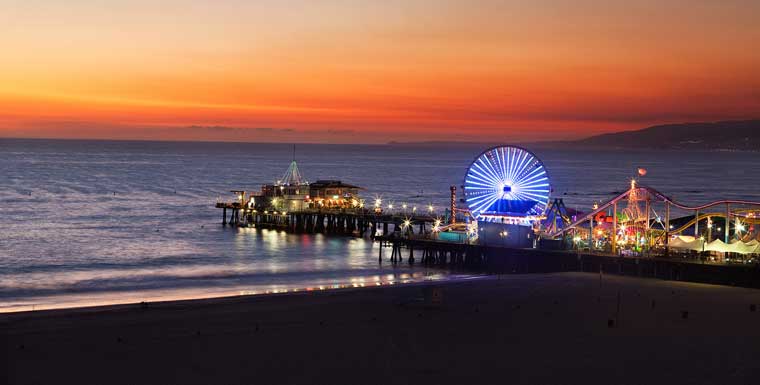 High Tea at The Georgian Santa Monica Menu:
Finger Sandwiches:
Grilled shrimp, jamòn & cana dè cabra | Avocado egg saland | Salmon, fromage blanc, cucumber & dill | Chicken vadouvan, apple, golden raisin | Caprese layer
Scones:
Traditional and currant scones | house made seasonal preserves | lemon curd | Devonshire cream | strawberries and cream
Petite Pastries:
Opera cake, Chocolate and strawberry macarons, Lemon square, Pecan shortbread cookie, Hazelnut orange bonbon
Blended & Hot Teas:
Hong Kong-Style Milk Tea – black tea, evaporated milk, brown sugar | London Fog – earl grey shanghai, vanilla syrup, steamed milk | Chai Latte – masala chai tea, milk, vanilla
Hotel Tea Selection by Dammann Frères:
Breakfast | Darjeeling | earl grey | caramel | the noir des mille collines chai | quatre fruits rouges | vert gunpowder | vert menthe touareg |vert jasmine | menthe poivree | chamomile | nuit d' ete whole leaf: blanc d' anjii, jardin bleu
Highballs:
Crisp soda, lemon squeeze and your choice of spirit:
Hibiki Harmony $21 | Nikka Taketsuru $21 | Kaiyo Mizunara $19 | Suntory Toki $16
Champagne, Sparkling & Infused Tea Selection also available.
Find more High Tea experiences in the USA in our High Tea Venue Directory