The Grand Hyatt Singapore offers an opulent High Tea experience with exquisite pastries and a buffet complete with self-serve oysters.
As the old adage goes, life is like a box of chocolates. You never know what you're gonna get, but sometimes, just sometimes, you're lucky enough to experience the sweetest surprise you never even knew could exist. Ensconced within the chocolate-box prettiness of Singapore's Grand (and we mean, Grand) Hyatt hotel, the ambrosial taste can be found at the High Tea, served 12-3 at 10 Scott's restaurant.
The concept behind 10 Scott's is based around that feeling of being 'Welcomed Home', a great comfort for international travellers and Singaporeans alike, and the maple-wood interior, plumed with comfy cloud sofas, soft lamplight and symphonies lilting in the air, unwound the tension in our shoulders instantly. Esther, one of the esteemed and beautifully uniformed hosts, walked us through the High Tea, which is served, buffet-style in the 'kitchen' to the side of the sitting area, which really looked like an at-home kitchen (albeit, probably the home of a billionaire!). There were even piping hot scones waiting in a warmed oven, for us to self-serve and snack on, paired with traditional padan spread, raspberry jam, and cream.
Salad bowls overflowing with fresh rainbow-coloured health, we sashayed to the sando bar, where lay a school of sumptuous sandwiches, filled to bursting with some great filling combinations, a gruyere and ham variety of which rather stole our hearts. Individual bowls of spiced hummus dip, or of smoked salmon whirls with dill cream lay nearby so we could customise with our condiments, as well as with such garnishes as queen olives, pickled onions and chutneys.
We had to take a break at the buffet just to put down our now full plates of food and get up again to run the hot food bar, where a smartly hatted chef was pleased to offer us ladles of piping hot casserole with sautéed herbed mushrooms, and then lastly, to the sushi station, where the finest rock oysters lay upon a glacier of ice ready for serving with tabasco and fresh lemon. In all our years of taking High Tea, seeing self-serve oysters on the menu was such a surprise and must be totally unique to the 10 Scotts experience.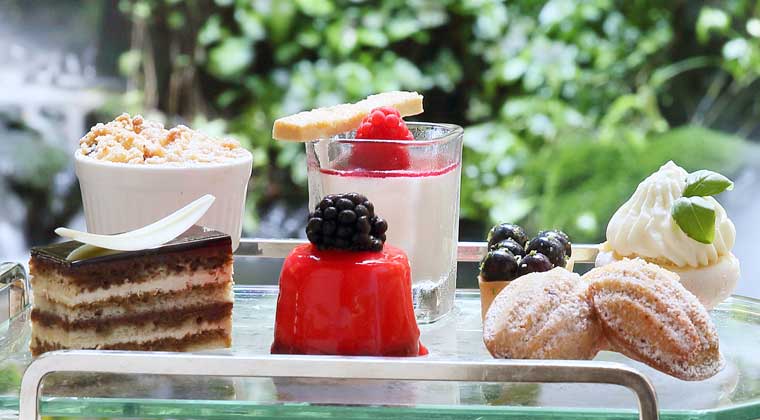 As if that wasn't enough to eat, once we'd nibbled our way through most of our morsels, our gorgeous individual sweet trays, which were mirrored with curved, gilt, Gatsby-age style legs was laid before us, the base a colour burst of fresh berries, the higher tier heaving with a traditional Chinese moon cake, red velvet layer cake, potted apple strudel, berry pavlova (we'd almost forgotten about Australia – now there's a reminder of our roots!) and two of the scrummiest macarons this side of Paris. We actually asked if we could take some of the sweets away, as we were just so stuffed from the buffet, but unfortunately in Singapore this isn't allowed, so we took one for the team and ate the lot. The last chocolate-orange madeline and chocolate torte – which made just the right delectable 'crack' sound as it oozed ganache when we cracked it with our spoon. This really was the icing on the cake of, arguably, in our opinion, the best High Tea experience in the whole world.
10 Scott's High Tea Menu: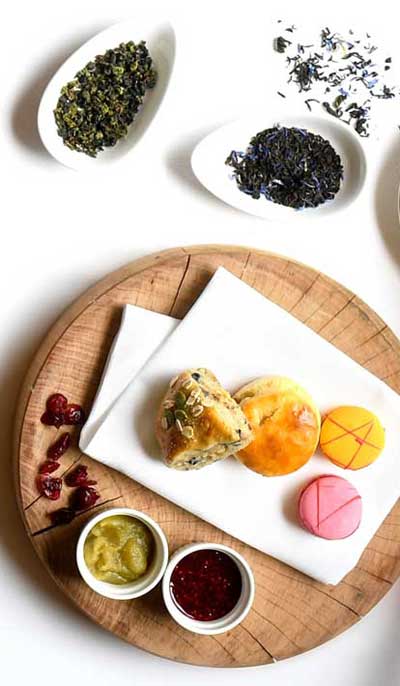 Charcuterie:
Serrano ham Cantaloupe melon
Marinated olives, gherkins, silver onions, grain mustard
Artisan cheeses:
Selection of European & Australian artisan cheese
Assorted breads & crackers
Homemade orange marmalade
Assortment of Dry fruits
Grapes
Sustainable Seafood bowl:
Freshly shucked rock oysters
Poached black mussels & manila clams
Tabasco, lemon wedges, mignonette, cocktail sauce, tartare sauce, thai chilli & lime sauce
Sandwiches & Appetizer, Salad bar  and Induction Stove & Miele Oven:
Desserts stand:
Coffee-Caramel Tart
Chocolate-Chicory Mousse
Nieto Chocolate-Blueberry Profiterole
Raspberry-Chocolate Verrine
Chocolate-Hazelnut Rocher
Chocolate Cremeux
Blueberry Gel
Nieto Chocolate Financier
Nieto Canelés de Bordeaux
Seasonal berries
High Tea Singapore – find more experiences in our High Tea Venue Directory